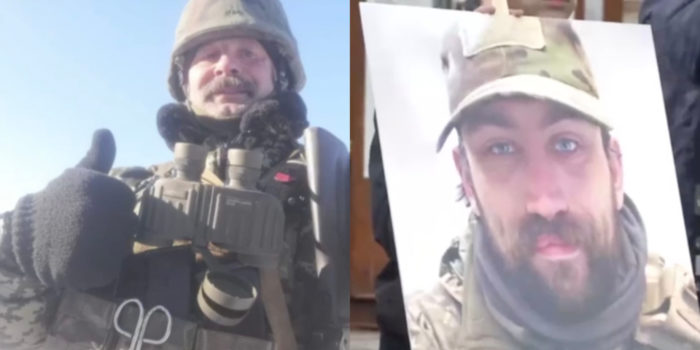 Oleh Barna (left) and his commander and comerade-in-arms Valeriy Dorokhov (right), an illustrative collage/ Source: Euromaidan Press 
Former member of Verkhovna Rada (unicameral parliament of Ukraine) 8th convocation, Oleh Barna, who was killed in combat, and his commander and comrade-in-arms Valeriy Dorokhov were laid to rest in Kyiv. A funeral service for the fallen defenders was held on Friday, 21 April, at St. Michael's Golden-Domed Monastery in Kyiv, as reported by Ukrinform.
Thereafter, dozens of people, including colleagues, comrades-in-arms, and relatives of the fallen heroes, gathered on Independence Square for a farewell ceremony. The fifth President of Ukraine, Petro Poroshenko, and his wife were among them.
The politician remembering Barna noted that he embodied "The wisdom of a teacher, the statehood of a local government leader, and the Ukrainianness of a true MP. He always did in his place what he believed would strengthen the statehood, in terms of the army, the language, and faith," said Poroshenko.
Oleh Barna actively participated in the Revolution of Dignity; he sustained his first injury on the Maidan on 18 February 2014. He volunteered for the Anti-Terrorist Operation (ATO) zone in the spring of the same year and was wounded again.
In his civilian life, Oleh Barna was a teacher. He was elected to the Verkhovna Rada of the 8th convocation from the Petro Poroshenko Bloc.
Oleh Barna, former member of Ukrainian Parl't from European Solidarity party, was killed in battle.Sergeant in the 68 Oleksa Dovbush Jager Bde.

Active participant in Euromaidan; enlisted as volunteer in 2014. Served as MP in Verkhovna Rada with Poroshenko Bloc in 2014-2019.

RIP pic.twitter.com/1AGAyqHVfG

— Euromaidan Press (@EuromaidanPress) April 20, 2023
After the beginning of the full-scale Russian invasion of Ukraine, Barna rejoined the Armed Forces of Ukraine. He was an infantryman who joined an assault company. Sergeant in the 68th Separate Jager Infantry Brigade "Oleksa Dovbush." Barna was killed in a battle near Vuhledar, in the village of Pavlivka.
Valeriy Dorokhov, a 31-year-old Ternopil native and the Jager platoon commander, died alongside Barna.
According to reports, Oleh Barna, assistant grenade launcher, and Verkhovna Rada, 8th convocation member, was killed in action on 17 April. He was one day shy of turning 56.
Read also:
"Freedom is not free. It must be fought for!" Ukraine's war hero Da Vinci dies in Bakhmut
Polish volunteer who fought for "Ukraine's freedom and Poland's security" killed by Russian missile
Tags: Russian war against Ukraine, Ukrainian heroes, Vuhledar