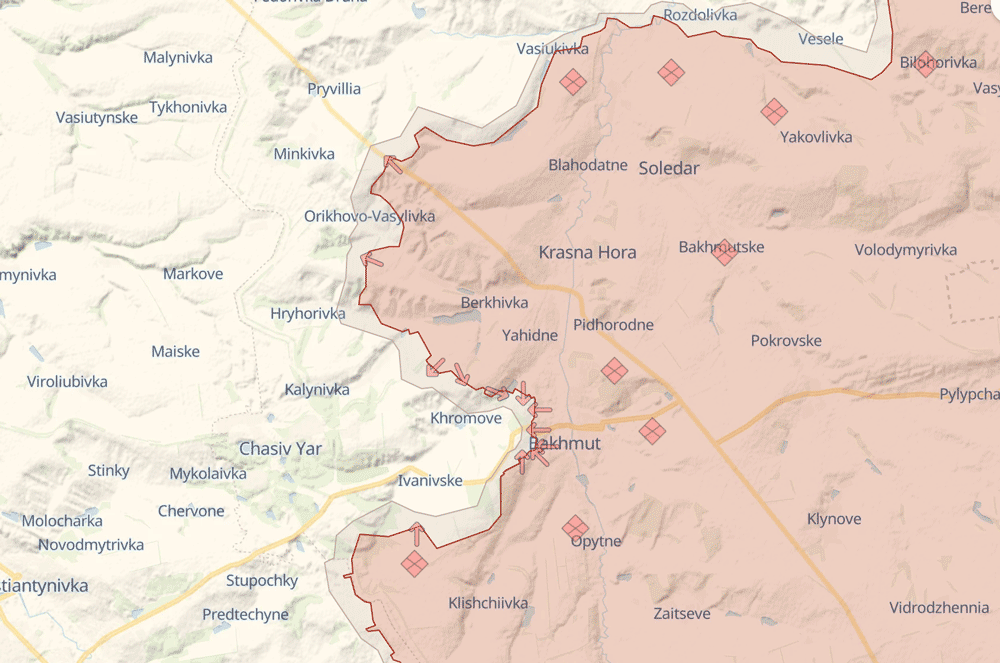 Situation around Bakhmut, Donetsk Oblast, as of 18 April 2023. Map: Deepstatemap.live 
The commander of the Ukrainian Ground Forces, Colonel-General Oleksandr Syrskyi, reported that the Russian forces are conducting offensive actions on several fronts simultaneously. However, most of their hostile actions have been unsuccessful:
"Despite the high activity of the enemy, our fighters managed to restrain their advance and inflict significant losses," he said, according to Ukraine's Military Media Center.
The commander said that thanks to the accurate fire of the Ukrainian artillery, Russian units in the Kupiansk direction were forced to retreat without even reaching the attack line. Similarly, the Russian attempts to launch offensives on the Lyman front failed "due to our positions' resilience and our soldiers' courage."
"Nevertheless, the Bakhmut direction remains the epicenter of the fighting. This is where the enemy concentrates most of his efforts and is determined to take control of the city at any cost. Currently, the enemy is increasing the activity of heavy artillery and the number of air strikes, turning the city into ruins," Col-Gen. Syrskyi said.
Nevertheless, he says, Ukrainian troops are inflicting significant losses on the Russians and significantly slowing their offensive actions:
"The battle for Bakhmut continues, but the situation is currently under control," according to Syrskyi.
Read also:
Tags: Bakhmut, Donetsk Oblast