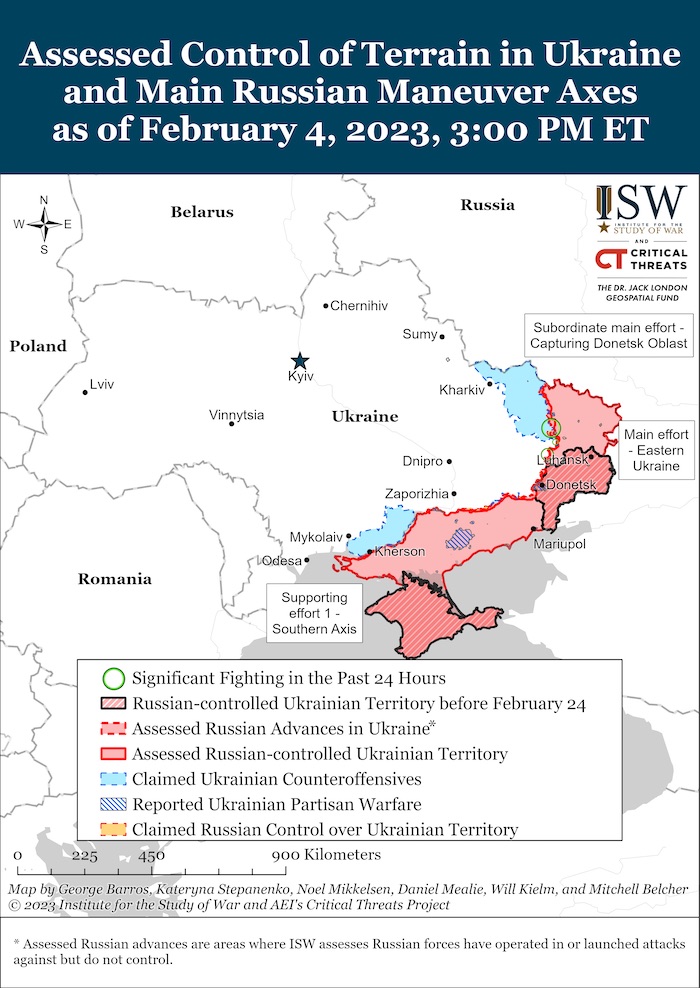 Situation in Ukraine. February 4, 2023. Source: ISW. 
The US-based Institute for the Study of War (ISW)
says
that Russia has not shown the
"capacity to sustain the multiple major offensive operations that would be necessary to simultaneously reach the Donetsk Oblast administrative borders and take Zaporizhzhia City."
Russian decisive offensive operations are unlikely to target Zaporizhzhia City from the western Donetsk–Zaporizhzhia frontline as the Russian military continues to prepare for an offensive in western Luhansk Oblast. 
Advisor to the exiled Ukrainian mayor of Mariupol, Petro Andryushenko, stated that Russian soldiers in Mariupol are telling residents that the Russian military ordered offensive operations against Vuhledar, areas southwest of Bakhmut, Zaporizhzhia City and Zaporizhzhia Oblast.
Ukraine retains Bakhmut supply routes as Russia makes small advances trying to encircle the area – British intel
Andryushenko added that Russia is also building up forces at barracks and settlements on roads leading to frontline positions, and that Russia had brought an extra 10,000–15,000 troops to Mariupol and its outskirts. Andryushenko noted the Russian forces reportedly have 30,000 troops in the greater Mariupol area. ISW continues to assess that Russia is concentrating troops and military equipment to stage a decisive offensive on the western Luhansk Oblast and Bakhmut areas.
Western and Ukrainian military officials have repeatedly noted that Russian forces are likely setting conditions to reach the Luhansk and Donetsk oblast borders — an objective that Russian Chief of General Staff Army General Valery Gerasimov had also outlined on December 22.
ISW continues to observe Russian transfers of military equipment and elite units and the preparations of logistics in occupied Luhansk Oblast that support Western, Ukrainian, and Russian forecasts for the western Luhansk Oblast–Bakhmut offensive. Russian forces are also intensifying attacks on Bakhmut while neglecting frontlines around Donetsk City. The Ukrainian military has reported that Russian forces have not massed a powerful enough strike group to conduct an offensive in the Zaporizhzhia direction.
Russo-Ukrainian War. Day 346: Ukraine will fight to hold 'fortress' Bakhmut as long as it can – Zelenskyy
Russian sources have been claiming Russian forces have been making territorial gains in Zaporizhzhia Oblast in late January, claims that ISW assesses were likely an information operation aimed at dispersing Ukrainian forces ahead of the decisive offensive in the east.
Andryushenko had previously stated that Russian officials were restricting Mariupol residents from accessing non-Russian information and were misrepresenting the situation on the frontlines, so Russian forces spreading rumors about an attack on Zaporizhzhia City may be a continuation of such information operations. Andryushenko has also consistently reported increases of Russian forces in Mariupol throughout different stages of the war and noted that Russian forces are using the city as a military base due to its proximity to Russia.
Russia has not shown the capacity to sustain the multiple major offensive operations that would be necessary to simultaneously reach the Donetsk Oblast administrative borders and take Zaporizhzhia City. 
Andryushenko's reported Russian troop concentration of 30,000 servicemen in the Mariupol area is not sufficient to attack Zaporizhzhia, a city of roughly three-quarters of a million people, while continuing offensive operations to encircle Bakhmut and launching a new major attack in Luhansk Oblast.
Russian conventional forces, reserves, and Wagner forces have committed tens of thousands of troops to the effort to seize Bakhmut already, reportedly suffering many thousands of casualties in that effort.
Bakhmut had a pre-war population of slightly over 70,000.
Read also:
Ukraine forms assault brigades to liberate Crimea, Donbas from Russian occupation
Russia is trying to disperse Ukrainian forces ahead of a planned offensive campaign – ISW
Russia is preparing a new offensive to regain the initiative

At the same time Putin is steeling his country for a conflict with the US and its allies that he expects to last for years.https://t.co/tdymKVtbWz

— Euromaidan Press (@EuromaidanPress) January 27, 2023