Russian forces made marginal gains around Bakhmut on November 29, but Russian forces remain unlikely to have advanced at the tempo that Russian sources claimed, according to the November 29 Russian offensive campaign assessment by the Washington-based Institute for the Study of War.
Geolocated footage shows that Russian forces made marginal advances southeast of Bakhmut but ISW remains unable to confirm most other claimed gains around Bakhmut made since November 27:
https://twitter.com/markito0171/status/1597556451920449537
Some Russian milbloggers made unsubstantiated claims that Russian forces broke through the Ukrainian defensive line south of Bakhmut along the T0513 highway to advance towards Chasiv Yar, which would cut one of two remaining main Ukrainian ground lines of communication (GLOCs) to Bakhmut, but such claims are likely part of a continuing Russian information operation and are premature, as ISW has previously assessed.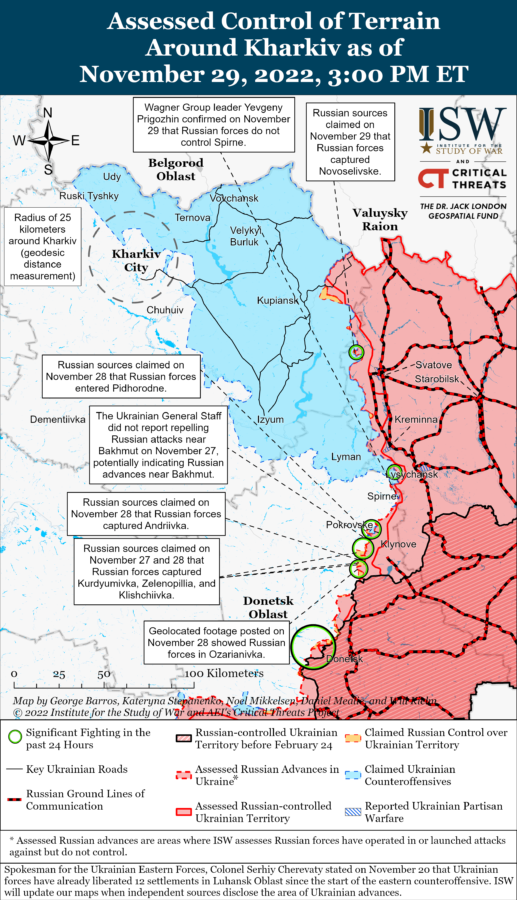 A Russian milblogger prematurely called this operational offensive around Bakhmut the first victory since the capture of Sievierodonetsk and Lysychansk; however, there is no evidence that Russian forces currently threaten key Ukrainian logistics lines into Bakhmut and ISW continues to assess that Bakhmut is currently not under threat of Russian encirclement.
ISW continues to assess that the degraded Russian forces around Bakhmut are unlikely to place Bakhmut under threat of imminent encirclement rapidly.
Russia likely to reinforce and expand offensive near Bakhmut redeploying troops recovered from Kherson – British Intelligence
Russia keeps trying to advance on Donetsk's Bakhmut despite Ukraine's pressure on flanks in north, south – British intel
Tags: Bakhmut, Donetsk Oblast