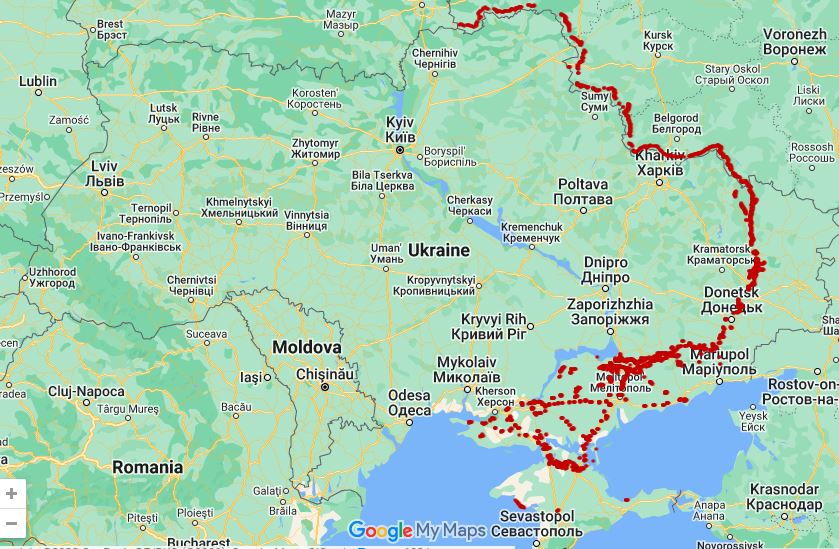 Map of Russia's fortifications in/around Ukraine. Credit: Brady Africk, twitter.com/bradyafr 
Russia is creating extensive linear defenses in Zaporizhzhia Oblast, anticipating a Ukrainian assault on Melitopol, the British defense intelligence reports:
"Over recent weeks, Russia has continued to develop extensive linear defenses in Zaporizhzhia Oblast in southern Ukraine. The area is highly likely the responsibility of Russia's Southern Grouping of Forces (SGF).
Russia has now completed three layers of defensive zones across approximately 120km of this sector.
These consist of a front line of forward combat positions, and then two zones of nearly continuous, more elaborate defenses. Each zone is approximately 10-20km behind the one in front.
Russia has probably put significant effort into these defensive works because it is convinced Ukraine is considering an assault towards the city of Melitopol.
The defenses have the potential to be formidable obstacles, but their utility almost entirely depends on them being supported by sufficient artillery and personnel. It remains unclear if the SGF can currently muster these resources."
It is in the direction of Melitopol that Ukraine is likely planning to conduct its offensive in a bid to break apart the Russian group of forces in south Ukraine and cut off the land bridge to Crimea.
Recently, geospatial researcher Brady Africk released an online map of Russian fortifications that reveal the two tiers of defense on the direction to Melitopol.
Tags: fortifications