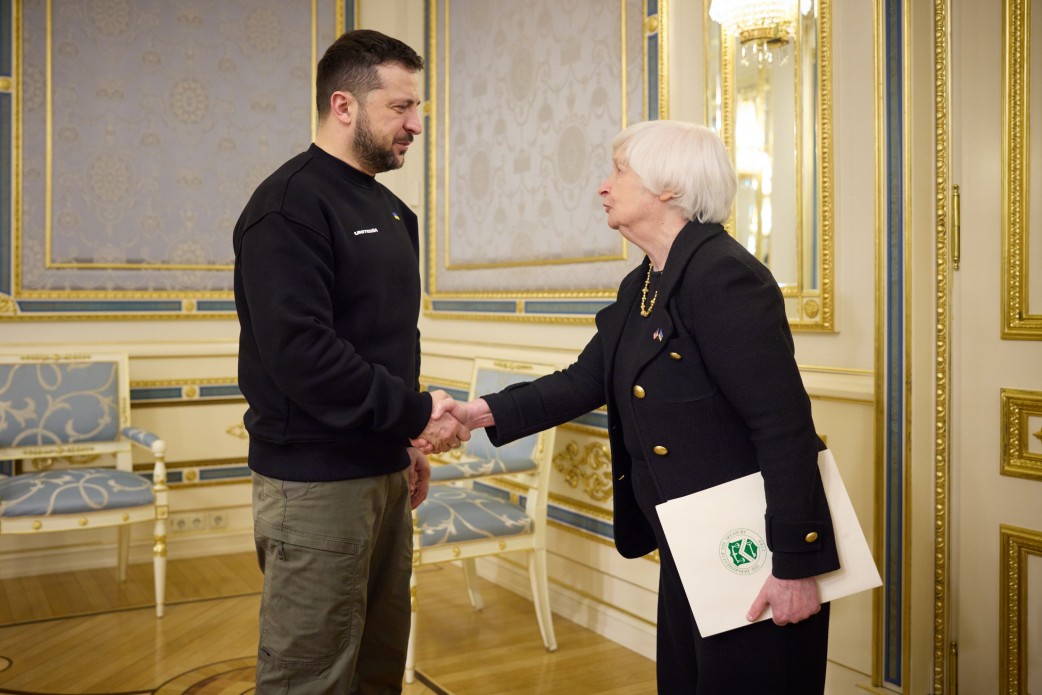 Ukraine's President Volodymyr Zelenskyy and US Secretary of the Treasure Janet Yellen during their meeting in Kyiv on 27 February 2023.
Credit: Ukraine's President Office. 
The US Secretary of the Treasure Janet Yellen has come to Ukraine today and met with Ukraine's President Volodymyr Zelenskyy and Prime Minister Denys Shmyhal.
"Following US President's visit to Ukraine, I'm in Kyiv to reaffirm our unwavering commitment to Ukraine, discuss ways we can continue our support, including through economic assistance, and pay tribute to the bravery of the Ukrainian people a year after Russia's unprovoked invasion," Janet Yellen stated. "The US will continue to stand with Ukraine for as long as it takes. I commend President Zelenskyy for his leadership and thank him for our discussion on support from the US and allies, including the announcement today of the transfer of the first $1.25 billion in US support this year," Yellen added.
Volodymyr Zelenskyy emphasized that the allocated funds would be extremely important, as they should allow Ukraine to cover the unfunded part of the state budget and support the segments of the population that need it most during the ongoing Russian invasion of Ukraine.
"We are extremely grateful to you for the support. The United States has been powerfully supporting us since the first days of this war not only with weapons but also on the financial front. We really appreciate it,"  President Zelenskyy said.
The issue of rebuilding Ukraine's infrastructure destroyed by Russian aggression was discussed separately. Zelenskyy emphasized the importance of developing mechanisms to direct the seized Russian assets to rebuild Ukraine. Apart from that, Zelenskyy stressed the need to strengthen sanctions in order to deprive Russia of the opportunity to finance its war against Ukraine.
The US is the leader in terms of financial support of Ukraine, the Prime Minister of Ukraine Denys Shmyhal said during the meeting with the US Secretary of Treasure Janet Yellen.
"The US will allocate over $10 billion of financial aid to Ukraine by September 2023. Apart from that, the US government will donate $1.5 billion to help Ukraine rebuild fast what the Russian invasion has destroyed and damaged," Shmyhal said. "Moreover, the US will allocate $1.1 billion to support the energy sector of Ukraine and Moldova," Shmyhal added.
Related: