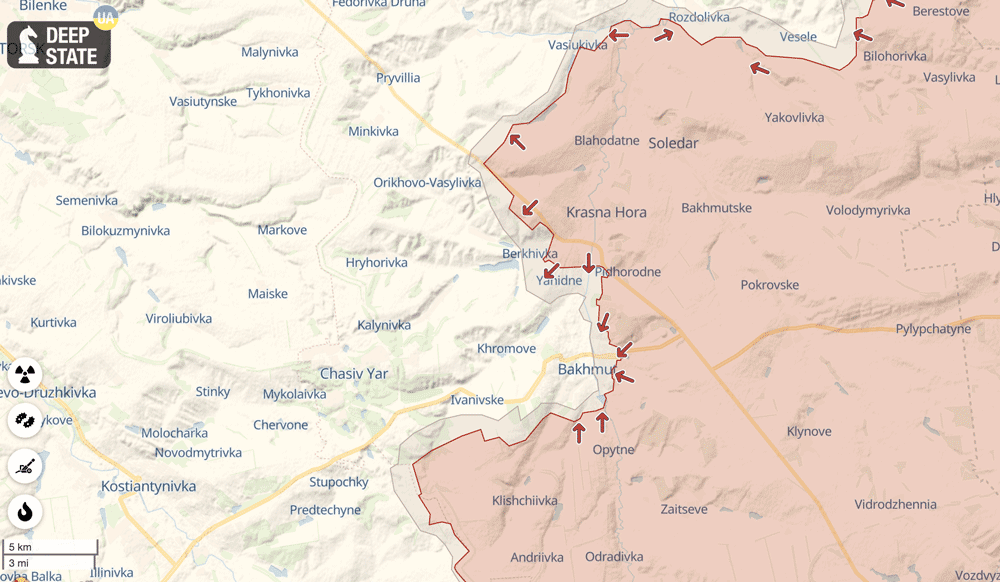 Situation around Bakhmut, Donetsk Oblast, as of 21 February 2023. Mao: Deepstate 
Editor's Note
In its latest Russian offensive campaign assessment, the Washington-based Institute for the Study of War
suggests
that Ukrainian President Zelenskyy's remark that Ukraine will continue to defend Donetsk Oblast's city of Bakhmut but
"not at any cost"
was a response to anonymous concerns about Ukraine's ability to defend Bakhmut by allegedly US defense officials cited by the Washington Post.
Ukrainian officials continue to respond to statements made by unspecified US defense officials on the pace and prospects of the war as it approaches the one-year mark. 
Ukrainian President Volodymyr Zelenskyy stated on February 20 that Ukraine will continue to defend Bakhmut but "not at any cost."
Zelenskyy and Ukrainian Defense Minister Oleksii Reznikov also emphasized that Ukrainian troops are continuing to prepare for counteroffensives in the near term.
Zelenskyy and Reznikov's statements are likely direct responses to unspecified US defense officials, who reportedly told the Washington Post on February 14 that the United States is concerned about Ukraine's ability to defend Bakhmut while also pursuing counteroffensive operations.
ISW continues to assess that Ukraine's decision to defend Bakhmut is a strategically sound effort to pin Russian forces in a discrete area of the front and attrit them, and Zelenskyy likely tempered his administration's stance on Bakhmut to make a limited rhetorical concession to US officials.
It has long been clear that Ukraine would not continue to defend Bakhmut at the risk of seeing large numbers of Ukrainian troops encircled in the city, so Zelenskyy's comment is not likely a real change in Kyiv's strategy.
Verkhovna Rada Committee on National Security, Defense, and Intelligence member Fedir Venislavskyi notably stated on February 19 that Russia has "all combat-ready units on the line of contact In Luhansk and Donetsk oblasts, and partly in Zaporizhzhia Oblast," reaffirming the assessment that Russia does not have a large uncommitted combat ready reserves that can be deployed and change the course of operations.
These Ukrainian statements are consistent with ISW's assessment that Ukraine has the capacity to regain the initiative in 2023 with sufficient and timely Western backing.
Read also:
Tags: Bakhmut, Donetsk Oblast