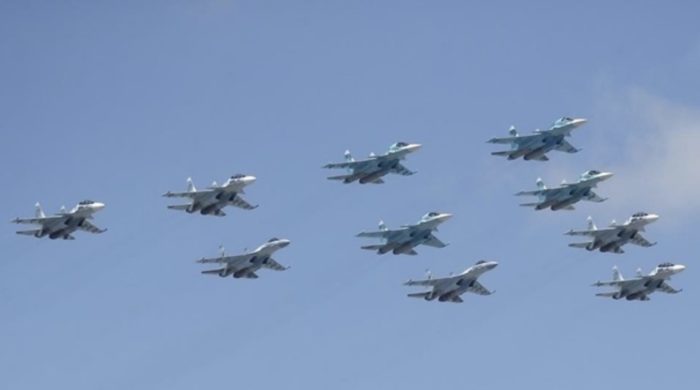 The Armed Forces reassure Ukrainians that on the eve of 24 February there will be no attack by "hundreds of Russian planes" on Kyiv, an illustrative image/ Source: vsn.in.ua 
The Ukrainian Air Force reports that Russia will not launch a mass attack against Ukraine on the anniversary of the invasion, as reported by Ukrainska Pravda, referencing an interview with Colonel Yurii Ihnat, the spokesman of the Air Force Command of the Ukrainian Armed Forces (AFU), on air of the national 24-hour news broadcast.
The Air Force spokesperson reiterated that Russia did not deploy aircraft near Ukraine's borders. Since the beginning of the full-scale war, the number of aircraft of the air group used by Russian troops at 40 airfields in Russia, Belarus, and occupied Crimea, has not changed.
Yurii Ihnat asserted that numerous experts speak of hundreds and dozens of aircraft. However, this is not WW II, and no one longer fights in such a manner. In modern conflicts, one employs high-precision weapons and missiles.
"The grouping that was [stationed-ed.]at these airfields at the beginning of the [full-scale] aggression remains at the same number [more than 700 units]; the only thing is that instead of the lost equipment, the occupiers are bringing in the new one. Therefore, to say that there will be some kind of large-scale attack on Kyiv by hundreds of aircraft is from another opera. It is clear that this will not happen. Even at the beginning of the aggression, the enemy used a dozen planes in a certain direction: they flew, struck, lost several aircraft, and flew back," stated Colonel Ihnat.

Ihnat emphasized that modern Western systems, including MANPADS and heavy systems such as Iris-T and NASAMS, bolster Ukraine's air defense. Additionally, further reinforcement is expected from Ukraine's allies.
"No one will allow an easy ride in the Ukrainian skies," asserted Yurii Ihnat.
Read also:
Ukraine anticipates Russian provocations on 23-24 February – Air Force spox
Ukraine needs up to 200 multi-purpose aircraft to defend its skies – Air Force spox
The type of aircraft that allies are likely to supply to Ukraine is "in fact known" – Ukraine Air Force spox
Tags: Russian air force, Russian invasion of Ukraine, Russian offensive, Ukrainian Air Force