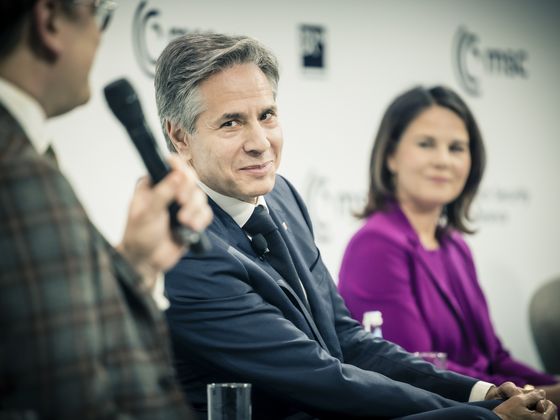 US State Secretary Anthony Blinken (center) at the panel at the Munich Security Conference. Photo: Munich Security Conference 
The United States leaves it to Ukraine to decide on the configuration of the future victory, but expects a "just" and "durable" peace, US Secretary of State Anthony Blinken said at the Munich Security Conference.
Speaking at a panel discussion with his Ukrainian and German counterparts Dmytro Kuleba and Annalena Baerbock, he said that it is up to Ukraine to decide on how and when the war will end,
"We will support the decisions of our Ukrainian friends about the future of their country. But I think we all have a profound stake in, as Annalena said, a just and durable peace," Blinken said, and then went on to explain in detail what he meant by these terms.
According to him, "just" means a peace agreement that is consistent with the principles of the UN Charter,meaning any territorial concessions to the aggressor are incompatible.
"It is fundamentally against the interests of every other country around the world to wind up with a result that somehow vindicates the seizure by force of territory. Because if we do that, we will open a Pandora's box around the world, and every would-be aggressor will conclude that: If Russia got away with it, we can get away with it. And that's not in anyone's interests because it's a recipe for a world of conflict," Blinken explained his categorical position.
Crimea, according to the United States and international law, is also Ukrainian territory that should not be retained by the aggressor.
"A durable [peace] means that […] we have to do everything in our power to make sure that Russia won't simply repeat the exercise a year, five years later. And among other things, that means making sure that Ukraine has the capacity to deter aggression and, if necessary, to effectively defend against it," Anthony Blinken added.
Dmytro Kuleba, who was sitting next to him, confirmed that Ukraine would accept only such a victory that would mean the full restoration of its territorial integrity.
Earlier at the Munich Security Conference, British PM Rishi Sunak called for allies to supply the most advanced weapons to Ukraine, and Ukrainian Foreign Minister Dmytro Kuleba called for allies to start training Ukrainian pilots on Western fighter jets.
Tags: Blinken, Crimea, Munich security conference, USA