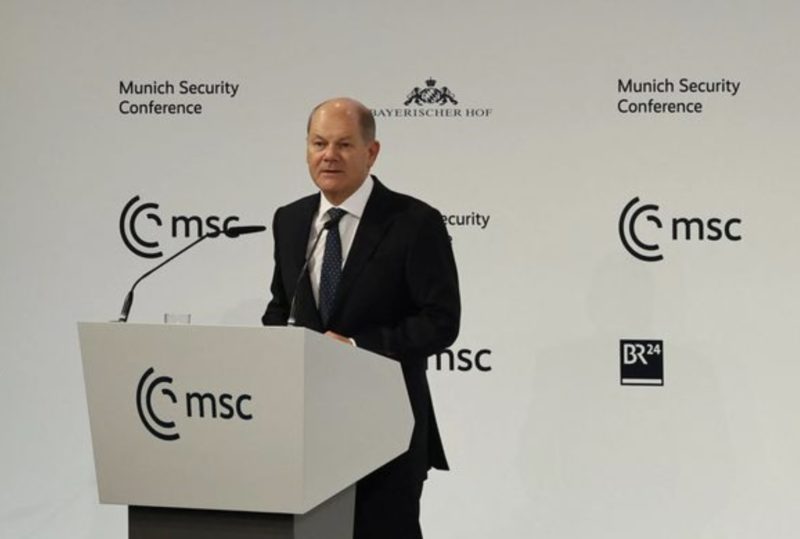 German Chancellor Olaf Scholz at the Munich Security Conference (MSC)/ Source: unn.com.ua 
German Chancellor Olaf Scholz spoke at Munich Security Conference (MSC) and urged allies to supply Ukraine with battle tanks. Scholz told the plenum that anyone who could do so should "really do it now." At the Munich conference, he, along with Defense Minister Boris Pistorius and Foreign Minister Annalena Baerbock, would promote this initiative, as reported by Spiegel.
In addition, Scholz also defended the arms deliveries in his speech as a contribution to an earlier end to the war.
"It is not our arms deliveries that are prolonging the war. The contrary is true," asserted Scholz.

 

Additionally, Scholz stated that "the sooner President Putin realizes that he will not achieve his imperialist goal, the greater the likelihood of an early end to the war, of withdrawal of Russian conquering forces."
According to the chancellor, Germany now offers security leadership.
Scholz stated that "we take upon ourselves the responsibility that a country of Germany's size, location, and economic power must bear in such times."
He urged partners capable of sending Western-type tanks to Ukraine to do so.
"All those who can send battle tanks of this type should do so. Defence Minister Pistorius, Foreign Minister Baerbock, and I personally strongly advocate for this. Germany will do everything in its power to make these decisions easier for partners. For instance, by training Ukrainian soldiers to drive tanks here in Germany or providing support in terms of supplies and logistics," emphasized the German Chancellor.
According to reports, German Defense Minister Boris Pistorius stated that it would be difficult for Western allies to assemble two complete battalions of Leopard 2 tanks to fulfill their commitment to Ukraine.
Following a meeting with his German counterpart in Kyev, Ukrainian Defense Minister Oleksiy Reznikov stated that 80 Leopard 1 tanks would be delivered to Ukraine by the end of the year, with the first two dozen arriving "by summer."
Read also:
German Chancellor Scholz criticizes "public competition" to send arms to Ukraine as harming West's unity
Germany's Scholz sent Leopard 2 tanks to Ukraine after "pressure from all sides" – MP
Scholz says Zelenskyy promised not to use German tanks for attacking Russia proper
Tags: aid for Ukraine, Germany, main battle tanks, Scholz