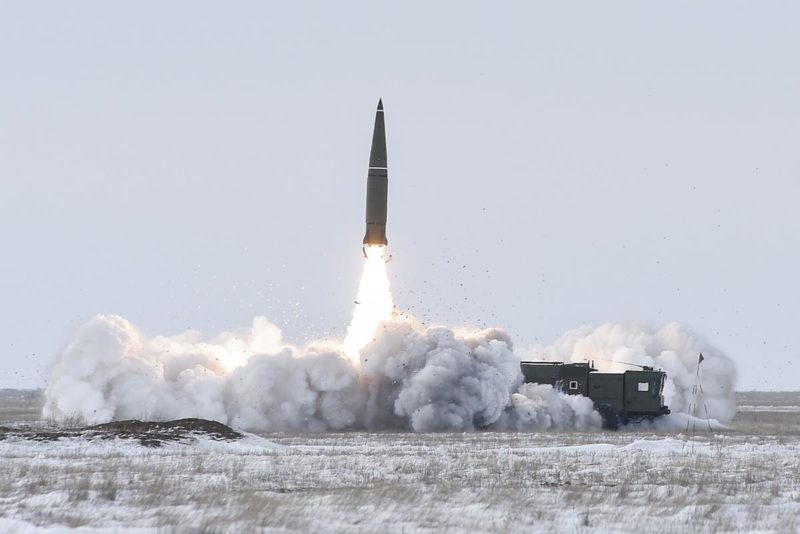 Launch of Russian ballistic missile. Source: Wikipedia 
During another massive Russian missile attack on Ukrainian energy infrastructure on the morning of 10 February, two Russian missiles violated the airspace of Moldova and Romania, according to a statement published on the Telegram channel of Valerii Zaluzhnyi, the Commander-in-Chief of the Ukrainian Armed Forces.
"Today, February 10, at 10:18, two Russian Kalibr cruise missiles crossed the State border of Ukraine with the Republic of Moldova. At approximately 10:33, these missiles crossed Romanian airspace. After that, they re-entered the airspace of Ukraine at the crossing point of the borders of the three states. The missiles were launched from the waters of the Black Sea," the message reads.
Ukrainska Pravda cited an air force spokesperson as saying that Ukraine had the ability to shoot down the missiles but did not do so to avoid endangering civilians in foreign countries.
Ukraine's energy infrastructure under attack for 14th time as air alert was announced all over Ukraine
"It should be noted that it actually was only a matter of time, because the Russian Federation is already constantly laying the routes of its missiles through Moldova. Moreover, at the end of 2022, Kh-55 cruise missiles with a nuclear charge simulator were shot down 40 km from the border with Romania," Defense Express noted.
Moldova's Defense Ministry reported that a missile crossed the country's airspace, not specifically mentioning that it was Russian:
"The responsible structures within the institution detected, at 10.18, a missile, which crossed the airspace of the Republic of Moldova, over the town of Mocra in the Transnistrian region and, later, over the town of Cosauți in the Soroca district, heading towards Ukraine. We note that the Ministry of Defense, in collaboration with the responsible structures in the country, carefully monitors the situation in the region, and strongly condemns the violation of the airspace of the Republic of Moldova," the statement reads.
Later Moldova summoned the Russian ambassador over the missile incident, according to Reuters.
Meanwhile, the Romanian Ministry of Defense said in response to a request from Radio Free Europe Romania that "the information regarding a Russian missile that would have flown over Romania's airspace is not confirmed."
Later, the Romanian Defense Ministry specified that "the closest point of the target's trajectory to Romania's airspace was recorded by the radar systems approximately 35 kilometers North-East of the border," according to Radio Free Europe Romania. Russia launched the missile near the Crimean Peninsula, it flew through the Moldovan airspace but "reentered the Ukrainian airspace without intersecting, at any time, the airspace of Romania," according to the ministry.
Romania is a NATO member country.
Read also:
Russia launched 35 missiles that cannot be destroyed by air defense – Ukraine's Air Force
Ukraine Air Force destroyed 5 Russian Kalibr cruise missiles and 5 Shahed drones
Tags: Moldova, Romania, Russian missile attacks