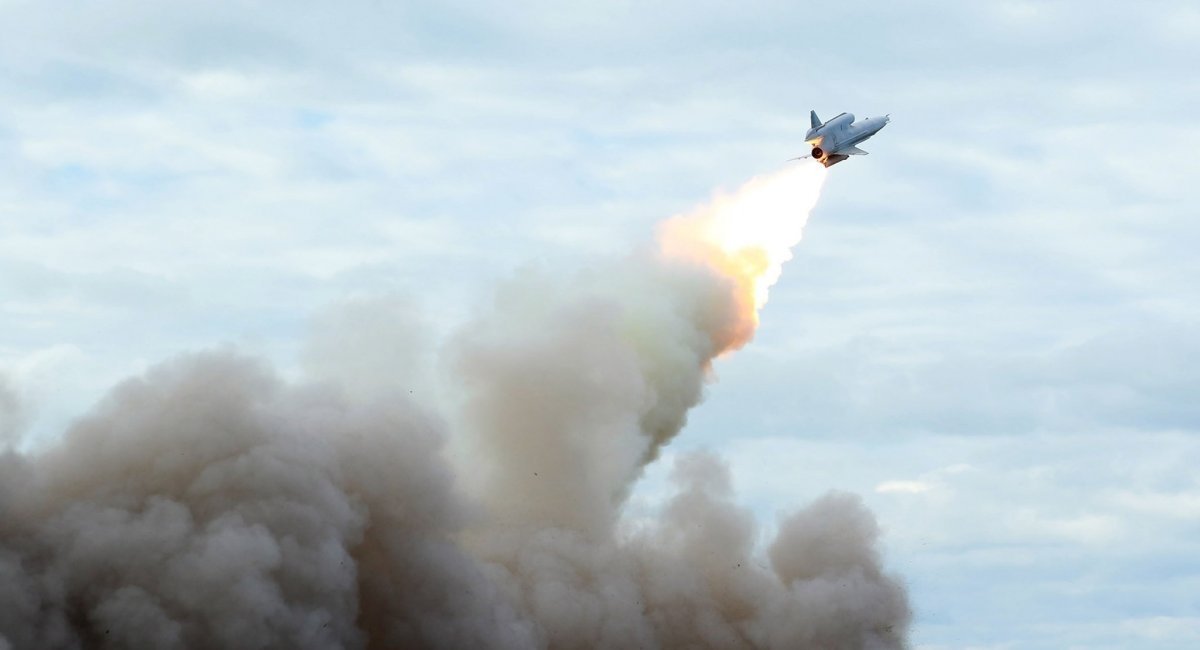 Ukrainian kamiakze drone Tu-141. Photo by Defense Express. 
A Ukrainian kamikaze drone Tu-141 that crashed near Kaluga (Russia) on Monday revealed the mystery behind Ukraine's long-range strikes deep inside the Russian territory.
Ukraine could have used modified Tu-141 "Stryzh" (Martlet) and Tu-143 unmanned aerial vehicles several times last year to strike military targets on the territory of the Russian Federation and in the temporarily occupied Crimea, but there was no solid evidence to confirm that Ukrainian forces really resorted to such old-fashioned Soviet-era weapons in order to break through the Russian air defense.
The first confirmed fact of the use of the Tu-141 armed drone for the Ukrainian attacks on military facilities deep inside Russia came on 6 February 2023, when the Tu-141 crashed in Kaluga, just 185 kilometers southwest of the Russian capital Moscow, according to The Drive.
"At five o'clock in the morning in a forest near the city of Kaluga, an armed drone exploded in the air at a height of 50 meters," Vladislav Shapsha, the governor of Kaluga Oblast in Russia, reported on 6 February. "There is no damage to civil and social infrastructure. No casualties either."
At first, it looked like the Ukrainian unmanned aerial vehicle exploded in the air, but later it turned out that the drone bumped into the trees and fell down, Defense Express reported.
Ukraine's Defense Minister promised on 3 February 2023 that Ukraine would not use longer-range weapons supplied by its Western allies to attack targets inside Russian borders. However, Ukrainian officials have never made such assertions about their own domestic weaponry.
Ukraine hits targets inside Russia on a regular basis using artillery, kamikaze drones, missiles and mysterious weapons, which are likely to be the modernized Soviet-era drones Tu-141 and Tu-143 that were converted into strike weapons with powerful warheads attached to them.
Ukraine's most brazen attacks inside the Russian territory targeted Russia's strategic airfields in Diagilevo and Engels last year. These two airbases have become the most distant targets hit by the Ukrainian Armed Forces during the eleven-month-long war. However, it was unclear what weapons Ukraine used to pull such long-range strikes off.
Three things Ukrainian drone strikes on Russian strategic airbases change in the war
The Russian air defense fails to track down the Ukrainian armed drone Tu-141 despite its large size. Tu-141 is 8 meters long with a wingspan of three meters, according to Ukrainian group of OSINT-analysts Defense Express.
The Tu-141 drone is able to fly at an extremely low altitude (up to 10 meters high), which makes it hard for the Russian air defense radar system to identify the danger. Tu-141 have jet engines, which gives them an opportunity to develop a transonic speed of 950-1100 km/h. The operating range of Tu-141 drones is about 1000 kilometers.
It is highly likely that the Ukrainian Armed Forces used Tu-141 drones to strike at the Russian strategic airbases in Dyagilevo (more than 400 km from Ukraine) and Engels (more than 700 km from the Russo-Ukrainian border) last December. Thus, a Soviet-era jet surveillance drone that was designed in 1970s has been modernized by Ukraine and turned into an effective kamikaze drone with a powerful warhead.
The Tu-141 drone that exploded near Kaluga apparently offered the first glimpse of what one of those warheads looks like. It appears to be a high-explosive bomb OFAB-100-120, which is a relatively common air-to-ground munition, according to The Drive. Rob Lee, the Senior Fellow at Foreign Policy Research Institute, analyzed the photos of the drone that crashed near Kaluga and made the same conclusion as to the warhead that Ukrainians equipped the Tu-141 drone with.
A Ukrainian UAV (reportedly a Tu-141 Strizh) crashed in Kaluga after hitting trees. It was carrying an OFAB-100-120 high-explosive bomb. https://t.co/AaPulpwUOQhttps://t.co/ZIWK10TzE5https://t.co/IgnfV86zII pic.twitter.com/cSKv9Nc9oA

— Rob Lee (@RALee85) February 6, 2023
The warhead OFAB-100-120 has a mass of 123 kg and 46 kg of explosives in TNT equivalent. After the explosion of this bomb, a five-meter funnel is formed, and the fragments scatter within a radius of one hundred meters.
OFAB-100-120 is designed to destroy manpower, military equipment or echelons with cargo, and this is exactly what was needed, for example, to destroy the Russian strategic bomber aircraft Tu-22M3 or Tu-95MS at the airbase in Engels in December 2022, according to Defense Express.
Therefore, an extremely high speed, ability to manoeuver at a low altitude and powerful warhead makes Tu-141 drones a perfect weapon to carry out strikes inside Russia. The Russian air defense proves to be literally helpless against a strike weapon like this. This old Soviet-era drone gives Ukraine long-range capabilities to strike targets deep inside the enemy's rear, including the Russian capital Moscow.
Related:
Tags: kamikaze drones, Russian invasion of Ukraine, Tu-141, Ukrainian Armed Forces