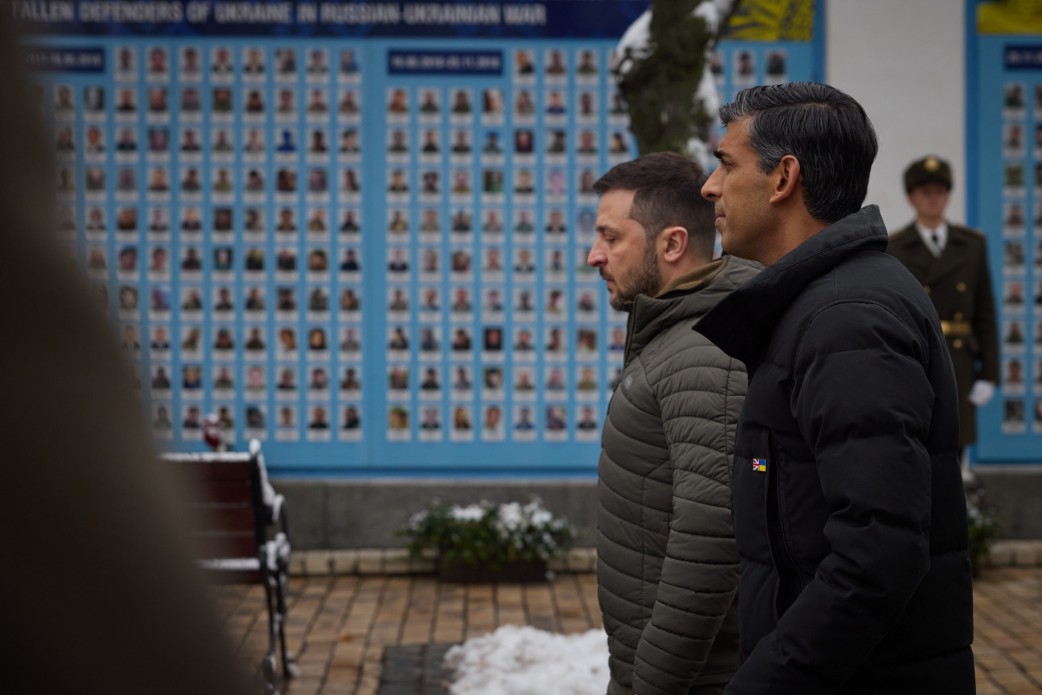 British PM Rishi Sunak (in the foreground) and Ukrainian President Volodymyr Zelenskyy honoring memory of fallen Ukrainian defenders during Sunak's visit to Kyiv on 19 November 2022. Photo: president.gov.ua
 
Ukrainian President Volodymyr Zelenskyy will on 8 February make his first visit to the United Kingdom since the Russian invasion of his country, Downing Street said, according to CNN. It will be only the second visit of Zelenskyy outside Ukraine since Russia re-invaded the country in February 2022.
Zelenskyy is expected to meet UK Prime Minister Rishi Sunak, visit Ukrainian troops trained by British forces, and address Parliament.
British PM Rishi Sunak meanwhile announced that the UK will expand training to fighter pilots and marines while also promising a long-term investment in Ukraine's military:
"I am proud that today we will expand that training from soldiers to marines and fighter jet pilots, ensuring Ukraine has a military able to defend its interests well into the future," he said.
To date, no supplies of Western-made aircraft to Ukraine were agreed upon.
Read also:
EU top diplomat does not rule out delivery of fighter jets to Kyiv
UK PM Sunak refuses to rule out supplying fighter jets to Ukraine
"Bringing back the decisions that our soldiers and energy workers have been waiting for" — Zelenskyy on his visit to Washington
Tags: aid for Ukraine, aircraft, Volodymyr Zelenskyy (Zelenskyi / Zelensky / Zelenskiy)