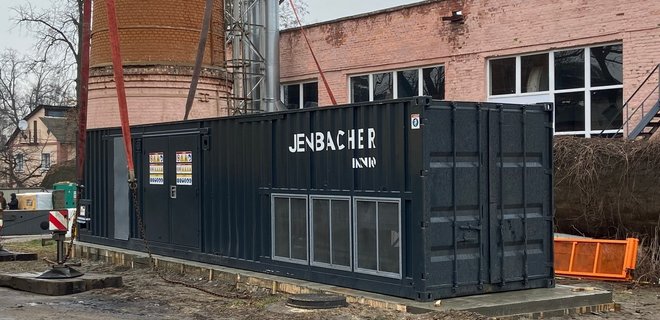 Photo: Ukraine's regional gas company RGK 
About twenty small power plants are being built in Ukraine, and there are prospects that they will be completed in the next six months, Andriy Gerus, chairman of the Verkhovna Rada Committee on Energy, Housing and Utilities, told in an interview with LIGA.net.
The MP did not specify the exact number of small power plants being built in Ukraine. However, according to his information, construction is taking place in different regions of Ukraine, in particular, near Kyiv, in Sumy, Poltava, Chernihiv, Vinnytsia, and Dnipro oblasts. "As far as I know, businesses are also looking at gas generation. I know that businesses are ready to invest in order to provide themselves with their own electricity," he says.
According to Andriy Gerus, the construction of at least a hundred such power generation facilities can significantly reduce Ukraine's vulnerability to attacks by the aggressor country on the Ukrainian energy system. In particular, they will help to supply electricity to critical infrastructure: boiler houses, kindergartens, and hospitals.
He says that Ukraine has 15 large facilities that account for half of its power generation. "When we have another hundred small power plants, it will be more difficult for Russia to destabilize our energy system," the MP said.
At the same time, according to Gerus, the payback period of such mini-power plants is up to 10 years, "so now all projects in Ukraine are being built with international assistance or by enterprises for their own consumption."
The price of this generation depends on the configuration, complexity of installation, and technology, so their cost ranges from €400,000 to €800,000 per MW, he clarified.
On December 19, Volodymyr Kudrytskyy, the head of Ukrenergo, said that the biggest problem in Ukraine's energy system is the lack of generating capacity. Therefore, Ukraine is counting on help from the West in the form of mobile power plants. Subsequently, Prime Minister Denys Shmyhal said that Ukraine had begun to deploy a network of gas turbine and gas piston mini-power plants. At the same time, President Volodymyr Zelenskyy announced that Ukraine was embarking on a course of decentralization in the energy sector. Ukraine's first 1 MW gas reciprocating power plant was opened on January 31 in the city of Irpin.
Russia fired 700 missiles and drones at Ukraine's power system, killed 98 power engineers – MP
Tags: power infrastructure