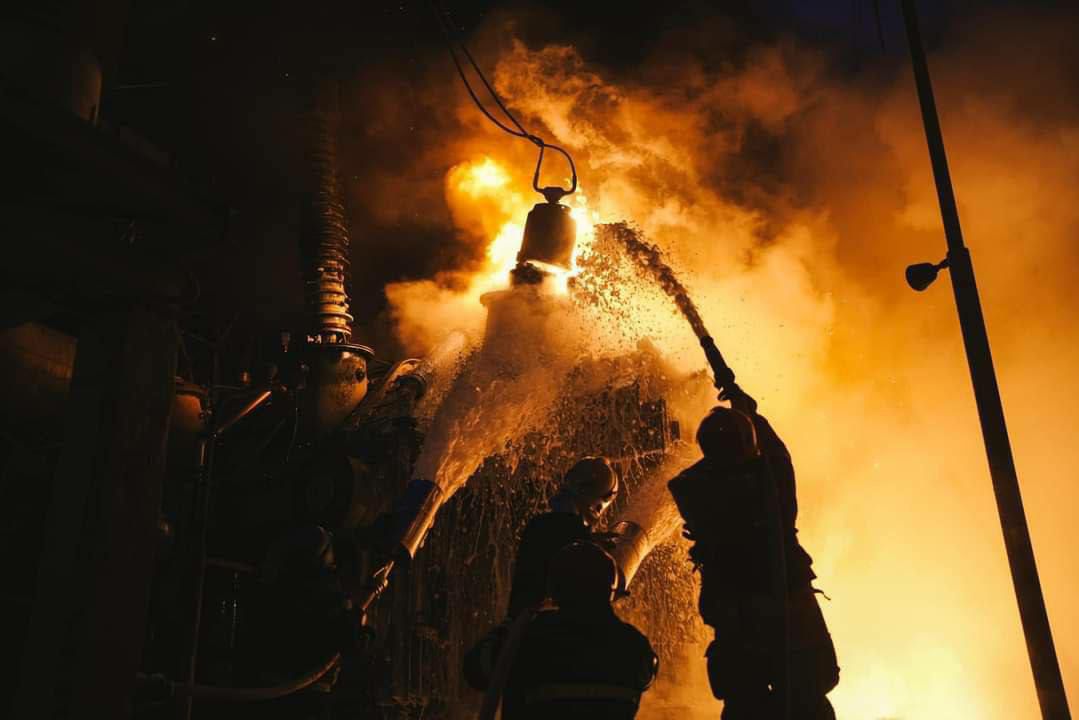 The aftermath of the Russia's kamikaze drone attack on the power grid in Kyiv, Ukraine, 19 December. Photo by Ukraine's Emeregency Service 
From October 10 to the end of January, Russia fired about 700 cruise missiles and Shahed-136 kamikaze drones at the Ukrainian power system, Andriy Gerus, Chairman of the Verkhovna Rada Committee on Energy, Housing and Utilities, told Liga.net.
According to the MP, the most difficult situation in the power system is currently observed in Odesa Oblast, where there has been no electricity for more than two days after a series of Russian missile attacks on local substations.
In total, according to him, as a result of shelling Ukrainian energy facilities, Russia has practically destroyed the infrastructure in eight regions, in particular, in Donetsk, Luhansk, Kherson, Odesa, Chernihiv, Sumy, and Kyiv oblasts.
Since October 10, according to the MP's estimates, the aggressor country has fired about 700 missiles and Shahed-136 kamikaze drones at the Ukrainian power system. As a result, Ukraine lacks about 4-5 GW of electricity in the evening. "At the peak, when the total demand of the power system is more than 17 GW, our power plants produce 13-14 GW of electricity per hour," he adds.
At the same time, Andriy Gerus emphasized that the power industry "is doing everything possible to ensure that Ukrainians have electricity." However, according to the MP, the situation in the energy system depends not only on the work of emergency crews but also on the consequences of further possible attacks on the Ukrainian energy system.
He assesses the risk that Russia will continue to shell energy infrastructure facilities as "quite high." According to his information, 98 power engineers were killed in the line of duty in 2022, and twice as many were injured.
Since the fall of 2022, Russia has carried out 14 missile and 15 kamikaze drone attacks on energy infrastructure facilities. According to the Ministry of Energy, the enemy damaged at least 50% of the power grid, with Ukrainian power plants and substations under attack. On February 3, the Ministry announced that the situation with the electricity supply had improved. However, according to the National Bank, due to Russian shelling, Ukraine will continue to face electricity shortages until at least the end of 2024.
The European Union, from where businesses already import electricity, promises to help Ukraine. According to the President of the European Commission, Ursula von der Leyen, EU countries are going to export 2 GW of electricity to the Ukrainian market.
Russian missile strikes cannot cause total blackout – CEO of Ukraine's largest power company