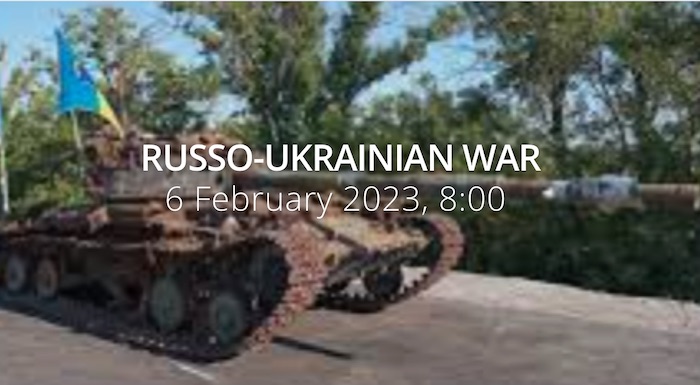 Fierce battles are ongoing in the Donetsk region – Zelenskyy. Odesa battles to restore power after fire wipes out the substation. Russia and Iran plan to build a factory in Russia to manufacture up to 6,000 drones for combat in Ukraine.
On 5 Feb, Ukrainian Def Min Oleksii Reznikov stated that the country's defense forces expect Russian offensive operations before 24 Feb, the symbolic date of the full-scale Russian invasion. He has urged the public to trust only official information.https://t.co/IWck4VzECf

— Euromaidan Press (@EuromaidanPress) February 5, 2023
Daily overview — Summary report, February 6
A map of the approximate situation on the ground in Ukraine as of 00:00 UTC 06/02/23.

There have been no notable changes to control since the last update. pic.twitter.com/uGia9CfdK6

— War Mapper (@War_Mapper) February 6, 2023
The General Staff's operational update regarding the Russian invasion as of 18.00 pm, February 6, 2023 is in the dropdown menu below:
The occupiers are concentrating their main efforts on conducting offensive operations on the Kupyansk, Lyman, Bakhmut, Avdiivka, and Novopavlivka axes.
During the hostilities in the area of the city of Bakhmut, there was a complete lack of coordination and interaction among servicemen of the Russian occupation forces and mercenaries of the so-called "Wagner" PMC.
Over the past day, our units repelled the attacks of the occupiers in the areas of Verkhnokamyanske, Vasyukivka, Paraskoviivka, Bakhmut, Ivanivske, Kamyanka, Severne, Pervomaiske, Vesele, Nevelske, Krasnohorivka, Maryinka, Pobyeda and Novomykhailivka settlements of the Donetsk Oblast.
At the same time, Russian forces launched 4 missile strikes on the civilian infrastructure of Kharkiv and Druzhkivka in Donnechyna and carried out 56 attacks from MLRS, in particular, on civilian infrastructure in Kherson. There are dead and wounded.
The threat of further Russian air and missile strikes on the entire territory of Ukraine remains high.
Volyn, Polissya, Sivershchyna and Slobozhanshchyna axes: no offensive enemy groups were detected. The vicinities of Senkivka, Chernihiv Oblast, were shelled; Novovasylivka, Seredyna-Buda, Sopych, Boyaro-Lezhachi, Volfyne and Oleksandrivka in Sumy Oblast and Strelecha, Neskuchne, Ternova, Staritsa, Ohirtseve, Budarky and Rublene in Kharkiv Oblast.
Kupyansk axis: Russian forces fired at the areas of the settlements of Pishchane, Ivanivka, Kucherivka, Kyslivka and Kotlyarivka in the Kharkiv Oblast, as well as Novoselivs'ke and Stel'makhivka in the Luhansk Oblast.
Lyman axis: Terny of the Donetsk Oblast and Makiivka, Ploshchanka, Nevske, Chervonpopivka, Kreminna, Kuzmyne, Dibrova – Luhansk Oblast came under enemy fire.
Bakhmut axis: more than 25 settlements were affected by fire, among them Spirne, Bilogorivka, Mykolaivka, Rozdolivka, Krasna Gora, Bakhmut, Ivanivske, Stupochky, Tarasivka, Kurdyumivka, Ozaryanivka and New York of the Donetsk Oblast.
Avdiivka axis: Semenivka, Avdiivka, Severne, Vodyane, Pervomaiske, Vesele, Nevelske, Krasnohorivka, Georgiivka, Maryinka, Pobyeda and Novomykhailivka were under artillery fire.
Novopavlivka axis: Vugledar, Bogoyavlenka, Novoukrainka, Prechystivka, Zolota Nyva, Velyka Novosilka, and Neskuchne in Donetsk Oblast were hit by tank, mortar, and artillery fire.
Zaporizhzhia axis: more than 30 settlements were affected by the fire. Among them are Novopil, Ol'hivs'ke, Poltavka, Malynivka, Chervone, Gulyaipole, Charivne, Mala Tokmachka, Novoandriivka, Stepove and Kam'ians'ke of the Zaporizhzhia Oblast.
Kherson axis: in particular, Kherson, as well as Zolota Balka, Havrylivka, Kachkarivka, Mylove, Beryslav, Vesele, Ivanivka, Mykils'ke, Chornobayivka, Antonivka, Dniprovske, and Honcharne of the Kherson Oblast were shelled. In total, almost 20 settlements.
Russian forces continue to suffer losses. Thus, in the village of Vasylivka, Zaporizhzhia Oblast, the occupiers converted a local children's hospital into a military hospital for wounded servicemen of the armed forces of the Russian Federation. Admission of children to the hospital has been stopped.
[Russian forces continue to attract medical personnel from Russia due to large-scale losses in Ukraine. For example, a field hospital with Russian medical personnel and surgeons has been deployed in Pokrovske (Luhansk oblast), on the territory of a local outpatient clinic.]
[In the city of Tokmak (Zaporizhzhia oblast), Russian occupation forces are forcibly evicting civilians from their homes to accommodate local collaborators who support the Russian occupation authorities and work within the structure of Russian so-called "law enforcement agencies." Owners are ordered to leave their homes and move out into the streets.]
[The Russian occupiers are searching the village of Krynky (Kherson oblast), to steal boats, water engines, and other equipment for water transportation from civilians.]
During the past day, the Ukrainian Air Force carried out 9 strikes on enemy concentration areas and a strike on the positions of its anti-aircraft missile systems. Units of missile and artillery troops of the Defense Forces of Ukraine hit the command post, 8 areas of concentration of Russian manpower and the ammunition depot.
Military Updates
Fierce battles ongoing in Donetsk region – President, Ukrinform reports. "It is very difficult in Donetsk region – there are fierce battles. But no matter how hard it is and no matter how much pressure there is, we have to withstand it. We have to use and we do use every day and every week to reinforce our defence at the front, to strengthen our international position, to increase pressure on Russia and to give our people new opportunities to get through this difficult time, the President said.
He noted that there are many reports that the occupiers want to do something "symbolic" in February and try to avenge their last year's defeats. We see this increased pressure in various areas of the frontline, as well as pressure in the information field, Zelensky said."
UK Foreign Secretary James Cleverly called arming Ukraine to defend itself against Russia "the swiftest and the only path" to achieving peace. Putin's barbarity targets Ukraine. However, the entire world pays a colossal price. We "will not let Putin win."https://t.co/s1f3YV3Nrl

— Euromaidan Press (@EuromaidanPress) February 5, 2023
Ukraine's forces still hold Bilohorivka, the last part of the Luhansk region, Reuters reports. "Ukrainian forces remained in control of the village of Bilohorivka, the [Head of Luhansk Oblast Military Administration] Serhiy Haidai said on Sunday, adding that the situation there is tense, but under control. […] Some Moscow-installed officials and pro-Russian military bloggers have recently claimed Russian advances in the direction of Bilohorivka, the last part of Luhansk held by Ukrainian forces."
Ukraine won't use longer-range rockets pledged by the US to hit Russian territory and will only target Russian forces in the occupied territory of Ukraine, Defence Minister Reznikov assuredhttps://t.co/dBvDCXBGGG

— Euromaidan Press (@EuromaidanPress) February 5, 2023
Group of Ukrainian special forces active in Russia, Ukrainska Pravda reports, citing The Guardian. "The Guardian notes that they are members of the Brotherhood battalion, a volunteer group of Ukrainian special forces fighting Vladimir Putin deep in Russia. Their work ranges from the kidnapping of senior Kremlin officials to the destruction of key military infrastructure and the downing of enemy aircraft on Russian territory.
One of the soldiers, Vladyslav, says that they are telling this publicly so that Putin and the invaders know that it is very easy for us [Ukrainian soldiers – ed.] to cross the Russian border. The "Brotherhood" insists that it is vital for the Russian high command to feel the heat of battle on its own territory.
The media reports that the Brotherhood volunteers have a special status, technically independent from Ukraine's army but operating side by side with the official forces. The Guardian adds that because of their unofficial status, their stories could not be independently verified but they are convincing and credible."
Asked when Ukraine can receive the missile and drone warning technologies from Israel, Reznikov could not answer about the terms, but confirmed that such delivery was promised:

"It's true. They (Israel – ed.) promised us that," he said.https://t.co/dCDovvTuB9

— Euromaidan Press (@EuromaidanPress) February 5, 2023
According to British Defence Intelligence, (last 48 hours): 
On 01 February 2023, Russian Federation Council chair Valentina Matvienko said that regional elections will take place in the newly annexed areas of Ukraine on 10 September 2023.
Incorporating the elections into the same day of voting which is scheduled across Russia highlights the leadership's ambition to present the areas as integral parts of the Federation.
This follows continued efforts to 'Russify' the occupied areas, which include revision of the education, communication, and transport systems. While meaningful democratic choices are no longer available to voters at even regional level elections in Russia, leaders will likely make the self-vindicating argument that new elections further justify the occupation.
Over the last week, Russia has continued to make small advances in its attempt to encircle the Donbas town of Bakhmut.
The M03 and the H32 – the two main roads into the city for Ukrainian defenders – are likely now both threatened by direct fire, following the Russian advances. Earlier in the week, Wagner paramilitary forces highly likely seized a subordinate route which links Bakhmut to the town of Siversk.
While multiple alternative cross-country supply routes remain available to Ukrainian forces, Bakhmut is increasingly isolated.
Losses of the Russian army 
Ukraine claims Russian death toll rises to more than 130,000

The General Staff of Ukraine's military says 131,290 Russian troops have been killed in Ukraine since Russia invaded the country on 24 Feb 2022 with some 700 eliminated over the past day https://t.co/09FTer4uuz

— Euromaidan Press (@EuromaidanPress) February 5, 2023
As of Monday 06 February, the approximate losses of weapons and military equipment of the Russian Armed Forces from the beginning of the invasion to the present day:
Personnel – about 132160 (+870),
Tanks – 3231 (+11),
Armoured combat vehicles – 6415 (+10),
Artillery systems – 2231 (+5),
Multiple rocket launchers –MLRS – 461 (+1),
Air defence means – 227 (+0),
Aircraft – 294 (+0),
Helicopters – 284 (+0),
Automotive technology and fuel tanks – 5104 (+13),
Vessels/boats – 18 (+0),
UAV operational and tactical level – 1958 (+0),
Special equipment – 203 (+0),
Mobile SRBM system – 4 (+0),
Cruise missiles – 796 (+0)
In the Russian Kh-101 missile that fell in Ukraine, American experts found elements to overcome air defence, "Reporter" reports. "The cruise missile that fell down on January 26 in the Vinnytsia region due to a technical malfunction is [allegedly] a new, previously unknown modification of the Kh-101, an air-to-ground strategic munition using technologies to reduce radar visibility.
Having studied the surviving wreckage of the cruise missile, American and Ukrainian specialists found out that interesting equipment was installed on this version of the X-101: a decoy system and a satellite imagery optical trajectory correction system.
Previously, the X-101 was not seen in such a configuration, which may indicate that Russian designers are trying to improve the ammunition and increase its effectiveness. The experts came to the conclusion that the integrated elements, together, should help overcome the Ukrainian air defense to effectively defeat as many targets as possible."
Humanitarian 
Ukraine's Reintegration Ministry reports the safe return of 2 more children forcibly deported with their mother from Luhansk Oblast to Ryazan, Russia. After their mother passed in Russia, their older sister, in Volyn Oblast, became their legal guardian. https://t.co/1uUnGJDsKu

— Euromaidan Press (@EuromaidanPress) February 5, 2023
Odesa battles to restore power after fire wipes out substation, Reuters reported on Saturday. "The Ukrainian port city of Odesa on Saturday restored power to critical infrastructure after a fire broke out at an overloaded substation, leaving nearly 500,000 people without electricity, a top official said. The blaze, which erupted earlier in the day, is a new blow to the country's ailing energy grid that has been hammered by Russian strikes for months.
Officials said repairs could take weeks. The government said it would appeal to Türkiye for help. Power to all critical infrastructure has been restored. The city will therefore have water and heat, Ukraine Energy Minister German Galushchenko wrote on Facebook late in the day."
Ukraine, Russia swap prisoners; bodies of British volunteers returned, Reuters reported on Saturday. "Ukraine and Russia traded almost 200 prisoners of war in a swap announced separately by both sides on Saturday, with the bodies of two British volunteers also being sent back to Ukraine.
The Ukrainian president's chief of staff, Andriy Yermak, said 116 Ukrainians had been returned, while Russian news agencies cited Moscow's defence ministry as saying 63 Russian POWs had been freed."
Environmental
Abductions of power engineers become more frequent in Enerhodar, Ukrinform reports, citing Enerhodar Mayor Dmytro Orlov. "The abductions of the power engineers who used to work at Zaporizhzhia Nuclear Power Plant (NPP) but refuse to cooperate with Russian invaders are becoming more and more frequent in the temporarily occupied city of Enerhodar. […] According to Orlov, abductions started back in March 2022.
There are several torture chambers. They are located in the city and within the industrial site. Due to the limited number of places in the torture chambers, people are sometimes released. Different tortures are used: both physical and electric shock, Orlov noted. In his words, the employees who refuse to cooperate with Rosatom are not allowed to enter Zaporizhzhia NPP. Less than 1,000 people agreed to sign contracts."
Legal 
#Crimea #journalist prosecuted and declared a '#foreign_agent' for opposing #Russia war against #Ukraine#Anastasia_Zhvyk #LetMyPeopleGo #StandWithUkraine #StopRussia https://t.co/rKhvbyqOlb pic.twitter.com/GsCE3fwwaS

— Halya Coynash (@halyapuff) February 5, 2023
Russian morning attack on Kharkiv causes serious damage to one of the universities, Ukrainska Pravda reports, citing Prosecutor's Office of Kharkiv Oblast. "The Russian military launched a missile attack on the Kyiv district of the city of Kharkiv on 5 February at around 8:20, severely damaging the building of the O. M. Beketov Kharkiv National University of Urban Economy."
Russians attack Kherson in the morning, lyceum building on fire, Ukrainska Pravda reports, citing the Kherson Oblast Military Administration. "The Russian occupiers launched attacks on the city of Kherson on the morning of 5 February. A lyceum caught fire as a result. The Russian army is now fighting with education facilities in Kherson Oblast – they launched an attack on a building of a lyceum in Kherson."
Support
Cleverly: Giving Ukraine weapons is the only path to peace, Ukrinform reports, citing the Times of Malta. "British Foreign Secretary James Cleverly has said that the swiftest and the only path to peace in Europe is to provide Ukraine with weapons it needs to defeat Russia. […]
He noted that Russia's unprovoked and brutal invasion of Ukraine one year ago is the greatest threat to Europe's security since 1945, stressing that Vladimir Putin's ambitions do not end with the conquest and annexation of Ukraine. According to Cleverly, Ukraine bears the brunt of Putin's savagery, but the whole world is paying an exorbitant price for Putin's war of choice
A tsunami of hunger threatens the poorest countries in the world. Rising energy prices will push millions back into poverty, all across the globe… He [Putin] wants to upend world politics and call time on the international order. And if he succeeds, he will drag us all back to an age of violence and conquest. But we cannot and will not let Putin win, he wrote."
Ukrainian soldiers leave to start training with SAMP/T air defence systems, Ukrainska Pravda reports, citing the Air Force press service. "Lieutenant General Mykola Oleshchuk, Commander of the Air Force of the Armed Forces of Ukraine, sent units of the anti-aircraft missile forces on a mission to train with the SAMP/T-Mamba anti-aircraft systems. […]
Recently, after several weeks of discussions, France and Italy decided to send SAMP/T air defence systems to Ukraine."
Prime Minister of Portugal confirms intentions to send Leopard 2 tanks to Ukraine, Ukrainska Pravda reports, citing Diario de Noticias. "On Saturday, António Costa, Prime Minister of Portugal, stated that his country would send Leopard 2 battle tanks to the Armed Forces of Ukraine; he also added that a logistical operation to recover some tanks was currently undergoing with Germany.
We are currently working on being able to give up some of our tanks. I know exactly how many tanks will be [sent to Ukraine], but it will be announced at the appropriate time, Costa said."
Ukrainian army needs hundreds of thousands of drones – Reznikov, Ukrinform reports, citing the Ukrainian Ministry of Defence. "The minister of defence met with more than a hundred Ukrainian developers and manufacturers of UAVs. Ukraine's Deputy Prime Minister, Minister of Digital Transformation Mykhailo Fedorov, Minister of Strategic Industries Pavlo Riabikin and a representative of the General Staff of the Armed Forces of Ukraine took part in the meeting at Reznikov's invitation.
Reznikov emphasized the importance of supporting the Ukrainian UAV market, particularly drones of a wide range of application — air, ground and water. This is about adjusting artillery fire, inflicting damage on Russian forces (strike drones), the delivery of military equipment, evacuation of the wounded, etc. Currently, the needs of the Ukrainian Defense Forces are measured by hundreds of thousands of UAVs of various modifications."
New Developments 
Arakhamia says Budanov will replace Reznikov as defence minister, Ukrinform "Davyd Arakhamia, head of the Servant of the People parliamentary faction, has said that Chief of the Defence Intelligence of Ukraine Kyrylo Budanov will head the Ministry of Defense, while current Defense Minister Oleksii Reznikov will be transferred to the position of minister for strategic industries. […] Arakhamia informed that acting Minister of Internal Affairs Ihor Klymenko and acting Security Service Chief Vasyl Maliuk will be appointed to permanent positions."
Hans Petter Midttun: The reshuffle is in my humble opinion, highly unfortunate. Major General Kyrylo Budanov has performed brilliantly as the Head of Defence Intelligence of Ukraine (DIU). This is a crucially important position, not least because international cooperation within this field in parts depends on trust. His replacement makes no sense. Secondly, an officer is replacing a civilian Minister of Defence at a time Ukraine is being called to reform. Civilian control of the Armed Forces is a NATO and EU prerequisite. Thirdly, Defense Minister Oleksii Reznikov has also built personal relationships and communicated on equal terms with his NATO colleagues during the last year, all of which are civilians.
Germany's Scholz: Putin has not threatened me or Germany – Bild, Reuters "Russian President Vladimir Putin in his telephone conversations with German Chancellor Olaf Scholz has not made any threats against me or Germany, Scholz said in an interview with the Sunday newspaper Bild am Sonntag. Former British prime minister Boris Johnson, speaking to the BBC for a documentary early this week, saidthe Russian leader had threatened him with a missile strike that would "only take a minute." The Kremlin said Johnson was lying.»
Scholz believes providing Ukraine with Western tanks does not threaten to escalate war, Ukrainska Pravda reports, citing Bild am Sonntag. "German Chancellor Olaf Scholz dispels concerns that Germany's decision to provide Ukraine with Western tanks and allow such supplies to other allies will provoke the Kremlin to a new escalation. Commenting on Putin's statements, in which he drew parallels between the German tanks that Ukraine will receive and those of the Third Reich, Scholz noted that the Russian President's words are a continuation of a series of bizarre historical comparisons that Putin is using to justify the war against Ukraine. […] The chancellor was also asked whether there was an agreement with Ukraine on the use of Western weapons only within the territory of Ukraine. There is a consensus on this, Scholz replied."
Ukraine not to attack Russia with new US long-range projectiles – Defence Minister, Ukrainska Pravda reports, citing Reuters. "The USA included long-range shells with a 150-km range into a $2.175-billion-worth of military aid package for Ukraine. Ukraine will not use long-range weapons promised by the USA to launch attacks on the territory of Russia, [Oleksii Reznikov, the Minister of Defence of Ukraine, said at a press conference on Sunday]. We only launch attacks on the Russian units deployed in the temporarily occupied territory of Ukraine, Reznikov assured."
Swiss media report that declassified documents indicate Patriarch Kirill, codenamed "Mikhailov," was a KGB intelligence agent in the 1970s while serving as the Russian Orthodox Church's representative to the World Council of Churches (WCC) in Geneva. https://t.co/hJtevi8Bck

— Euromaidan Press (@EuromaidanPress) February 5, 2023
Assessment 
On the war. 
The Institute for the Study of War has made the following assessment as of  February 5, 2022:
This report focuses on Russian President Vladimir Putin's cautious approach to risk-taking after having thrown the dice on launching a full-scale invasion of Ukraine on February 24, 2022, an act he likely did not see as a risk. Putin's hesitant wartime decision making demonstrates his desire to avoid risky decisions that could threaten his rule or international escalation—despite the fact his maximalist and unrealistic objective, the full conquest of Ukraine, likely requires the assumption of further risk to have any hope of success.
Russian President Vladimir Putin's decisions regarding Ukraine since his initial flawed invasion on February 24, 2022, indicate a likely disconnect between his maximalist objectives and his willingness to take the likely high-risk decisions necessary to achieve them. Putin likely operated under the flawed assumption that Russian forces could force Kyiv to capitulate without any significant military sacrifices and saw Russia's invasion as a limited and acceptable risk. Captured Russian military plans, for example, revealed that the Kremlin expected Russian forces to capture Kyiv in days, Russian intelligence services reportedly expected the Ukrainian military to collapse, and Kremlin propagandists preemptively published a prewritten article extolling Russia's "victory" on February 26, 2022. Reports that Putin dismissed the Russian Central Bank's prescient warnings in February 2022 of the effect of a war in Ukraine on the future of the Russian economy under harsh Western sanctions likely suggest Putin wrongfully assumed the West would not impose major costs on his invasion. The failure of Russian forces in the Battle of Kyiv—and with it the Kremlin's war plan—forced Putin to face complex decisions as the Kremlin fought an increasingly costly and protracted conventional war. Putin, however, has remained reluctant to order the difficult changes to the Russian military and society that are likely necessary to salvage his war.
Putin has consistently ignored, delayed, or only partially implemented several likely necessary pragmatic decisions concerning his invasion. Putin was reluctant to order full mobilization following the costly capture of Sievierodonetsk and Lysychansk in June-July 2022 and several unsuccessful offensives that depleted much of his conventional military. Putin ignored repeated calls from the Russian nationalist community in May 2022 to mobilize reservists, declare war on Ukraine, implement martial law in Russia, and modernize the military call-up system. Putin likely feared antagonizing Russian society and instead prioritized recruiting and committing relatively ineffective irregular armed formations over the summer. Putin also attempted to maintain the façade of a limited war to shield much of Russian society from the scale and cost of the Russian war in Ukraine. Putin also did not make many public appearances relating to the war effort from the start of the war until mid-December. Putin additionally did not attempt to silence the large group of Russian pro-war and ultra-nationalist milbloggers and public figures who supported Putin's war aims but began to criticize what they perceived as a half-hearted Russian war effort.
Putin continued to select comparatively less risky options even when faced with spiraling military failures in fall 2022. Putin only began to accept domestically unpopular—and potentially risky—policies such as the declaration of partial mobilization or the expansion of martial law far after the dire situation on the front lines following Ukrainian successes made clear the Kremlin required additional combat power. Putin could have announced a larger mobilization effort than the reported 300,000 servicemen but likely feared that the already unpopular prospect of mobilization would further damage his appeal within Russian society. Putin additionally made a significant rhetorical effort to downplay mobilization by defining it as the mobilization of select reservists, despite the realities of Russian military recruitment centers being unable to implement such a targeted campaign. Putin also did not formally declare martial law outside of Kherson, Zaporizhzhia, Donetsk, and Luhansk oblasts, but instead directed areas outside Ukraine to build out the legal framework necessary to support Russian mobilization. Putin also only selectively appeased milbloggers by meeting some of their demands, such as launching a "retaliatory" strike campaign against Ukrainian energy infrastructure, while refraining from implementing other consequential demands such as clearly defining Russia's claimed borders.
ISW assesses the Kremlin and Russian Ministry of Defense (MoD) is belatedly implementing large-scale-military reforms and treating Ukraine as a protracted and major war—yet Putin is continuing a similar pattern of reserved decision-making. ISW assessed on January 15 that the Kremlin is belatedly taking the personnel mobilization, reorganization, and industrial actions it realistically should have before launching its invasion of Ukraine in February 2022. However, Putin is evidently reticent to announce a second wave of mobilization, with US and Western officials noting that Putin is again leaning towards conducting "silent mobilization" due to the concerns over the extreme unpopularity of the first wave of mobilization. Putin is additionally reportedly conducting surveys to gauge Russians' perception of mobilization and has not made up his mind on when to start further mobilization, despite Defense Minister Shoigu announcing wide-ranging reforms to increase the manpower of the Russian Armed Forces on January 17. ISW had also observed conflicting messaging from Russian State Duma officials and Kremlin representatives regarding changes to mobilization and conscription protocols, possibly indicating that Putin has ordered the preparation of these provisions but is reluctant to announce them to the public.
Putin notably relies on a group of scapegoats to publicly take risks in his place and shoulder the blame for Russian military failures and unpopular policies. Putin allows and at times has contributed to Russian milblogger criticism of the Russian MoD to deflect blame from himself. Putin, for example, positioned Russian Defense Minister Sergey Shoigu and the MoD to be the face of his most domestically unpopular decision to date—ordering partial mobilization—by having Shoigu explain mobilization provisions in a televised interview. Putin has also repeatedly blamed the Russian MoD for every problem relating to the execution of partial mobilization and even publicly rebuked the MoD and called on it to listen to criticism. Putin has repeatedly reshuffled the Russian command structure throughout the war and allowed successive commanders to take blame, blaming overall Russian military failures on individual commanders rather than his unrealistic and maximalist objective of seizing all of Ukraine. Putin's state propaganda networks have also placed responsibility for the controversial Russian withdrawal from west (right) bank Kherson Oblast and Kherson City in November 2022 on the former Commander of the Russian Armed Forces in Ukraine, Army General Sergey Surovikin (who now serves as deputy Commander of the Russian grouping in Ukraine under the new commander, Army General Valery Gerasimov) and Putin did not comment on this significant Russian loss. Putin has regularly used the Russian State Duma to set conditions for controversial decisions in order to frame Putin as balanced leader. Putin has repeatedly snubbed extreme Russian State Duma's proposals such as the legalization of the Wagner Group in Russia or fully committing to calls to nationalize property from Russians who have fled the country during the war. Putin has also failed to fully commit to the ultra-nationalist rhetoric that naturally flows from his maximalist invasion of Ukraine, despite using some of its elements in his justification for the war in Ukraine.  
Putin's reluctance to take risks directly related to his conventional war in Ukraine indicates that he remains highly unlikely to pursue nuclear escalation or war with NATO. ISW previously assessed that Russian conventional war threats against NATO do not correspond with Russia's capabilities and that Russia uses nuclear threats primarily to intimidate the West. Putin evidently values his domestic status quo and seeks to avoid risky and controversial policies to support his own aims. Putin also continues to demonstrate that he remains a calculated individual who places considerable emphasis on eliminating risks—even while his perception of the situation he faces diverges from reality. Putin has thus repeatedly placed himself in the position of articulating maximalist and unrealistic objectives, calling on his government and military to achieve them—yet refraining from making the costly decisions the large-scale and protracted conventional war he has embarked on likely requires.
Key inflections in ongoing military operations on February 5:
Current Ukrainian Defense Minister Oleksii Reznikov (pending a potential reshuffle) stated that Ukrainian officials expect possible Russian offensive operations ahead of the anniversary of the invasion of Ukraine on February 24, but noted that there are no Russian strike groups near Kharkiv City.
German Chancellor Olaf Scholz stated that Ukraine is not using Western-provided weapons to strike Russian territory.
Russia and Iran plan to build a drone factory in Tatarstan, to supply over 6,000 drones for Russia's war against Ukraine. Both countries pledged to develop more advanced drones in yet another 'idée fixe' attempt to challenge Ukraine's air defense.https://t.co/HiqK4MRYHj

— Euromaidan Press (@EuromaidanPress) February 5, 2023
US officials stated that Russia and Iran plan to build a factory in Russia to manufacture up to 6,000 drones for combat in Ukraine. A Russian source claimed that Russian arms company Lobaev Arms is beginning to develop and produce these drones.
Russian forces continued offensive operations in the Kreminna area, and Russian milbloggers claimed that Russian forces launched renewed offensive operations northwest of Svatove in recent days.
Russian forces continued to conduct ground attacks around Bakhmut. Russian milbloggers are conflicted on whether Ukrainian forces are withdrawing from Bakhmut, as Wagner Group financier Yevgeny Prigozhin denied claims of a Ukrainian withdrawal. ISW continues to assess that Russian forces are likely unable to force an imminent Ukrainian withdrawal from Bakhmut.
Russian sources continued to claim that Ukrainian forces are transferring reserves in the Vuhledar direction.
Geolocated satellite footage shows that Russian forces built a fortified base on the Arabat Spit in northeastern Crimea between October 18, 2022, and January 21, 2023.
The Ukrainian General Staff reported that Russian forces continue to import medical personnel from Russia to treat wounded military personnel in occupied Luhansk Oblast, supporting ISW's assessment that Russian forces are preparing for a renewed offensive in Luhansk Oblast.
Reznikov thinks Russia will not use nuclear weapons against Ukraine, Ukrinform reports. "There has always been such a risk, but I ask myself the question every time: if they wanted to use it [nuclear weapons], what would be their goal? It seems clear – to make us fall to our knees and stop the West from helping us. However, every time the Russians do something extremely terrible – Bucha, Irpin, Mariupol – the West is starting to provide even more assistance to us, because the partners understand that the Russians must be stopped. If they are not stopped in Ukraine, they will go further and they will have to be stopped in Europe. I think the Europeans have already understood that the Russians must be stopped on the battlefield in Ukraine, with Ukraine's victory, Reznikov said.
According to him, if Russia decided to use nuclear weapons on the front lines, it would pose a danger to its own army, and if they did so in the temporarily occupied territories, it would pose a danger to the population that the Russians allegedly "protect."
To do it inside Ukraine […] in order to demonstrate that they are so determined? It could be anywhere. And what will it give them? It will give the biggest proof that the tribunal is guaranteed for all of them, because Ukraine is not a nuclear-weapon state and, accordingly, we do not pose a nuclear threat. And the general concept of using nuclear weapons is a weapon of deterrence, he said. At the same time, Reznikov said that the Kremlin had received a signal not to use nuclear weapons from its so-called allies, China and India."
Consequences and what to do? 
Ukraine's Defence Forces to introduce Delta system which gives an advantage over occupiers, Ukrainska Pravda reports, citing the Government portal. "The government decided to introduce the Delta system in Ukrainian Defence Forces on Saturday, 4 February. […] Delta is a situational awareness platform created by the Defence Technology Innovation and Development Centre of the Ministry of Defence of Ukraine. […] In addition to the use of the platform by the military, the government has authorised the deployment of Delta in the cloud outside Ukraine. This will allow the system to be protected from Russian missile and cyber-attacks.
It was noted that the Delta system has been under development by the Armed Forces of Ukraine since 2016 and was significantly updated with the beginning of a full-scale invasion of the Russian Federation in February 2022. The system currently provides real-time data to field commanders and enables faster and more informed decision-making by integrating multiple data sources.
On 3 January, The Wall Street Journal wrote that Ukraine created an improvised intelligence network to coordinate combat units on the battlefield; it turned out to be a cut-price version of a network on which the Pentagon has spent decades and billions of dollars. WSJ also cited Yaroslav Honchar, co-founder of Aerorozvidka, a nongovernmental organisation that has been helping the Ukrainian army with surveillance drones since 2014, that almost every unit that participated in the battles for Kyiv in the spring used the Delta program."
When it comes to building its own defence, Europe has blinked, The New York Times reports. "Russia's invasion of Ukraine is the greatest challenge to European security since the end of the Cold War, but the Europeans have missed the opportunity to step up their own defense, diplomats and experts say. Instead, the war has reinforced Europe's military dependence on the United States. Washington, they note, has led the response to the war, marshaled allies, organized military aid to Ukraine and contributed by far the largest amount of military equipment and intelligence to Ukraine. It has decided at each step what kind of weapons Kyiv will receive and what it will not.
Its indispensable role was manifest in the recent decision to provide Leopard tanks to Ukraine and allow others to do so — a step Chancellor Olaf Scholz of Germany refused to take, despite strong pressure from Poland and Britain, unless the United States provided some of its own modern tanks.
American leadership has almost been too successful for its own good, leaving Europeans with no incentive to develop leadership on their own, said Liana Fix, a German analyst with the Council on Foreign Relations in Washington. The perception is that there is no real leader in the European Union and the US is doing helicopter parenting with Brussels, she said. This is a problem that can come back to haunt the US And the Europeans, too. […]
The goal of President Emmanuel Macron of France for "strategic autonomy" — for the European Union to become a military power that could act independently of the United States, if complementary to it — has proved hollow. In large part, diplomats and experts say, that is because European nations disagree sharply among themselves about how the war should end and even about their relationship with Russia and its president, Vladimir V. Putin, both now and in the future.
It is impossible to have a real European defense without a coherent European foreign policy, suggested Charles A. Kupchan, a former Obama administration official and a professor of international studies at Georgetown University. The Ukraine war cuts both ways, he said, prompting a new unity among Europeans, but also new cracks. There is very little appetite for autonomy if that means distance from the United States, he said, because the war has underscored the importance of the American military presence in Europe and the guarantee it extended to European allies since World War II.
Central and Eastern Europeans, along with the Baltic nations and Britain, have always mistrusted promises of an autonomous European defense and have worked to keep the United States engaged in European security and in the NATO alliance. For them, the American nuclear umbrella is considered indispensable to deter a Russia they saw as more of a threat than did other allies like Germany, France, Spain and Italy, especially since the Russian annexation of Crimea in 2014. […]
Anders Fogh Rasmussen, a former NATO secretary general who has proposed a plan to bolster Ukraine's security against Russia, said that Mr. Macron has undermined his own idea of European autonomy by his statements and behavior when it comes to Putin, arguing that a new European security order must include Russia and that Mr. Putin must not be humiliated. […] So long as Europe's major powers cannot agree on a common approach to Russia, then the rest of the crowd will look across the Atlantic and look for security guarantees from the United States, he added.
The European dream was always to have two major collective pillars, one fiscal and one defense, said Guntram Wolff, the director of the German Council on Foreign Relations. Germany would anchor the first and France the second. But the Ukraine war was a big game-changer for European security, he said, and Central and Eastern Europeans immediately understood that they need the US for their security, and Germany quickly decided the same.
Despite a promise by Mr. Scholz, the German chancellor, for a "Zeitenwende," or a turning point in German security policy, details were lacking. Now it turns out the €100 billion set aside to rebuild the paltry post-Cold War German military will be spread out over the life of the Parliament. Bureaucracy has made it difficult to start spending the money, and the government failed to get the German defense industry moving.
Rheinmetall, a German arms manufacturer, makes the Leopard tank and has about 200 in storage, and it says it needs up to a year to refurbish them for Ukraine. But Germany could have easily paid the company to get the tanks ready 12 months ago, even for its own military. Germany already wasted a year, Mr. Wolff said.
European countries have tried to catch up with needed defense investment, but in a national and fragmented way, not coordinated by Brussels. That inevitably meant buying off-the-shelf, which mostly meant American weaponry, not European.
Germany annoyed France by immediately buying American F-35 fighter planes, rather than buying European or even waiting for a long-delayed Franco-German-Spanish jet project, the Future Combat Air System, itself in competition with a proposed British-Italian-Japanese one. But neither project expects to have a working fighter until 2035 or 2040.
Similarly, worried about its vulnerability to Russian nuclear-capable, medium-range missiles in Kaliningrad, Berlin shocked Paris by proposing a "European Sky Shield Initiative," an air and missile defense system, in cooperation with 13 NATO allies and Finland, and later Sweden, too, that would primarily use existing American and Israeli technology, not a European design. […]
The fact that Mr. Scholz relented on providing tanks to Ukraine only with the Americans stung in Europe. It shows that Europeans in the end don't trust one another, and for Central and Eastern Europeans, trust and credibility is gone, she said. At the same time, Ms. Fix said, both Germany and France think the Central and Eastern Europeans underestimate the risk of Russian escalation and need Washington to restrain them. So everyone is looking to Washington as the main arbiter," she said, "and not to one another.
Mr. Macron and Mr. Scholz, whose relations are said to be frosty, have failed to provide necessary leadership, separately or together, analysts said. France missed an opportunity to show what strategic autonomy is or could be, said Bart Szewczyk, a former Obama administration official now with the German Marshall Fund. Under the surface of the slogan, he said, there was not much there in terms of resources or deployment or even in intellectual leadership. […] For some time to come, then, strategic autonomy is dead, Ms. Fix said, and the French don't like this at all."
Hans Petter Midttun: The analysis supports my article The eight signs of discord within NATO. When the Head of States stress that they have never been more united despite the obvious indications of the contrary it is time to sit up and pay attention.
Oil embargo, price cap: Russia's losses may reach $125B a year, Ukrinform reports, citing former Ukrainian Foreign Minister, Pavlo Klimkin. "For the Kremlin, there is already a real and tangible threat of macro-economic destabilization. I have seen various estimates of the losses of the Russian regime depending on the fluctuations in oil prices: from 75 to 125 billion dollars per year. And it's very cool. The main result is that Moscow is forced to play in view of the 'red flags' set by the West. Russia remains a supplier, but ceases to be a player, Klimkin said.
According to him, Russian budget expenditures in January 2023 increased by two-thirds compared to last year, and this is also an indicator of how much the war is costing Russia. At the same time, Russian budget revenues shrank by almost three times."
Hans Petter Midttun: There seems to be a consensus on the expectation of a Russian attempt to conduct a major offensive within the next couple of weeks. Lately, both President Zelensky, the Head of Defence Intelligence (DIU), Kyrylo Budanov, Defense Minister Oleksii Reznikov and the Secretary of National Security and Defence Council, Oleksii Danilov, has warned about a forthcoming escalation of the war.
"President Volodymyr Zelenskyy has said that Ukraine is preparing for a possible new offensive by Russia with the aim of revenge, in particular in the east of our country, and for this, the Ukrainian defence forces need more weapons, including long-range ones. The Head of State stated this at a meeting with media representatives following the 24th Ukraine-European Union summit in Kyiv.
Russia wants revenge. Revenge exactly where it didn't work out. It wants to take the east. Our task is not to give them such an opportunity."
The assessment is shared by Western officials, experts and analysts. On Jan. 30, NATO Secretary General Jens Stoltenberg made the same assessment.
President Putin has allegedly ordered the Russian Armed Forces to occupy all of Donetsk and Luhansk by March. According to DIU, Russian forces are redeploying additional assault groups, units, weapons, and military equipment to the east.
Russia is not assessed to be able to launch an assault from Belarus. Nor is it believed that it will make another attempt to capture Kyiv. After failing to take Kyiv last year, Russia has radically scaled down its objective for territorial gains (for now). For symbolic reasons, it plans to occupy all of the Donetsk and Luhansk regions.
Most believe that the new assault will be launched from the Luhansk oblast as the frontline in Donetsk has been brilliantly defended for nine years already. Russia has suffered enormous losses trying to advance around cities like Bakhmut, Avdiivka, Pervomaiske, Vesele, Nevelske, and Maryinka in Donetsk oblast.
Ivan Yakovina, journalist and political columnist for NV magazine and website, argues that Russia will launch the assault near the town of Vuhledar, Donetsk region. His assessment is based on the postulate that "infantry wins battles, logistics win wars".
"For the Russian army, logistics means, first of all, a well-functioning railway, since all Russian military logistics is somehow built around railways. Now the weakest point of the Russian Armed Forces in this sense is the lack of a direct rail link between the Donbas and Crimea. The only branch that links these two Ukrainian regions runs at a distance of about five kilometres from the front line, which makes its use dangerous, and virtually impossible. At a five-kilometre distance, any locomotive can be hit even by artillery and an anti-tank complex.
Without a normal rail link along this line, the Russian General Staff cannot urgently transport reinforcements, ammunition, or fuel from Donbas to southern Ukraine and vice versa. […] The General Staff of the Russian Federation needs to move the front line away from the railway that goes from Donetsk to Crimea. This can be done in only one way, namely, by capturing and occupying Vuhledar. […]
If Russia manages to capture this seemingly small and not very significant town of Vuhledar, then Russia would receive a wide logistical artery along the entire front line. And, accordingly, the ability to quickly, massively transfer troops from one direction to another."
Lately, we have seen reports of increased fighting around Vuhledar. Russia is reportedly massing forces in the region. 30,000 soldiers have been reported in the Mariupol region alone, less than 100 km south of Vuhledar.
In total, it is believed that there are currently about 326,000 Russians fighting in Ukraine. Additionally, 150,000 mobilized personnel are still undergoing training in preparation for the next big push.
The massive build-up of forces does, however, not mean that Russia is likely to succeed. Russian ability to wage war was at its peak one year ago.
It has since lost many of its elite forces and much of its newest weapons and equipment. It is running out of precision-guided missiles and is low on both artillery and ammunition. The fundamental flaws revealed during its failed attempt to conduct "Blitzkrieg" last year are still just that: fundamental flaws. Having suffered tremendous losses, the motivation of the Russian soldiers is running low. The Russian Armed Forces suffered more than 21,000 KIA in January alone, the highest number of casualties until now.
While Russian ability to wage war has been gradually degraded during the last 12 months, Ukrainian ability has gradually increased.
The inflow of Western defence support has accelerated since summer. Its biggest advantage, however, is both superior command and control, situational awareness and intelligence. Russia is unable to hide its forces and, consequently, its intentions. It is constantly advancing towards prepared Ukrainian positions. Additionally, Ukraine can deliver precision strikes against Russian logistics, command and control posts, areas of force concentrations and ground lines of communication.
On February 2, the Institute for the Study of War concluded that:
"Putin may have overestimated the Russian military's own capabilities again, as ISW previously assessed. ISW has not observed any evidence that Russian forces have restored sufficient combat power to defeat Ukraine's forces in eastern Ukraine and capture over 11,300 square kilometers of unoccupied Donetsk Oblast (over 42 percent of Donetsk Oblast's total area) before March as Putin reportedly ordered. ISW previously assessed that a major Russian offensive before April 2023 would likely prematurely culminate during the April spring rain season (if not before) before achieving operationally significant effects. Russian forces' culmination could then generate favorable conditions for Ukrainian forces to exploit in their own late spring or summer 2023 counter-offensive after incorporating Western tank deliveries."
According to the Russian independent media outlet "Важные истории" (Important Stories), the assessment is shared by the Russian General Staff.
"According to a source close to the Ministry of Defense, the military understands that a strategic offensive in Ukraine is impossible. There are two main reasons – the lack of high-quality equipment and ammunition, as well as the inability of the high command to realistically assess the situation at the front.
"Plans to go to Kyiv again are drawn, but only because the country's leadership requires it. Nobody believes in the implementation of these plans, it will be suicide," the source said. The source calls the mood among the "understanding" military men for panic, noting that the officers themselves use this word."
The outlet claims that Russia is creating reserves that it keeps far from the front line to block a possible Ukrainian breakthrough.
Russia will escalate the war in the weeks to come for lack of choice. The orders have been given by a President that is running out of military options and lacks a realistic understanding of Russian military capabilities.
The weather forecast is cold and dry for the next few weeks which will harden the soil and permit offensive operations. Bakhmut is increasingly isolated and UAF might at one point decide to withdraw. We must prepare to see a steady but slow Ukrainian withdrawal in the months to come as the UAF will be conducting a fighting-withdrawal, exhausting Russian force as western tanks and infantry vehicles are slowly arriving on the battlefield.
It is unlikely to be able to occupy all of Donbas because the Russian ability to wage war is being degraded while Ukrainian capabilities are gradually increasing. Russia lacks the men and equipment to launch an offensive that will change the war to its advantage.
A lack of Russian military success, however, is not likely to change its strategic aim and objectives. Time is still assessed to be on Russia's side.
Even if the Russian offensive is stopped, it doesn't make the task of evicting Russian forces from well-prepared defensive positions any easier.
Ukraine will be forced to do what Russia has been doing for months, though with better tools and more professional soldiers. That said, it will not have the toolbox needed. It will still be missing the number of western main battle tanks and IFV required. Ukraine is also missing the 4th generation combat aircraft needed to conduct combined arm and joint operations.
Russia still plans to force Ukraine into submission through the combined use of both military and non-military means. The occupation of the Crimean Peninsula, as well as parts of Luhansk, Donetsk, Zaporizhzhia and Kherson oblasts, combined with its maritime embargo and gradual destruction of Ukrainian critical infrastructure, continue to undermine the financial viability of Ukraine. It needs 3-5 billion USD monthly in Western support to uphold its internal and external commitments.
The Russian calculus is based on the expectation of a reduction of Western support over time. It is also waging a hybrid war against Europe to help manipulate both populations as well as key decisions and policymakers to make decisions favourable to the Russian Federation (e.g. negotiating a peace agreement ceding parts of Ukrainian territory to Russia for the promise of (temporary) peace). As a consequence of the rising costs of living, increasing inflation and credit rates, and signs of recession, increasingly more people are taking to the streets to demonstrate their discontent, increasing the political pressure on the Head of States and governments.
Recognising that time is on Russia's side, the West still need to consider its military options. In my humble opinion, acknowledging the internal discord within NATO, a coalition of the willing should be considered for military intervention in Ukraine. It is the only logical conclusion given the commitment to ensure Russia's failure and Ukrainian victory.
Tags: Russian invasion