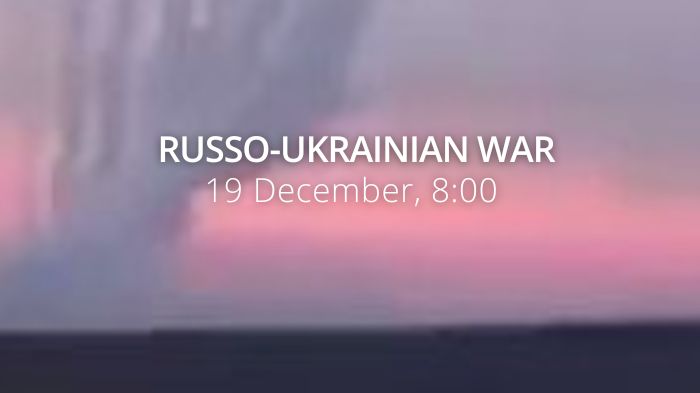 Heating and electricity are back in the capital Kyiv after a massive missile attack on the energy system. Ukraine does not want to invade Moscow – Zelenskyy. Russian attack kills three civilians in Kherson.
Daily overview — Summary report, December 17
The General Staff's operational update regarding the Russian invasion as of 06.00 am, December 17, 2022 is in the dropdown menu below:
Over the past 24 hours, units of the Defense Forces have repelled attacks of occupiers in the areas of Stelmakhivka, Makiyivka, Chervonopovka and Belogorivka of Luhansk region and Verkhnyokamyanske, Bakhmutsk, Pidgorodne, Bakhmut, Klishchievka, Andriyivka, Krasnogorivka Ah, Oleksandropil, Maryinka, Victory and Novomihaylívka in Donetsk region.
During the past day, Russian occupants launched 4 rockets and 7 airstrikes with Shahed-136 BPLA, as well as carried out 55 shelling from jet fire systems. Settlements, civilian infrastructure and civilians were affected.
The enemy started the current day with the use of BPLA, more information will be provided after clarification.
In the Volyn and Polysye directions, the situation without significant changes, no signs of the formation of offensive groups of the enemy have been detected.
In the Siverskyy direction of mortar shelling suffered the settlements of Chernihiv region and Sumy Oblast.
In the Slobozhansky direction, the enemy fired at the areas of the Red Star, Streleča, Deep, Starytsia, Vovchansk, Volohívka, Chugunivka, Figolivka, Dvoríčna and Novomlinsʹk Kharkiv region. In the direction of the fire impact, the areas of the settlements of Yagídne, Kislivka, Kotlyarívka, Krokhmalne and Berestove in Kharkiv region and Novoselívsʹke and Stelmakhívka in Luhansk region.
In the Liman direction, the enemy fired makííí кіvku, plo стіanku, chervonopopívku and díbrovu Luhansk region.
In the Bakhmut direction, the opponent carried out shelling with tanks and jet artillery in the areas of the settlements of verkhnyokamianske, spírne, berestove, bílogorívka, yakovlivka, soledar, grigoríivka, bakhmut, times yar, stupočki, klí Наivka, a Ndrí коїvka, kurd вкаmívka, dilííí чнеvKA, ozaryanívka, northern and experienced donetsk region.
In the Avdiivka direction, the shelling was recorded near Avdíí .vka, Krasnogorívka, Maryinka and Novomikhailivka of Donetsk region.
In Zaporizhzhia and Kherson directions, the opponent struck with jet and barrel artillery areas of the settlements of Temirivka, Chervonne, Novoandríivka, Mali Cherbaki and Plavni Zaporizhya region; Chervonogrigorivka and Nikopol – Dnipropetrovsk and Sadove, Kherson, Komyšany and kizomis of Kherson region. There are victims among civilians.
Occupiers continue population searches in the temporarily occupied territories of Donetsk and Zaporizhzhia regions. Special attention is paid to mobile phones and smartphones.
The number of collaborators in the settlements of Melitopol district has increased. In addition, Russian occupants are considering the possibility of engaging former police officers who have switched to the enemy's side.
Over the past day, Ukrainian aviation struck 9 strikes in the areas of concentration of personnel, weapons and military equipment and 3 strikes on the positions of the anti-aircraft missile complexes.
At the same time, our defenders downed the Sim of the "Shahed-136" type.
Units of missile forces and artillery of the Defense Forces of Ukraine hit the control point, the live force focus area, 2 enemy ammunition warehouses, and the radio-location station of the anti-battery combat "Zoo".
Military Updates
Russia has failed strategically. Nevertheless,it shouldn't be underestimated. It still has material &personnel reserves. Further western support is crucial for Ukraine to endure the war, said German General Christian Freuding who is working on military aid https://t.co/tQZaLIHaSk

— Euromaidan Press (@EuromaidanPress) December 18, 2022
Russia keeps building up fortifications in occupied Crimea. Russia creates fortified defense lines all over occupied Crimea (southern Ukraine), fearing the Ukrainian counteroffensive. Locals in Crimea keep posting photos of newly built Russian fortifications on their social media. The Russian-installed occupation regime in Crimea creates fortified defense lines even on the beaches by the Black Sea, despite the fact that Ukraine's Armed Forces are currently stationed more than 200 km from Crimea.
According to British Defence Intelligence, (last 48 hours): 
The illegal and unprovoked invasion of Ukraine is continuing.

The map below is the latest Defence Intelligence update on the situation in Ukraine – 19 December 2022.

Find out more about the UK government's response: https://t.co/WtiQjG6ZrO

🇺🇦 #StandWithUkraine 🇺🇦 pic.twitter.com/r7Mo5VCgXX

— Ministry of Defence 🇬🇧 (@DefenceHQ) December 19, 2022
Russian military proxy group Wagner continues to take a major role in attritional combat around the Donetsk Oblast town of Bakhmut. In recent months, it has developed offensive tactics to make use of a large number of poorly trained convicts it has recruited.
Individual fighters are likely issued a smartphone or tablet which shows the individual's designated axis of advance and assault objective superimposed on commercial satellite imagery. At platoon level and above, commanders likely remain in cover and give orders over radios, informed by video feeds from small uncrewed aerial vehicles (UAVs).
Individuals and sections are ordered to proceed on the preplanned route, often with fire-support, but less often alongside armoured vehicles. Wagner operatives who deviate from their assault routes without authorisation are likely being threatened with summary execution.
These brutal tactics aim to conserve Wagner's rare assets of experienced commanders and armoured vehicles, at the expense of the more readily available convict-recruits, which the organisation assesses as expendable.
Losses of the Russian army 
One NATO member believes Putin may accept 300,000 Russian casualties, roughly three times his estimated losses so far, NYT assumes https://t.co/2XeLUUalqY

— Euromaidan Press (@EuromaidanPress) December 18, 2022
Humanitarian 
Russia destroys Golden Cabinet of historical Crimean Tatar palace in occupied Crimea. First Deputy Minister of Foreign Affairs of Ukraine Emine Dzheppar informed that Russian occupation authorities in Crimea were conducting "restoration" works at the Khan's Palace aimed at destroying the unique complex. The Palace in Bakhchysarai, the only example of Crimean Tatar palace architecture which consists of 17 buildings and 9 inner closed courtyards was the cultural center of the Crimean Tatar people in the times of the Crimean Khanate, UNESCO described.
Russia's night shelling kills three civilians in southern Ukraine. Last night Russian forces shelled residential areas in Kherson Oblast (southern Ukraine) 54 times, the head of Kherson Oblast State Administration Yaroslav Yanushevych reported. Russian troops used artillery, multiple rocket launchers, mortars, and tanks to target residential areas on the western bank of the Dnipro River in Kherson Oblast, according to Yanushevych. In Kherson City, the Russian artillery strikes damaged a hospital, multi-storey buildings, and townhouses.
Environmental
Heating and electricity are back in the capital Kyiv after a massive missile attack on the energy system – Mayor Klitchko. Emergency services have restored heating in Kyiv after the Russian massive missile attack damaged critical civilian infrastructure on 16 December, the Mayor of Kyiv Vitalii Klitchko reports.
Legal 
450 children killed by the Russian military since the start of the full-scale invasion in February 2022. At least 863 children wounded, and 13,613 deported to Russia It is impossible to establish the exact number due to active hostilities and temporary occupation of part of the territory
450 children killed by Russian military since🇷🇺full-scale invasion in Feb

At least 863 children wounded, and 13,613 deported to Russia

It is impossible to establish exact number due to active hostilities and temporary occupation of part of 🇺🇦territory https://t.co/puiCWO20eY pic.twitter.com/AME8dJ1pos

— Euromaidan Press (@EuromaidanPress) December 18, 2022
Support
Ukraine must win this war, says EU Parliament head. EU Parliament President Roberta Metsola calls for additional financial and military support for Ukraine against the Russian war of aggression. "This war must be ended urgently. And Ukraine must win this war," Metsola told Funke media group newspapers, Welt reported. This means "more weapons for Ukraine, more financial and humanitarian aid, more practical solidarity and more sanctions against Russia."
New Developments 
Song of former Russian space chief glorifies ICBMs, threatens Sarmat nuclear strike on USA. A song performed by Russian Duma MP Denis Maydanov to the lyrics of former Roscomos head Dmitry Rogozin glorifies the Russian Sarmat intercontinental ballistic missile and threatens a strike on the USA.
Moldova suspended the broadcast licenses of six TV stations for spreading misinformation and attempts to manipulate public opinion. Four of them regularly transmitted programs of Russian TV channels banned in the EU in its 9th sanction package.
Zelenskyy calls for a global peace summit in leaked message rejected by FIFA: video. Although FIFA rebuffed Zelenskyy's request to share a message of world peace prior to kickoff at the World Cup final in Qatar today, the video was recorded and published on social media by Ukrainian football players. In the video, Zelenskyy calls to join a Global Peace Formula Summit to implement Ukraine's peace formula.
Ukraine does not want to invade Moscow – Zelenskyy. Speaking to French channels TF1 and LCI, Ukrainian President Volodymyr Zelenskyy said that Ukraine is not interested in Moscow and St. Petersburg in its war with Russia, but exclusively in returning Ukrainian lands.
Moscow tries to justify its war crimes in Ukraine by glorifying its soldiers as 'heroes of Russia'. Russian schools, sports clubs and even streets are increasingly being named after soldiers who were killed while part of the army invading and ravaging Ukraine.  Andrei Turchak, a leading figure in the ruling 'United Russia' party has claimed that these men who were sent to kill Ukrainians "gave their lives for the unity of the Russian people".
Assessment 
On the war. 
The Institute for the Study of War has made the following assessment as of  December 16, 2022:
Russian military leadership is engaged in a campaign to present itself as part of an effective wartime apparatus in an effort to address the public perception of Russian failures in Ukraine. The Russian Ministry of Defense (MoD) posted footage on December 18 reportedly of Russian Defense Minister Sergei Shoigu on a working trip to the Southern Military District (SMD) and inspecting the Russian force grouping in the combat zone in Ukraine.[1] Shoigu reportedly received briefings from field commanders and spoke directly with personnel on the frontline paying "special attention to the organization of comprehensive support for the troops, the conditions for deploying personnel in the field, as well as the work of medical and rear units."[2] The Russian MoD posted footage on December 17 of Shoigu attending a meeting with Russian President Vladimir Putin, Chief of the General Staff Valery Gerasimov, and Commander of the Joint Group of Forces in Ukraine Sergei Surovikin to discuss near and mid-term proposals for Russian operations in Ukraine.[3] Shoigu's recent engagements suggest that the Russian MoD is attempting to bolster its reputation as an effective military organ in the face of consistent criticism of its conduct of the war by the pro-war community. The recent concerted efforts by Russian military officials to present themselves as actively engaged in planning and controlling the war effort, especially in the absence of tangible military victories in Ukraine, may suggest that Russia is preparing for a renewed offensive against Ukraine in the coming months. Shoigu's visit to the SMD—with its focus on sustainment and medical support—is likely part of an effort to show that the military leadership is fixing the Russian military's devastating failures in those areas that have been the subject of constant angry commentary by milbloggers and protests by soldiers and their families.
Putin's planned December 19 meeting with Belarusian President Alexander Lukashenko is likely part of the same effort to present proactivity as well as an effort to set information conditions for a new phase of the war. Commander of the Ukrainian Combined Forces Serhiy Nayev commented on the upcoming Putin-Lukashenko meeting and noted that it comes after Putin's December 17 meeting with the Russian military command to discuss both immediate and mid-term goals for the war.[4] Nayev reported that the Ukrainian government believes Putin will discuss the wider involvement of Belarusian forces in further Russian aggression against Ukraine, which is consistent with ISW's forecast for the meeting.[5] Taken in tandem, Putin's meeting with the Russian command, Shoigu's purported frontline visit, and the Putin-Lukashenko meeting suggest a new phase in the presentation, planning, and conduct of the war and may presage renewed offensive operations against Ukraine in the coming months.
The capacity of the Russian military, even reinforced by elements of the Belarusian armed forces, to prepare and conduct effective large-scale mechanized offensive operations in the next few months remains questionable, as other analysts have observed.[6] The manpower Russia is generating from mobilized reservists and from the annual fall conscription cycle will not be sufficiently trained to conduct rapid and effective mechanized maneuver this fall. Russia's struggles to keep the forces it currently has fighting in Ukraine equipped with tanks, artillery, long-range strike, and other essential materiel are very unlikely to be resolved in time to equip a large new force for offensive operations this winter. Putin may nevertheless order renewed large-scale offensive operations later this winter, but it is important not to overestimate the likely capabilities of Russian or combined Russo-Belarusian forces to conduct them successfully. ISW continues to assess that it is unlikely that Lukashenko will commit the Belarusian military (which would also have to be re-equipped) to the invasion of Ukraine.
Wagner Group financier Yevgeny Prigozhin continued efforts to legitimize the Wagner Group as a parastatal armed force and increase his own power base by lobbying for increased state benefits for Wagner Group personnel who fought in Ukraine. Prigozhin complained on December 18 that the local St. Petersburg authorities refused to bury a Wagner Group fighter in burial grounds for participants of the "special operation" and instead intend to relegate private military company (PMC) fighters to a separate section, which Prigozhin called humiliating.[7] Prigozhin released a letter appealing to Russian State Duma Defense Committee Chairperson Andrey Kartapolov to extend combat veteran status to Wagner Group fighters.[8] Some Russian milbloggers expressed support for this measure, claiming that any Russian citizen who fights and dies in Ukraine deserves to be buried with full military honors.[9] Prigozhin's appeal does not include fighters of other PMCs, however.[10] Prigozhin previously expressed his support for a similar measure on November 8 when the State Duma considered and passed a bill extending combat veteran status to Russian military volunteers.[11] Prigozhin has notably feuded with Russian regional authorities in Belgorod Oblast and St. Petersburg, as ISW has previously reported.[12]
Prigozhin's bid for increased recognition comes as reports of systematic executions within Wagner forces emerge, suggesting that Wagner leadership is willing to go to great lengths to preserve the Wagner Group's image as a highly disciplined force.[13] Russian opposition outlet The Insider reported on December 16 that Wagner forces routinely execute deserters and those who refuse to fight, especially those recruited from penal colonies.[14] The Insider reported that Wagner has its own internal security forces to conduct the executions and that one commander—who commanded executed POW Yevgeny Nuzhin—personally witnessed several executions.[15] Prigozhin previously expressed public support for Nuzhin's execution, as ISW has previously reported.[16] Such reports also indicate that Wagner Group forces struggle with morale and discipline issues among new recruits similar to those of conventional Russian forces but combat it with harsh punishments rather than the obfuscation and attempts to appease dissatisfied recruits that characterize the Russian MoD's general approach.
Key inflections in ongoing military operations on December 18:
Ukrainian Main Military Intelligence Directorate (GUR) representative Andriy Yusov reported that the Russian military received a new batch of Iranian-made drones and continues to negotiate with Iran on the acquisition of ballistic missile systems.
Ukrainian and Russian sources reported that positional fighting continued along the Svatove-Kremmina line.
Ukrainian and Russian sources reported ongoing fighting in the outskirts of Bakhmut and to the northeast and south of the city. The Russian Ministry of Defense claimed that Russian forces captured Yakovlivka, Donetsk Oblast, northeast of Soledar.
Russian sources claimed that Ukrainian forces dislodged Russian forces from long-held positions near Bakhmut.
A Ukrainian official stated that Russian forces are redeploying units from the east (left) bank of the Dnipro River in Kherson Oblast and that it is too early to tell whether Russian forces are withdrawing. Russian and Ukrainian forces continued routine artillery and rocket strikes across the Dnipro River.
The Ukrainian General Staff reported that Ukrainian forces struck two Russian force concentrations and two ammunition depots in Zaporizhzhia Oblast on December 16, injuring 150 personnel and destroying 10 pieces of equipment. Ukrainian Melitopol Mayor Ivan Fedorov stated that Russian forces are placing dragon's teeth anti-tank defenses in Melitopol.
Russian forces and occupation authorities continue to struggle to address a severe shortage of medical personnel and supplies.
Tags: Russian invasion