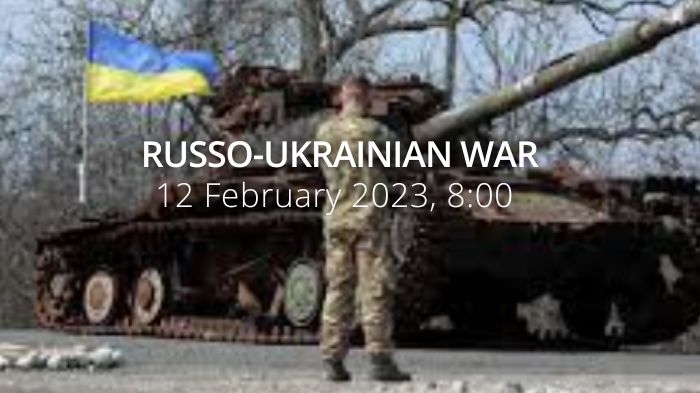 Russia sustains its highest rate of casualties since the first week of the invasion of Ukraine. Russian forces continued offensive operations near Svatove and Kreminna. Russian occupation authorities are likely draining the Kakhovka Reservoir north of the occupied Zaporizhzhia Oblast.
A representative survey commissioned by the Munich Security Conference for its annual report found that the vast majority of Ukrainians would keep fighting the Russian invasion even in the event of a nuclear strike and see Crimea as indispensablehttps://t.co/c75aCZu9Y5

— Euromaidan Press (@EuromaidanPress) February 11, 2023
Daily overview — Summary report, February 12
A map of the approximate situation on the ground in Ukraine as of 00:00 UTC 12/02/23. pic.twitter.com/PbrRshUXto

— War Mapper (@War_Mapper) February 12, 2023
The General Staff's operational update regarding the Russian invasion as of 18.00 pm, February 12, 2023 is in the dropdown menu below:
"[Despite significant losses, Russian forces have not abandoned its intentions to reach the administrative borders of Donetsk and Luhansk oblasts. The invaders continue to focus their main efforts on offensive operations on Kupyansk, Lyman, Bakhmut, Avdiivka, and Novopavlivka axes. Russians are reinforcing their grouping of troops on the Lyman and Bakhmut axes. Invaders' aircraft are active and striking at the positions of Ukrainian units.]
Russian forces continue to focus their main efforts on offensive actions on the Kupyansk, Lyman, Bakhmut, Avdiivka and Novopavlivka axes. Actively uses operational-tactical and army aviation to strike the positions of our troops.
Over the past 24 hours, units of the Defense Forces of Ukraine repelled the attacks of the occupiers in the areas of Bilogorivka and Serebryansk Forestry of Luhansk Oblast and Torske, Fedorivka, Bakhmut, Ivanivske, Chasiv Yar, Pervomayske, Pobyeda, Maryinka and Vugledar in Donetsk Oblast.
During the day, Russian forces launched 12 missile strikes, 3 of them against the civilian infrastructure of Kharkiv, and 32 air strikes, 6 of which were carried out by the Shahed-136 UAV. 4 of these drones were shot down. Also, Russian forces launched more than 90 attacks from MLRS.
The threat of further Russian air and missile strikes on the entire territory of Ukraine remains high.
Volyn, Polissya, Sivershchyna, and Slobozhanshchyna axes: there were no significant changes, and no signs of the formation of offensive groups were detected. Areas of more than 20 settlements were subjected to enemy shelling. Among them are Senkivka, Chernihiv Oblast; Novovasylivka, Porokhon', Studenok, Starykove and Volfine in Sumy Oblast and Krasne, Hlyboke, Synelnikove, Vovchansk, Figolivka, Novomlynsk and Dvorichna in Kharkiv Oblast. The occupiers also carried out airstrikes on the towns of Gatyshe and Vovchansk.
Kupyansk and Lyman axes: Russian forces carried out mortar and artillery attacks on more than 25 areas of populated areas. In particular, these are Hryanykivka, Novoyehorivka, Synkivka, Petropavlivka, Tabaivka, and Berestove in the Kharkiv Oblast, and Stelmakhivka, Vyshneve, Chervonopivka, and Serebryansk forestry in the Luhansk Oblast. He carried out airstrikes near Chervonopivka, Zhitlivka and Dibrova in Luhansk Oblast and Hryhorivka and Spirne in Donetsk Oblast.
Bakhmut axis: tank, mortar and artillery shelling occurred in the areas of Spirne, Berestove, Vasyukivka, Zaliznianske, Krasna Gora, Paraskoviivka, Chasiv Yar, Bakhmut, Ivanivske, Klishchiivka, Kurdyumivka, Predtechine, Bila Gora and Zalizne settlements of Donetsk Oblast. In total, there are more than 25 settlements.
Avdiivka and Novopavlivka axes: areas of 25 settlements were hit by tank, mortar and artillery attacks, in particular, Kalinove, Orlivka, Severne, Avdiivka, Pobieda, Novomykhailivka, Vugledar, Zolota Niva, Neskuchne, Vremivka and Novosilka. Enemy airstrikes were recorded near Avdiivka, Vesely, Nevel'ske and Maryinka.
Zaporizhzhia Oblast: Vremivka and Novopil in the Donetsk Oblast and Malynivka, Gulyaipole, Charivne, Mala Tokmachka, Magdalynivka and Stepnohirsk were damaged by fire. Russian forces also carried out airstrikes in the areas of Mala Tokmachka and Kamianske.
Kherson axis: the suburbs and Kherson itself were affected by enemy artillery fire, as well as the districts of more than 30 other settlements, including Havrylivka, Mylové, Chervonyi Mayak, Novoberislav, Berislav, Burgunka, Prydniprovske, and Stanislav of the Kherson Oblast. Russian forces carried out an airstrike in the area of Zimivnyk.
Brylivka and Novokiivka, in the temporarily occupied territory of the Kherson Oblast, the attempts of the occupying so-called "local administration" to take away housing from the local population are evident. In particular, servicemen of the Russian occupation forces actively go to houses and check that citizens have residence permits and home ownership documents. Abandoned houses are sealed with notices that the premises have become the property of the so-called occupying "local administration".
[Numerous cases of looting by Russian invaders were reported in Nova Kakhovka (temporarily occupied territory of Kherson oblast) between February 7 and 9. Newly arrived soldiers of the Russian occupation forces are actively loading looted property into military trucks.]
[In the city of Mariupol (Donetsk oblast), the Russian invaders organized the repair of their military equipment that was deliberately put out of commission by Russian servicemen in order not to avoid combat missions. The main reason for the malfunctions in the military equipment is the deliberate wrecking of engines.]
[Since early February, 2023, Russia has used about 1,200 people from the Russian private military company Wagner in order to compensate for its large-scale military losses. These recruits were taken in prisons from the temporarily occupied territories of the Autonomous Republic of Crimea.]
During the past 24 hours, the Air Force of the Defense Forces carried out 19 strikes on areas where the occupiers are concentrated, as well as 2 strikes on the positions of anti-aircraft missile systems.
Also, our defenders shot down a Su-25 aircraft and an Orlan type UAV.
Units of missile and artillery troops hit 14 areas of concentration of enemy manpower and an anti-aircraft missile complex.
Military Updates
Ukraine's Commander-in-Chief: Armed Forces regain lost positions in some frontline areas, Ukrainska Pravda reports. "Valerii Zaluzhnyi, Commander-in-Chief of the Armed Forces of Ukraine, has said that Ukraine's Armed Forces regained previously lost positions in some parts of the front and strengthened them. […]
The situation is most tense on the Donetsk front, where Russian forces is launching up to 50 attacks daily. Fierce battles continue in the area of Vuhledar and Marinka.
We are holding the defence reliably. In some parts of the frontline, we managed to regain our previously lost positions and strengthened them. Despite Russian forces's constant pressure, we continue to keep Bakhmut under control and are taking steps to stabilise the front line around the city.
Zaluzhnyi noted that the key to success on the battlefield is effective firepower, which requires an appropriate amount of weapons and ammunition. He also shared his concern over Russia's use of maritime surface drones, which poses a threat to civilian navigation in the Black Sea."
https://twitter.com/EuromaidanPress/status/1624493617782956032
A video appears to show Russia using a drone boat to attack a key Ukrainian bridge, Insider reports. "A video circulating on social media appears to show a kamikaze Russian drone boat attacking a key Ukrainian bridge connecting to Moldova. The black and white grainy video shows the small craft speeding towards Zatoka bridge, which is south of Odesa, and as it passes underneath, an explosion takes place. Smoke can be seen billowing from the bridge, but it is not apparent how much damage was done.
Some analysts on Twitter suggested it was a drone boat carrying explosives, while others suggested it could be an Uncrewed Surface Vessel (USV). […] According to The Telegraph, Russian opposition media confirmed through geolocation that the video does show an attack on the Zatoka bridge. Still, they noted that there had been no reports of damage.
While Ukraine has used drone boats to attack Russian targets in the Black Sea, this may be the first reported use of the weapons by Russia, say reports."
Russians deploy ships in Black Sea with total salvo of 16 Kalibr missiles, Ukrainska Pravda reports, citing the Ukrainian Navy. "As of lunchtime on 11 February, 11 Russian ships are on combat duty in the Black Sea, including 2 carriers of Kalibr cruise missiles, the total volley of which is 16 missiles. There are no Russian ships in the Azov Sea."
Border guards shoot down Russian plane near Bakhmut, Ukrainska Pravda reports, citing State Border Guard Service of Ukraine. "Border guards shot down another enemy aircraft in the battle for Bakhmut. […] This is the second confirmed jet destroyed by a Border Guard unit's man-portable air defence system in a week. The air target, probably a Su-25 attack aircraft, was hit with a foreign-made man-portable air defence system."
Russia may try to divert Ukrainian forces from the Donbas region by opening a new front, according to New York Times

Attacking from a new front would likely mean advancing toward the northeastern city of Sumy or the 2nd-largest city of Ukraine Kharkiv.https://t.co/lvoGWqMGxi

— Euromaidan Press (@EuromaidanPress) February 11, 2023
According to British Defence Intelligence, (last 48 hours): 
Over the past two weeks, Russia has likely suffered its highest rate of casualties since the first week of the invasion of Ukraine.
The Ukrainian General Staff release daily statistics on Russian casualties. Although Defence Intelligence cannot verify Ukraine's methodology, the trends the data illustrate are likely accurate. The mean average for the last seven days was 824 casualties per day, over four times the rate reported over June-July 2022. Ukraine also continues to suffer a high attrition rate.
The uptick in Russian casualties is likely due to a range of factors including a lack of trained personnel, coordination, and resources across the front – this is exemplified in Vuhledar and Bakhmut.
On 09 February 2023, Wagner Group head Yevgeny Prigozhin stated that Wagner had halted its prisoner recruitment scheme.
Data from the Russian Federal Penal Service had already suggested a drop-off in the rate of prisoner recruitment since December 2022. News of the harsh realities of Wagner service in Ukraine has probably filtered through to inmates and reduced the number of volunteers. However, a key factor in the termination of the scheme is likely increasingly direct rivalry between the Russian Ministry of Defence and Wagner.
In addition, the regular Russian military has likely now also deployed the vast majority of the reservists called up under 'partial mobilisation'. The Russian leadership faces the difficult choice of either continuing to deplete its forces, scale back objectives, or conduct a further form of mobilisation.
Losses of the Russian army 
As of Sunday 12 February, the approximate losses of weapons and military equipment of the Russian Armed Forces from the beginning of the invasion to the present day:
Personnel – about 137780 (+900),
Tanks – 3280 (+13),
Armoured combat vehicles – 6488 (+14),
Artillery systems – 2287 (+17),
Multiple rocket launchers –MLRS – 465 (+2),
Air defence means – 234 (+0),
Aircraft – 296 (+1),
Helicopters – 286 (+0),
Automotive technology and fuel tanks – 5148 (+14),
Vessels/boats – 18 (+0),
UAV operational and tactical level – 2007 (+10),
Special equipment – 215 (+1),
Mobile SRBM system – 4 (+0),
Cruise missiles – 857 (+0)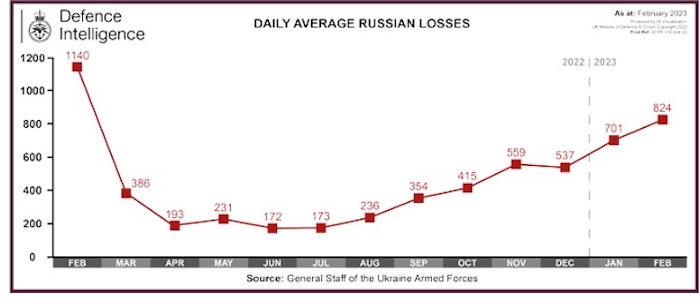 Russia facing munition shortage, Ukrinform reports, citing Canada's Defence Intelligence. "Despite Russia's claims of an alleged shortage of ammunition experienced by the Armed Forces of Ukraine, in reality, the Russian invaders have significant supply problems of their own. Russian disinformation efforts often project Russian operational difficulties onto the Ukrainian side, and their forces in Ukraine are very likely currently grappling with their own sustainment problems," the report says. […]
Russia has faced its own serious ammunition pressures during the war, and has had to turn to its few foreign partners to maintain supplies of several munition types, the Canadian military recalled."
Putin used a secret decree to pardon an ex-inmate who joined Russia's war effort, The New York Times reports. "A secret pardon granted by President Vladimir V. Putin to a Russian prisoner who fought in Ukraine shows that the former inmate received clemency on the day he left jail to join the war, an act that rights activists say short-circuits the existing legal process. The document, a copy of a prison release certificate reviewed by The New York Times, is the first published evidence of what activists say is a mass pardon campaign instituted by the Kremlin to entice tens of thousands of prisoners to enter battle.
Such recruits became a crucial component of Russia's war effort in recent months. The Wagner mercenary group has used such fighters to unleash waves of suicidal attacks intended to wear down Ukrainian positions along the heavily fortified eastern front, where Russian forces have been making slow gains, including on the key city of Bakhmut. […]
The prison release certificate reviewed by The Times was issued by Russia's Justice Ministry. It says that the inmate was freed in late August by a pardon decree issued by the president of the Russian Federation. […] The Times obtained the certificate from Yana Gelmel, a Russian prisoner's rights lawyer. […] Ms. Gelmel said the issuing of such certificates dealt a major blow to the vestiges of legality in Russia by erasing the rights of crime victims to compensation. They can kill a man, they can rob, and then they can go to war and walk free, she said of former inmates who had received pardons. This is complete impunity.
The Kremlin has not published any pardon decrees this year, but Mr. Putin's spokesman and pro-government rights campaigners have implied in recent weeks that Wagner fighters' legal statuses could be a state secret. All these decrees are closed, Eva Merkacheva, a member of Russia's Kremlin-allied Human Rights Council, told the state news media in January. We can't see them."
Humanitarian 
Emergency shutdowns applied in Kharkiv Oblast due to Russian attack, consumption restrictions in four Oblasts, Ukrainska Pravda reports, citing the press service of Ukrenergo. "After another attack by Russia, which included the use of drones and missiles, the situation in Ukraine's power system remains difficult but controlled, and emergency shutdowns were applied in Kharkiv Oblast due to damage to power facilities. 
In Kharkiv, emergency shutdowns were applied due to damage to power facilities. Also, due to network restrictions that were introduced after Russia damaged the objects of the main networks, with an increase in consumption, emergency shutdowns are possible in the Khmelnytskyi, Zhytomyr, Kyiv Oblasts and the city of Kyiv, the report says. […]
The scale of damage caused by the Russian attack on Ukraine's energy infrastructure on 10 February was significant: the Russians were able to damage several thermal and hydroelectric power plants."
Twelve civilians injured in Russia's recent missile attack on Ukraine, Ukrinform reports, citing Ukrainian State Emergency Service. "Twelve civilians have been reported injured in Russia's recent missile attack on the territory of Ukraine, which took place on February 10, 2023.
Russian forces continues to intimidate our people. On February 10, 2023, the units of the Ukrainian State Emergency Service responded to 168 calls, eliminating the effects of shelling. Our professionals extinguished 16 fires and provided psychological aid to 172 persons, Ukrainian State Emergency Service Head Serhii Kruk noted.
In his words, a total of 58 objects were damaged in yesterday's terrorist attack by Russian invaders, mostly residential houses. More than 450 rescuers and about 100 equipment units of the Ukrainian State Emergency Service contributed to the elimination of the effects of shelling."
https://twitter.com/EuromaidanPress/status/1624530289790787588
Environmental
State Nuclear Regulatory Inspectorate bans operation of four power units of ZNPP, Ukrainska Pravda reports, citing the press service of the State Nuclear Regulatory Inspectorate of Ukraine. "The industrial site of the Zaporizhzhia NPP is subject to periodic shooting; overhead communication lines with the energy system of Ukraine were damaged, State Nuclear Regulatory Inspectorate reports.
The regulator also notes that the production facilities of the ZNPP, the information and crisis centre, cannot be used for their intended purpose due to the location of the Russian military there; because of the occupation, the operating Organisation of State Nuclear Regulatory Inspectorate does not have proper opportunities for the supply of inventory to the Zaporizhzhia NPP.
At the industrial site, the Russians are illegally building unknown structures (on the territory of the dry storage of spent nuclear fuel and near the reserve diesel power plant of Unit No. 6), which is a violation of the design documentation of the ZNPP, the inspectorate reports. It is added that the restrictions will remain in effect until the identified violations are eliminated."
Legal 
Ukrainian human rights organizations called on international institutions to sanction those involved in the illegal imprisonment & death of 2 activists in Russian prisons, Kostiantyn Shyrinh & Dzhemil Gafarov, who opposed the illegal annexation of Crimeahttps://t.co/wQeHieTmfN

— Euromaidan Press (@EuromaidanPress) February 11, 2023
Belarusian court sentences railway saboteurs to 22 years in prison – rights group, Reuters reports. "A Belarusian court on Friday sentenced two men to 22 years in prison for their roles in acts of sabotage of the railway network intended to slow the movement of Russian forces through the country, rights group Viasna said. […]
After Russia used Belarus as a launchpad to invade Ukraine last February, dozens of acts of sabotage were committed on the Belarusian railway. Saboteurs disabled equipment responsible for traffic control, which led to blockages on certain sections of railroad. Belarusian authorities have officially reported the arrest of 13 people for railway sabotage."
Support
https://twitter.com/EuromaidanPress/status/1624521888117542922
Ukraine pleads for ammunition 'immediately' as Russia steps up attack, Financial Times reports. "Deputy prime minister Olha Stefanishyna tells FT that Moscow is better resourced to continue the war. Ukraine has pleaded with its allies for ammunition and artillery "immediately", warning it is running short of stocks to defend against a new Russian offensive that Kyiv fears is imminent. […]
Ukraine's army is consuming ammunition at an unprecedented rate as it engages in punishing exchanges with Russia, prompting concerns about supplies. Ukraine is estimated to be firing more than 5,000 artillery rounds every day — equal to a smaller European country's orders in an entire year in peacetime. That rate of use has put huge strain on Europe's defence producers, compounding supply chain challenges and increasing lead times for many munitions.
Stefanishyna, Zelenskyy's top official for European integration, warned that the Russians were doing everything possible to make the war continuous, lasting and exhausting, adding that Moscow had the resources, ammunition and reserves to continue its campaign."
White House: Countries can make their own decision on giving Ukraine fighter jets, The Kyiv Independent reports. "Any country can independently decide to transfer Western fighter jets to Ukraine, John Kirby, coordinator for strategic communications at the US National Security Council, said on Feb. 10. If a NATO nation or even a non-NATO nation wants to provide capabilities like fighter aircraft to Ukraine, that's certainly their decision to make, Kirby said.
Earlier, British Prime Minister Rishi Sunak said that the U.K. will train pilots to operate NATO-standard fighter jets and will receive the first batch of Ukrainian trainees in the spring."
Hans Petter Midttun: John Kirby's statement does not change the bilateral obligations of countries that have procured defence material from the USA (e.g. F-16). They will still need US approval to be able to donate or sell the equipment to Ukraine. Any country is free to donate own produced combat aircraft.
Slovakia to launch talks on MiG-29 supply to Ukraine, Ukrinform reports, citing Hromadske. "Slovakia will begin negotiations on the transfer to Ukraine of its MiG-29 fighter jets. Prime Minister Eduard Heger of Slovakia says the country's MiG-29 fighters have been decommissioned and their air force has no intention to further use them. […]
Minister Yaroslav Nad' of Defense emphasized that it is in the national interests of Slovakia for Ukraine to be a democratic and free nation. He drew public attention to the risk that Russia would decide to continue advancing westward. According to him, the next aid package for Ukraine is still being negotiated and that no final decision has been approved yet."
Former top US general: Jets could seal quick Ukraine victory, DW reports. "The former commanding general of the United States Army in Europe, Ben Hodges, said that Ukraine could achieve a quick victory if the West provided swift help with fighter jets. He predicted that the defeat of Russia could otherwise take three to five years, given the current level of Western support.
The sooner we deliver them the capability to achieve a decisive outcome, the sooner that [the war] could be over, he said, arguing that Ukraine could expel Russian forces from its territory by the end of the year if given additional support.
Hodges told DW's Ines Pohl that concern about training and runway compatibility issues do not make it "unfeasible" to provide Kyiv with the "capability" to use the aircraft. He praised the UK for being "in the lead" in providing several forms of military support to Ukraine."
UK might transfer Harpoon or Storm Shadow missiles to Ukraine, Ukrainska Pravda reports, citing The Times, "The Times reports that sources in the Ukrainian Defence Ministry confirmed that Kyiv is ready to use the missiles to strike annexed Crimea. Harpoon missiles cost about £1.2 million each and have a maximum range of 240 kilometres. The Storm Shadow missiles cost about £2.2 million and can hit targets up to 560 kilometres away, although modified versions for export have a much shorter range.
Negotiations are currently underway to decide how many British long-range missiles can be sent, despite previous fears that giving Ukraine the ability to launch cross-border strikes against Russia could lead to an escalation of the conflict, the agency notes.
Harpoon anti-ship missiles have previously been provided to Ukraine by Denmark, and they can be adapted to be launched from trucks, although they will be less accurate when attacking ground targets. The Storm Shadow missiles can also be launched from the ground, but it is more likely that they will be mounted on Ukrainian aircraft."
Scholz hopes to have 80 Leopard 2 tanks ready for shipment to Ukraine by end of March, Ukrainska Pravda reports, citing Ukrinform. "German Chancellor Olaf Scholz has expressed his hopes that 80 Leopard 2 tanks will be ready to be sent to Ukraine by the end of March while commenting on the results of the EU Summit. 
When replying to journalists' questions as to whether he was sure that two battalions (that is, about 80 Leopard 2 tanks) will be ready to be supplied to Ukraine by the end of March, Scholz stated: I hope that we will manage to do that, after all. Nevertheless, the chancellor of Germany has admitted that it will not be easy. He has pointed out that Berlin is trying to push this matter forward with allies."
Ukraine receives 334 tons of equipment from Germany to restore energy infrastructure, Ukrainska Pravda reports, citing the press service of the Ministry of Energy. "Ukraine has received 43 cargoes of humanitarian aid for the energy sector from German partners since July. This is almost 334 tons of equipment. Only in the last week, 4 cargoes with a total weight of more than 59 tons were delivered, the ministry said. 
It is noted that within the framework of the German-Ukrainian Energy Partnership, the Ministry of Energy of Ukraine received 40 transformers from the German grid operator Stromnetz Berlin GmbH. Among the equipment received by Ukraine are also generators, fittings for overhead lines, distribution and lighting equipment and electrical tools."
New Developments 
Moralwashing: when companies don't just fail to leave Russia but exaggerate their paltry efforts

"Moralwashing must be called out. Companies act immorally but get credit for being moral. Moralwashing negates motivation to take action & amounts to helping Putin" – @moralrating pic.twitter.com/Hv5AidcY38

— Euromaidan Press (@EuromaidanPress) February 11, 2023
Assessment 
https://www.understandingwar.org/backgrounder/russian-offensive-campaign-assessment-february-11-2023*
On the war. 
The Institute for the Study of War has made the following assessment as of  February 11, 2022:
Ukrainian military officials and Russian pro-war nationalist voices are downplaying Russia's ability to launch a sweeping large-scale offensive in Donetsk Oblast in the current circumstances of the Russian Armed Forces. Representative of the Ukrainian Main Military Intelligence Directorate (GUR), Andriy Chernyak, stated that Russia does not have the resources necessary to launch a large-scale offensive operation on February 24 to coincide with the anniversary of Russia's 2022 invasion. Chernyak noted that Russians are preparing to intensify their attacks in eastern Ukraine in the next few weeks and are currently searching for weak spots in Ukrainian defenses. ISW has previously assessed that Russian forces have regained the initiative on the Svatove-Kreminna line but that the offensive has not yet reached its full tempo. Ukrainian Eastern Grouping of Forces Spokesperson, Colonel Serhiy Cherevaty, also noted that the Russian leadership had ordered the capture of Luhansk and Donetsk oblasts' administrative borders and said that the grinding Russian operations in Bakhmut are a "symbol" of Russia's inability to conduct rapid and powerful offensive operations."
Russian milbloggers continue to appear demoralized at the Kremlin's prospects for executing a major offensive. Donetsk People's Republic (DNR) commander Alexander Khodakovsky questioned why Russian forces are wasting their limited resources on small-scale grinding advances rather than accumulating combat force to launch larger-scale offensives. Another milblogger amplified Khodakovsky's concern, accusing Russian presidential administration officials of creating unattainable expectations for Russian offensives.
Russian forces' reported culmination and tactical failures around Vuhledar, Donetsk Oblast, have likely further weakened the Russian ultranationalist community's belief that Russian forces are able to launch a decisive offensive operation. A prominent Kremlin-affiliated milblogger claimed that Russian forces failed to quickly advance in the first days of their offensive to capture Vuhledar and that Russian forces had lost the initiative by the end of January due to Ukrainian forces' rapid transfer of reserves to the area. The milblogger made his assessment that the Russian offensive to capture Vuhledar has likely culminated in response to viral footage showing Ukrainian forces destroying a disorderly column of Russian mechanized forces in the Vuhledar area. Russian milbloggers seized on the footage to criticize the Russian military command for repeating the same failures that have plagued the Russian military throughout the war in Ukraine, with one prominent milblogger arguing that such incidents illustrate that the Russian army is unable to conduct an offensive along the entire Donetsk front.  
The disparity between the limited but significant Russian advances in the Bakhmut area and the lack of meaningful advances elsewhere in Ukraine may support milblogger and Ukrainian observations that Russian forces are unable to secure rapid advances through traditional mechanized maneuver warfare. The Russian military command is deploying its most elite units to the Bakhmut area in smaller formations using urban infiltration tactics, according to the limited footage of Russian tactics in the area that ISW has observed. These tactics seem to be resulting in significant tactical Russian advances in the Bakhmut area that could lead to operational gains if Ukrainian forces choose to withdraw from Bakhmut. Russian offensive operations elsewhere in Donetsk Oblast and along the Svatove-Kreminna line have resulted in marginal advances without operational significance thus far. ISW has observed limited footage of Russian tactics in areas separate from the Bakhmut effort that suggests that Russian forces are engaging in more traditional mechanized maneuver warfare tactics with regular, not elite, motorized rifle, naval infantry, and tank elements. All the formations so far observed were rendered combat-ineffective in earlier phases of the war and have very likely been reconstituted with mobilized personnel. The Russian military appears to have been unable to prepare its mobilized personnel to conduct effective mechanized offensive operations in the short period of time since their call-ups, as ISW forecasted. The lack of adequate vehicles, ammunition, and other materiel is likely contributing to the ineffectiveness of Russian mechanized maneuver tactics thus far. The Russian military is unlikely to be able to scale its approach from the Bakhmut area to the wider theater because the tactics it is using in Bakhmut are more suited to dense urban environments and because Russian forces lack the number of elite formations needed to conduct a larger offensive in eastern Ukraine in the same fashion. ISW's assessment regarding the prospects for future Russian mechanized offensive operations is offered with low confidence due to the limited available footage depicting Russian military tactics across the entire front line.
Wagner Group financier Yevgeny Prigozhin is trying to salvage his declining influence in Russia as the Kremlin continues to sideline him and his mercenaries. Prigozhin attempted to improve the declining reputation of his Wagner mercenaries in an interview with a prominent Kremlin-affiliated milblogger Semyon Pegov (known under the alias Wargonzo) on February 10. Prigozhin responded to a series of questions about Wagner controversies such as high casualties and ineffectiveness of recruited convicts, execution of deserters, treatment of recruited forces as cannon fodder, Prigozhin's harsh criticism of the Russian Ministry of Defense (MoD) and his supposed political aspirations, and Wagner mercenaries bearing "symbols of the Third Reich" despite fighting to "denazify" Ukraine. Prigozhin notably confirmed that Wagner has stopped recruitment in prisons because of the expiration of an agreement permitting such recruitment with an unspecified agency – likely the Russian MoD. Prigozhin falsely denied ever criticizing the Russian conventional military and inaccurately presented his critiques as similar to the commonly expressed frustrations among Russian milbloggers regarding poor communications between the Russian military command and Russian units, as well as professionalization efforts that have been widely criticized. Prigozhin also denied having political aspirations and attacked his long-standing enemy St. Petersburg Governor Alexander Beglov.
The Kremlin is continuing to dim Prigozhin's star by depriving him of the right to recruit in prisons and by targeting his influence in the information space. In addition to the Wargonzo interview, a Wagner-affiliated milblogger obtained a document that outlines rules for covering the war in Ukraine with explicit requirements to refrain from mentioning Wagner and Prigozhin in the media. […] The milblogger noted that he is not sure about the authenticity of the document, but the Russian MoD and the Kremlin had already been deliberately avoiding mentioning Wagner and Prigozhin as ISW has previously observed.
Prigozhin likely attempted to deflect attention from his controversies by undercutting the Kremlin's unrealistic goals for the war in Ukraine. Prigozhin forecasted that it would take Russian forces up to two years to reach the Donetsk Oblast administrative borders and three years to advance to the Dnipro River from the east. Prigozhin added that Russian society would need to be drastically militarized for the Kremlin to reach the English Channel, likely either hyperbolizing Russia's aims of destroying NATO or referring to the Cold War-era Soviet war plans aimed at conducting a rapid blitzkrieg to the Channel coast. Prigozhin likely sought to contribute to the current concern within the Russian information space about the Russian military command's ability to sustain a major offensive in Donetsk Oblast to reestablish his reputation relative to that of the Russian MoD. The Wargonzo interview itself was likely a Kremlin ambush of Prigozhin aimed at calling public attention to Wagner controversies. Prigozhin likely saw this interview as an opportunity to elevate his name but instead found himself on the defensive throughout.
Prigozhin's criticism of the Kremlin's military campaign resembles the rhetorical approach of the former Russian militant Igor Girkin. Girkin had previously assisted the Kremlin by leading proxy armed formations in Crimea and Donbas in 2014 until the Kremlin deprived him of any influence following his surrender of Sloviansk in July 2014. Girkin became an embittered critic of the Kremlin and the Russian military command while seeking to rehabilitate his reputation in extremist Russian nationalist circles. Prigozhin's uncharacteristically nihilistic forecast about Russian offensive prospects closely mirrors Girkin's forecasts, and it is possible that Prigozhin is also turning into a bitter zealot who is losing his ability to leverage his parallel military to obtain political influence. If the current Russian offensive stalls rapidly, on the other hand, the star of the conventional Russian military may once again wane, possibly re-opening a path for Prigozhin to regain significance and opportunities.
Russian forces targeted southern Ukraine with air, missile, and aerial and maritime drone strikes overnight on February 10-11. Ukrainian officials reported that Ukrainian forces intercepted 20 of 24 Russian UAVs and one Kh-101 missile overnight. Russian forces chiefly targeted energy infrastructure in Zaporizhzhia, Mykolaiv, Dnipro, Kryryi Rih, and Khmelnytskyi cities. Geolocated footage shows that Russian forces used a naval drone to strike the Zatoka road and rail bridge in Odesa Oblast (28km south of Odesa City on the Black Sea coast), the first observed instance of Russian forces operating unmanned naval drones. The footage suggests that the bridge may have sustained severe damage, but the true degree of damage is currently unknown. Russian forces also conducted airstrikes against Zmiinyi (Snake) Island, and Head of the Ukrainian Joint Coordination Press Center of the Southern Forces Nataliya Humenyuk suggested that Russian forces conducted these strikes to demonstrate that Russian forces have not forgotten about offensive actions in southern Ukraine. ISW continues to assess that Russian forces currently lack the ability to threaten southern Ukraine with a full-scale offensive. The Ukrainian Operational Command South stated that Russian forces are trying to incite panic in the areas bordering Moldova.
Key Takeaways
Ukrainian military officials and Russian pro-war nationalist voices are downplaying Russia's ability to launch a sweeping large-scale offensive in Donetsk Oblast in the current circumstances of the Russian Armed Forces.
Russian forces' reported culmination and tactical failures around Vuhledar, Donetsk Oblast, have likely further weakened the Russian ultra-nationalist community's belief that Russian forces are able to launch a decisive military effort.
The disparity between the limited but significant Russian advances in the Bakhmut area and the lack of meaningful advances elsewhere in Ukraine may support milblogger and Ukrainian observations that Russian forces are unable to secure rapid advances through traditional mechanized maneuver warfare.
Wagner Group financier Yevgeny Prigozhin is trying to salvage his declining influence in Russia as the Kremlin continues to sideline him and his mercenaries.
Russian forces targeted southern Ukraine with air, missile, and aerial and maritime drone strikes overnight on February 10-11.
Russian forces continued offensive operations near Svatove and Kreminna.
Russian forces continue to prioritize offensive operations in Donetsk Oblast.
Russian occupation authorities are likely draining the Kakhovka Reservoir north of occupied Zaporizhzhia Oblast.
Wagner Group financier Yevgeny Prigozhin confirmed that the Wagner Group stopped recruiting inside Russian prisons due to the expiration of an agreement between the Wagner Group and the Russian Ministry of Defense (MoD).
Russia lacks resources to launch massive anniversary offensive, Kyiv Post reports. Russia does not have the resources available to launch a large-scale offensive around the Feb. 24 anniversary of the full-scale invasion, a senior military intelligence official has told Kyiv Post. Andriy Chernyak, a representative of the [Defence Intelligence of Ukraine], claimed rumors and reports of a pending massive attack were misplaced. […]
Chernyak did not deny that Russia was planning something in the coming weeks, saying that right now it was trying to find weaknesses in our defense. However, according to our information, Russian command does not have enough resources for large-scale offensive actions. The main goal of Russian troops remains to achieve at least some tactical success in eastern Ukraine.
Earlier this month Chernyak told Kyiv Post that Russian President Vladimir Putin had ordered his armed forces to seize the entirety of the Donetsk and Luhansk regions of Ukraine by March, a plan he said was unrealistic. […] Since then and according to the Institute for the Study of War (ISW), Russia has already begun an offensive in the Luhansk Oblast in eastern Ukraine where they are making marginal advances along the Kharkiv-Luhansk Oblast border. But the ISW added that the success of Moscow's plan to take Donetsk and Luhansk regions is not inherent or predetermined. […]
An attack on Kyiv from Belarus is also unlikely in the coming weeks, [Chernyak] told Kyiv Post. […] Russia is facing a lack of precision weapons, and despite that, it will continue to use missile terror against civilians in Ukraine, he said, just before today's mass missile attack. He added: The Russians have already used more than 80 percent of precision missiles. They are trying to resume their production, but so far, they have not succeeded."
Wagner boss Prigozhin says Russia could take two years to capture east Ukraine regions, Reuters reports. "The head of Russia's Wagner mercenary group has said in a rare interview that it could take two years for Moscow to control the whole of two eastern Ukrainian regions whose capture it has stated as a key goal of the war. […]
If we have to get to the Dnipro, then it will take about three years, Prigozhin added, referring to a larger area that would extend to the vast Dnipro River that runs roughly north to south, bisecting Ukraine. The comments provided a rare glimpse into Russian expectations of the likely duration of the conflict, from a man whose private army is at the centre of some of the fiercest fighting. Prigozhin does not speak for the Russian military […].
The United States assesses that Wagner currently has about 50,000 personnel deployed to Ukraine, including 10,000 contractors and 40,000 convicts recruited from Russian prisons. […] Prigozhin said on Friday that Wagner had stopped recruiting prisoners. In the interview, he denied using them as cannon fodder and said losses among prisoners were about the same in percentage terms as for the rest of his fighters."
'Significantly degraded' Russian force is adapting after losses, Defense News reports. "The Pentagon's international affairs chief said Friday that although Russia has lost tens of thousands of soldiers and likely half its main battle tanks in Ukraine, its forces are adapting and there are deep reserves of personnel. "I think we need to be mindful that as Russia continues to suffer losses in Ukraine, it is learning how to adapt, it is learning tactically, operationally and somewhat strategically," Celeste Wallander, the assistant defense secretary for international security affairs, said at a Center for a New American Security event. […]
According to Wallander, Moscow overall has committed 80% of its ground forces to the fight, but has seen them significantly degraded. Still, she added, Russia has a bench of personnel that it can draw from, which is playing out in the bloody fight for Bakhmut. Russia presents a mixed picture, she explained: As Western economic restrictions weaken Russia's industrial capacity, it has bought and used Iranian drones to attack Ukraine's civilian infrastructure ― and it continues to field substantial air power.
Asked about Russia's ability to reconstitute itself, Wallander made clear the country is the Pentagon's No. 2 strategic challenge after China, and will remain so. We are not losing sight of the fact that even as Russia is facing a strategic failure in Ukraine, it will remain a militarily capable adversary, she said. […]
The US is also leading conversations with allies about limited defense-industrial base capacity aimed at providing military aid to Ukraine over the long term while also maintaining allied militaries. While some munition production boosts have begun, US Deputy Defense Secretary Kathleen Hicks is leading an effort to unclog industrial bottlenecks. "You will begin to see effects over time, and it won't be just incremental to break some of these bottlenecks," Wallander said, adding that the war was an unfortunate wakeup call about supply chain challenges."
The war's violent next stage, The New York Times reports. "For much of the winter, the war in Ukraine settled into a slow-moving but exceedingly violent fight along a jagged 600-mile-long frontline in the southeast. Now, both Ukraine and Russia are poised to go on the offensive. Russia, wary of the growing Ukrainian arsenal of Western-supplied weapons, is moving first.
Using tens of thousands of new conscripts in the hope of overwhelming Ukraine, its forces are attacking heavily fortified positions across bomb-scarred fields and through scorched forests in the East. They are looking for vulnerabilities, hoping to exploit gaps, and setting the stage for what Ukraine warns could be Moscow's most ambitious campaign since the start of the war.
Ukraine must now defend against the Russian assault without exhausting the resources it needs to mount an offensive of its own. Kyiv is training thousands of its own soldiers outside the country and scrambling to amass heavy weapons and ammunition, in advance of an assault meant to "break the bones" of Russia's army, said Oleksandr Danylyuk, a former director of Ukraine's national security council. Military analysts say it is likely to try to split Russian forces forces into two zones, hoping to smash through Russian lines in the south and put its supply lines running out of Crimea in jeopardy. […]
President Vladimir V. Putin of Russia has given an order to take all of the Donbas region by March, Ukrainian intelligence says. With around 320,000 Russian soldiers already in Ukraine and 150,000 estimated to be at training sites, the Kremlin could try to overwhelm Ukrainian positions through the sheer volume of attacks.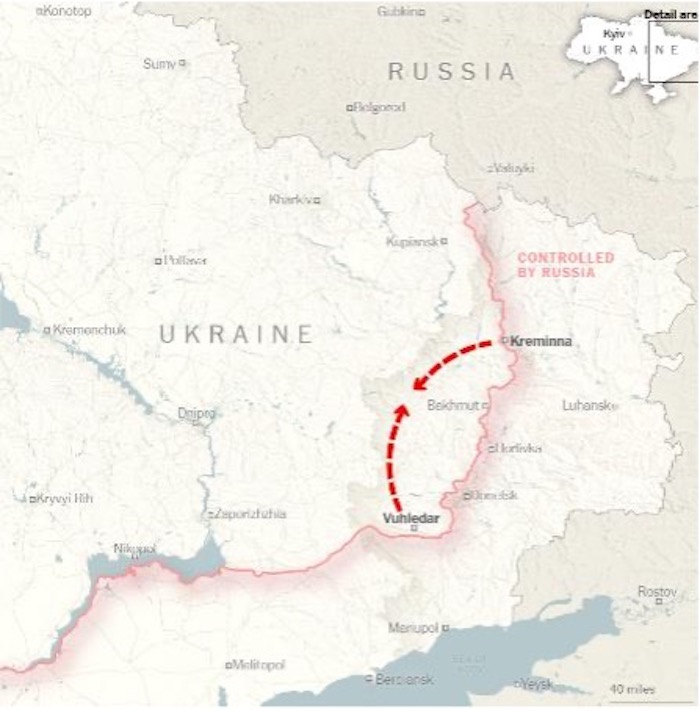 Russia has already reinforced the eastern frontline in order to assault key Ukrainian positions. It is looking to secure a symbolic victory by finally driving the Ukrainians from Bakhmut, where the battle has been raging since May. Russia is also aiming to secure the supply lines that will be crucial to any success in Ukraine. It has launched a fierce counterattack to protect Kreminna, which sits on a major north-south highway in Luhansk. It is also attacking Vuhledar in the southeast, where Ukrainian positions are just a few miles from the only rail link to Crimea.
Russia is massing tens of thousands of troops in a way that suggests it could try to swing down from the north and up from the south in a pincer movement that encircles Ukrainian forces in the Donbas, military analysts say. But Russia could also try to divert Ukraine's defenses by opening a new front. Attacking from a new front would likely mean coming from Russian territory itself, so Ukrainians are closely monitoring movements around the border city of Sumy, as well as any attempts to drive back into the Kharkiv region. […]
Andriy Zagorodnyuk, a former Ukrainian minister of defence, said he expected the Russian army to attempt the capture of the Donbas and then announce the completion of their special military operation and call for negotiations. But, he noted, it will be the third attempt by Russia to capture the Donbas since the war began; the first two both failed.
Britain's defense intelligence agency said on Tuesday that Russia had been trying to launch major offensive operations since early last month, but it had only managed to gain several hundred meters of territory per week, because of a lack of munitions and maneuver units.
Ukraine can afford to make tactical retreats, according to military analysts, as long as it does not risk suffering a total collapse of its lines in a way that would result in its troops being encircled. Any battle to score a major breakthrough
Ukrainian lines would begin with even more intense Russian artillery barrages, bombing by ground-attack jets and sorties by low-flying helicopters, said Serhiy Hrabsky a former colonel in the Ukrainian army and commentator on the war for Ukrainian media. That would likely be followed by tank and infantry ground assaults across the buffer zone between trench lines, he said. The main effort will be on the ground, where Russians will use their traditional tactics, a massive concentration of tanks, armored personnel carriers and very intensive artillery fire, Mr. Hrabsky said.
Russia is viewed as wanting to move quickly, with President Vladimir V. Putin pressuring his newly appointed commander in Ukraine, General Valery Gerasimov, to capture territory and signal success to a domestic and international audience, after months of embarrassing setbacks. Russia faces other time pressures. Western weaponry that can make the difference in battles, such as German-made Leopard tanks and American Bradley infantry fighting vehicles, have been promised but not yet arrived. […]
Ukraine has limited prospects to push forward in the east, where Russia has had fortified positions and established supply lines since 2014. To advance elsewhere, Ukraine needs to hold off the Russian offensive while preserving troops and equipment. Ukraine's most promising counteroffensive is in the south, analysts say. Much of the Russian-occupied territory there is in range of HIMARS rockets, which has forced Russia to move its ammunition depots, command centers and other critical supplies further from the front. Melitopol would be the obvious target for a Ukrainian offensive: the city sits at the intersection of two major highways and a crucial rail line, making it critical to the supply of Russian troops across the south.
If Ukraine can split Russian forces, then it would significantly weaken Russia's hold on the Kherson region. Without supply routes from the east, Russian reinforcements could only arrive via Crimea — a much longer route that is in the range of HIMARS rockets. But moving forward will be challenging. Russia has built defences across the entire frontline, and its densest network of trenches and anti-tank traps is around Melitopol. […] Russia also believes that will likely be the line of attack, said Nataliya Gumenyuk, the spokeswoman for Ukraine's southern military command. They are bringing in more soldiers to defend hastily erected defensive positions but she said that Ukraine has been able to limit their ability to bring in heavy equipment. […]
This time, Ukraine wants to keep Russia guessing as to where and when it might strike. Russians are waiting for active moves from our side in the south, Ms. Gumenyuk said. We maintain this tension. This is how we demoralize Russian forces."
89% of Ukrainians want to keep fighting even after Russian nuclear strike; Euromaidan Press reports. "A representative survey commissioned by the Munich Security Conference for its annual report found that the vast majority of Ukrainians would keep fighting the Russian invasion even in the event of a nuclear strike and see Crimea as indispensable, Tagesspiegel reported.
Committed to have an idea of how Ukrainians themselves view escalation risks, ceasefire conditions, and long-term security guarantees, it found that Ukrainians view the very factors that are decisive for shaping German policy towards Russia — i.e. risk of an escalation — very differently than Germans.
Particularly, "respondents in Ukraine are surprisingly unperturbed by Moscow's threats, even though the people there would be the first victims of a Russian nuclear strike."
A Russian use of tactical nuclear weapons is no reason for the overwhelming majority to stop the resistance. 89% of those surveyed said they would continue to fight even in the event of a nuclear attack on a Ukrainian city. Apparently, they weight the risk associated with giving way significantly higher than a possible nuclear escalation, Tagesspiegel writes.
The question of acceptable conditions for a ceasefire with Russia also leads to clear answers. For the vast majority, restoring sovereignty over all Ukrainian territory is a prerequisite for a ceasefire and negotiations. For 85% of those surveyed, Russia's withdrawal to pre-24 February 2022 positions is not an acceptable basis for a ceasefire.
Regarding long-term security guarantees. 75% of Ukrainians believe that without Western security guarantees, Ukraine will never be safe from Russia; 72% require long-term supplies of arms from the West; 2/3 are convinced that Ukraine will never be safe outside of NATO.
These attitudes of Ukrainians "limit the menu of resilient peace solutions," the Munich Security Forum researchers write."
Consequences and what to do?
German defence minister pushes for 10 bln euro budget increase – Spiegel. Reuters reports. "German Defence Minister Boris Pistorius is pushing for a 10 billion euro increase of the defence budget in 2024 to help refill depleted ammunition stocks, Spiegel magazine reported on Friday. His ministry was concerned as the 100 billion euro special fund announced by Chancellor Olaf Scholz in February did not include funds for munitions purchases. Expected salary increases after the next round of wage talks might further restrict the scope for investment. […]
While Berlin has relied on the 100 billion euro fund to pay for new military equipment, the regular 2023 defence budget has actually declined by about 300 million euros. At around 50 billion euros it remains well short of 75 billion euros, or 2% of economic output, Germany needs to meet its NATO obligations.
Even before Russia's invasion of Ukraine, Germany was 20 billion euros short of reaching NATO's target for ammunitions stockpiling, a defence source said."
Ukraine needs war to end, but not by peace imposed on Russian terms – Baerbock, Ukrinform reports, citing German Foreign Minister Annalena Baerbock. "The imposed ceasefire in the current conditions, when part of Ukraine is occupied and missiles and bombs continue to fly in, is not for peace in Ukraine, but for the subjugation of the Ukrainian state. That's because the absence of war doesn't automatically mean peace in freedom. An imposed peace is the opposite of a just peace. Because such a concept of peace, an imposed peace, recognizes the right of the strongest and thereby violates international law, the head of the German Foreign Ministry emphasized.
The minister emphasized the importance of continued support for Ukraine because we are also responsible for what we don't do.
If we have to choose between right and wrong, between aggressor and victims, then we are on the side of the law and on the side of the people. Because we do not accept anything in Europe or anywhere else in the world where borders are being altered by force and where untold suffering is inflicted on millions of people. We do not accept the fact that Vladimir Putin wants to impose on us the logic of past centuries, according to which the right of the strongest is more important than international law, the diplomat said.
The head of the German diplomatic service also spoke about the need to invest more in integrated security against the background of the violation of international law by one of the world's largest countries. During her speech, the top diplomat emphasized the issue of trust in Germany as a reliable partner."
Over 20,000 applications submitted to Ukraine's Offensive Guard, Ukrainska Pravda reports, citing Ukrinform and Ruslan Muzychuk, Spokesman of the National Guard. "In general, there are over 20,000 applications. […] According to Muzychuk, the next stage is the processing of applications. The selected candidates must collect the necessary documents, undergo psychological testing, and a medical examination after that. All these selection stages are necessary because we are forming assault brigades. Candidates with high motivation must get there, they must also meet other requirements to form such units, the spokesman of the National Guard emphasised.
On 2 February, Ihor Klymenko, Acting Minister of Internal Affairs, said that the Interior Ministry has begun forming eight assault brigades known as Offensive Guard to strengthen the Defence Forces and liberate the temporarily occupied territories of Ukraine.
On 3 February, the Ministry of Internal Affairs of Ukraine reported that a recruitment campaign had started quite actively.
All military personnel who will become stormtroopers in the Offensive Guard are promised a list of social guarantees, including the opportunity to receive housing and treatment, as well as a higher education."
Hans Petter Midttun: In the article "A NATO intervention in Ukraine would prevent nuclear disaster" I argued Nuclear blackmail has been a key to Russia's ability to ensure that the US and NATO remain disengaged.
From a Russian perspective, this objective is today more crucial than ever.
Having succeeded in stopping Western defence support for the first 8 years of the war, Russia has been unable to stop the unprecedented defence support triggered by its unprovoked, unjustified, and vicious invasion. Still, it has succeeded in influencing the decision-making processes ensuring a slow and incremental delivery of Western-produced weapons. Even one year later, several crucial tools (e.g. combat aircraft and long-range weapons) remain off the table. NATO is deterred from conducting Freedom of Navigation Operations (FONOPS) in the Black Sea.
The threat of nuclear war has not least, succeeded in keeping military intervention off the table. While modern, western weapons have a massive impact on the battlefield, a NATO intervention would fundamentally change the military balance in favour of Ukraine.
The fear of a nuclear war has rendered NATO unable to act according to its past strategic concept: To stop ongoing conflicts where they affect Alliance security.
While acknowledging that the risk can never be zero in the presence of nuclear arms, I have argued that the risk of nuclear arms being employed is extremely small.
I do not buy into the Russian nuclear blackmail because of the following factors:
Nuclear blackmail is very much in line with its Hybrid War strategy aimed at manipulating populations and decisions- and policymakers. Installing fear, the threats trigger inaction and the calls for diplomatic solutions at the cost of the victim of Russia's aggressions. Nuclear Blackmail must be recognised for what it is: An assault against our collective cognitive space.
President Putin is rational. All of his actions so far – including the "strategic blunder" to invade Ukraine in the first place can be explained within the framework of the Hybrid War strategy. According to Andrei V Kozyrev, former Russian Minister of Foreign Affairs, his actions are from a Russian perspective rational. Horrific, but not irrational. Having painted himself into a corner of his own making does not make him less rational. Desperate? Yes. Irrational? No.
A Russian defeat in Ukraine does not trigger a response according to the State Policy of the Russian Federation on Nuclear Deterrence. Russia's illegal annexation of Ukrainian territory is part of its efforts to utilise a "fait accompli" strategy it has found effective. Its declarations, however, do not turn parts of Ukraine, into Russia.
Due to the risks and wider ramifications, the use of nuclear arms will always be a last resort. Despite suffering defeats on the battlefield, Russia still believes that victory is within reach as time is on its side as it has reverted to a long-term strategy. The Ukrainian economy is effectively being undermined. The West is still seen as the weak link and might still lose its new-found resolve as the "tsunami of ripple effects" from the war is taking hold, triggering demonstrations and strikes across Europe. Equally important, it has still more military options available. Belarus has still not been forced into action. Russia has yet to declare war and full mobilisation.
Nuclear deterrence and the threat of mutual destruction are a part of a two-sided strategy. While Russia is threatening to use nuclear arms, it also knows that its use will trigger a military response. Putin has been told in no uncertain terms that a response would be forthcoming. According to Ben Hodges, "the Kremlin knows it would be impossible for the US to not respond if it uses a tactical nuke or chemical weapon in Ukraine. China, North Korea and Iran are watching. Pentagon will have provided a list of options to the President. Most are likely non-nuclear. All would be devastating for Russia."
Having been sanctioned and isolated by the West, Russia has turned to Brazil, Russia, India, China, and South Africa (BRICS). Since the use of nuclear arms will have a tremendous impact on global security and stability, it is hard to believe that Russia would proceed without consultation with China as a minimum. It is even harder to imagine China or India sanctioning even a tactical nuclear strike. On the contrary, India and China have voiced their concerns. Russia has lost the West and cannot run the risk of losing BRICS as well.
Nations do not wage war for war's sake but in pursuance of policy in which a better state of peace is the main objective. Hence, it is essential to conduct war with constant regard to the peace one desire. A nuclear attack is in direct conflict with its long-term strategy. Facing huge demographic challenges, Russia needs Ukraine and Belarus to become a "Great Power". It needs Ukraine's defence industry. It needs a self-sustained Ukraine. It needs a well-functioning agricultural industry. It needs access to its huge mineral resources. It needs to secure a well-functioning country. The use of nuclear arms would, therefore, be extremely counterproductive.
Lastly, even if Russia chose to ignore all of the above, the use of tactical nuclear weapons defies its purpose unless it can explore the "military advantage" created by its blast. Russia lacks the capability to operate in the area devastated by its blast and push fresh forces through the gap in the frontline.
As my Ukrainian friends and colleagues would say: The Russians are highly immoral, but they are not stupid.
Russia's hybrid war – the Russian assault on our collective cognitive space –  has been more successful in the USA and Western Europe than in Eastern and Central Europe, including Ukraine.
Despite the constant threats of nuclear war, the countries that know Russia the best – the ones that have suffered the consequences of the "Russian World" – have constantly called for NATO to act more resolutely.
The fact that 89% of Ukrainians signal that they want to keep fighting even after a Russian nuclear strike is indicative of a population far more resilient to Russian disinformation, propaganda and manipulation than most of their fellow Europeans. Despite that they would be suffering the biggest consequences of a hypothetical strike, they have the courage to tell the aggressor that it will change nothing.
We will not be intimidated. We will continue to fight, and we will be victorious.
It is time to mobilise the same kind of resolve in the West. For that to happen, however, the State of Heads and governments need to acknowledge the broader confrontation and start explaining what is at stake.
Tags: Russian invasion