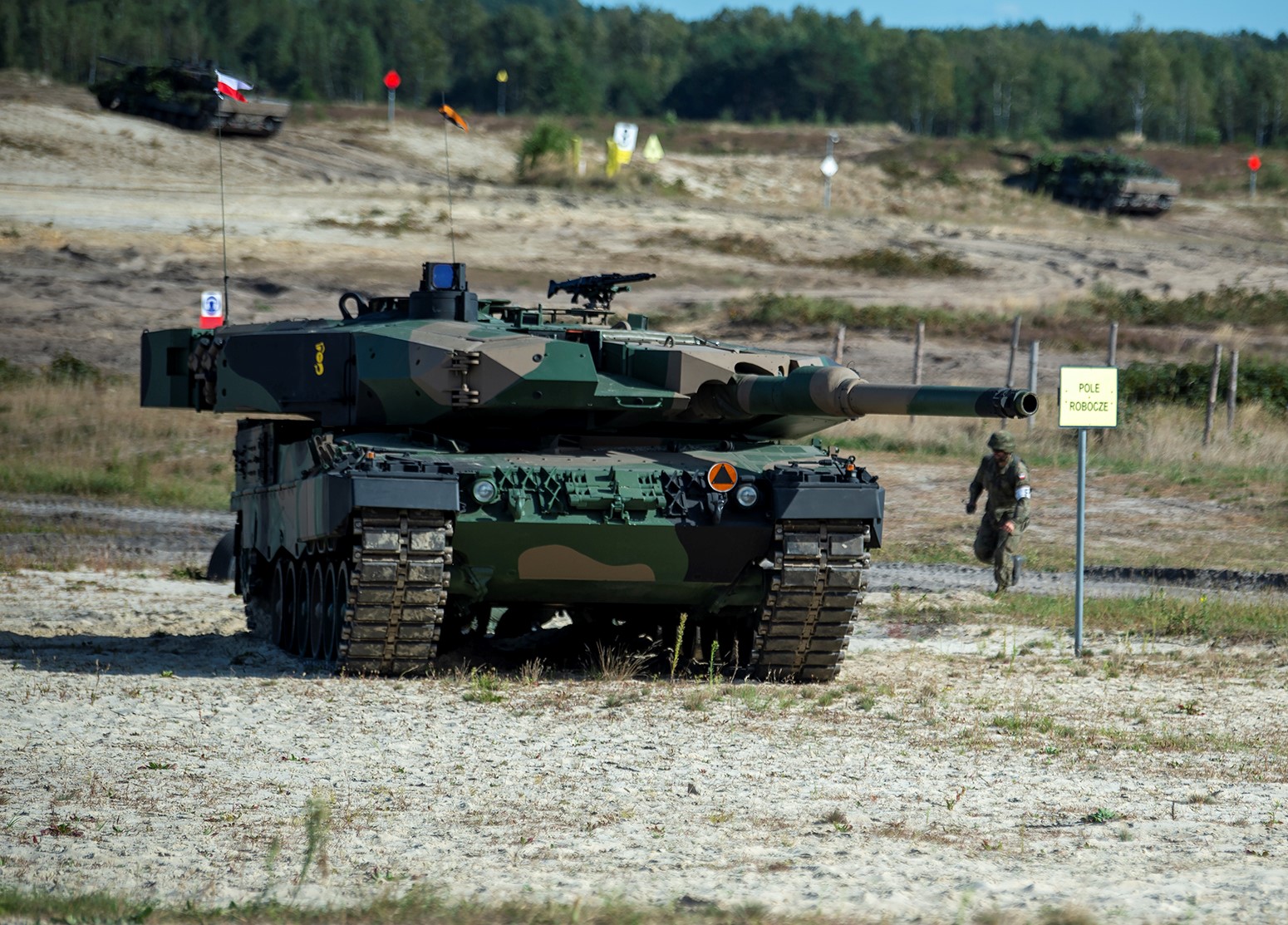 Polish Leopard 2PL tank at excercises, a modernized version of the older Leopard 2A4 tank, phased out by Germany and first acquired by Poland in the 2000s. Photo: gov.pl via Wikimedia Commons 
On 11 January in Lviv, Polish President Andrzej Duda announced that Poland had decided to hand over a company of its Leopard 2 tanks to Ukraine, but as "part of an international coalition," Polska Agencja Prasowa (PAP) reports.
The presidents Volodymyr Zelenskyy of Ukraine, Andrzej Duda of Poland, and Gitanas Nausėda of Lithuania met in Lviv and signed the Joint Declaration of the Presidents of the Lublin Triangle.
"The Leopard tank company will be handed over as part of the coalition building [efforts], because, as you know, a whole range of formal requirements, approvals, and so on that are needed for this purpose must also be met, but above all we want it to be an international coalition," said Polish President Duda at a press conference after the summit, adding: "And we, as part of this international coalition, decided to add the first tank package, the Leopard tank company, which, I hope, in line with other Leopard tank companies and other (tanks) that will be assembled by other countries, will soon flow to Ukraine and will be able to strengthen Ukraine's defense."
He also said that Poland has already taken such a decision. Duda added that the country is holding "very concrete" talks to build the coalition to supply heavy equipment to Ukraine.
The move underscores a piling pressure on Berlin as the ruling coalition in Warsaw has repeatedly scolded Germany for dragging its feet in providing military aid to Ukraine, Bloomberg says.
German Chancellor Olaf Scholz said on 9 January that he remained convinced of the need to coordinate weapons deliveries to Ukraine with allies. However, a German government spokesman said on 11 January that it was not aware of any requests from its allies to send Leopard battle tanks to Ukraine, Reuters reported.
Poland considering donating Ukraine its German-made Leopard main battle tanks – WSJ
The Lublin Triangle is a format of trilateral cooperation between Poland, Lithuania, and Ukraine established in 2020 and its goal is to deepen political, economic, and social cooperation between the countries and to support Ukraine's Euro-Atlantic aspirations.
Read also:
EU Commission President joins calls to send Leopard tanks to Ukraine
Germany won't rule out delivery of Leopard tanks to Ukraine, its economy minister says – Reuters
Tags: Leopard 2, Lublin triangle, main battle tanks, Poland