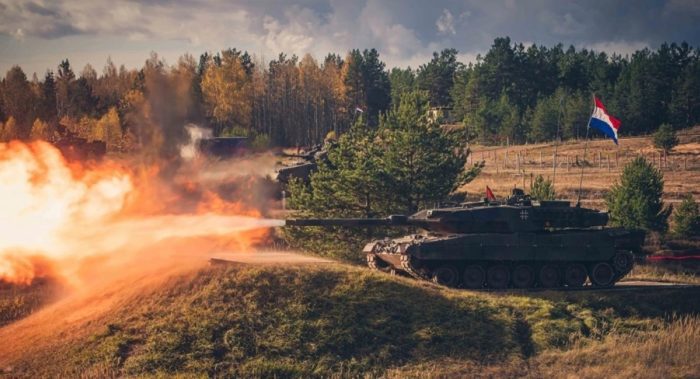 A Dutch Leopard 2A7 tank rented from Germany. Photo: ANDY MEIER/NATO'S ENHANCED FORWARD PRESENCE IN LITHUANIA 
The Netherlands will not transfer to Ukraine the 18 Leopard 2A7 tanks they are renting from Germany, Dutch Defense Minister Kajsa Ollongren has said, WNL reported.
The German government chose not to give these tanks to Kyiv due to a "military decision," Ollongren said. But even if the decision was positive, the Netherlands would not have chosen to, she added.
Prime Minister Mark Rutte said earlier that the Netherlands was considering buying the rented tanks from Germany to donate them to the Ukrainians. The cabinet has also offered to train Ukrainian soldiers so that they can handle the Leopard 2A6.
The German government has long hesitated about supplying the German-made Leopard tanks. After much international pressure, the government of Chancellor Olaf Scholz agreed last month.
On Wednesday, Ollongren announced that the Netherlands, together with Germany and Denmark, will give at least a hundred older Leopard 1A5 battle tanks to Kyiv. They must be sent to Ukraine "as soon as possible," according to the minister.
The story of the tanks reflects how European countries disregarded their own defense amid a demilitarization course. In 2011, the Netherlands decided to get rid of its Leopard 2A6NL tanks amid a demilitarization drive that saw the end of its 441-strong post-Cold War tank arsenal. Germany bought them and modernized them to the Leopard 2A7 model. After Russia's occupation of Crimea and hybrid war against Ukraine, the Netherlands rented back 20 of its own tanks modernized by Germany, 18 of which entered army service and 2 of which were used as training models.
Three EU countries to deliver 178 Leopard 1 tanks to Ukraine – Bloomberg
Tags: Germany, Leopard 2, Netherlands