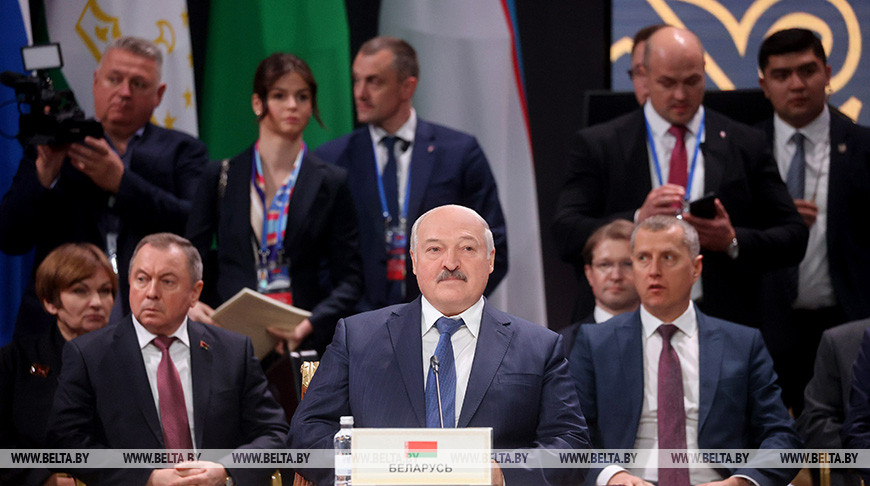 Belarus ruler Aliaksandr Lukashenka (in the center) at the session of the CIS Heads of State Council in Astana, Kazakhstan, on 14 October 2022. Photo: BelTA
 
In its December 11 Russian offensive campaign assessment, the Wahington-based Institute for the Study of War (ISW) discusses the Belarusian regime's support for the Russian invasion of Ukraine and Russian pressure on Belarus to enter Russia's war in Ukraine.
Here are the key points from the Belarus-related part of the ISW's report:
Russian officials consistently conduct information operations suggesting that Belarusian conventional ground forces might join Russia's invasion of Ukraine. Belarus is extraordinarily unlikely to invade Ukraine in the foreseeable future whatever the course of these information operations. A Belarusian intervention in Ukraine, moreover, would not be able to do more than draw Ukrainian ground forces away from other parts of the theater temporarily given the extremely limited effective combat power at Minsk's disposal.
The Kremlin's efforts to pressure Belarus to support the Russian offensive campaign in Ukraine are a part of a long-term effort to cement further control over Belarus. 
The risk of a Russian offensive from Belarus into northern Ukraine remains low — ISW
The Belarusian regime's support for the Russian invasion has made Belarus a cobelligerent in the war in Ukraine. 
Belarusian support for Russia's war in Ukraine is likely degrading the Belarusian military's material capacity to conduct conventional military operations of its own. 
Russia likely extracting ammo, matériel from Belarus which doesn't suggest future attack from Belarus – ISW
The Belarusian military is likely facing constraints on its capacity to train current and new personnel due to its supporting role in Russian force generation efforts. 
The degradation of the Russian military through devastating losses in Ukraine would also hinder the deployment of Belarusian mechanized forces to fight alongside Russian troops. 
Lukashenko's support for Russia's war in Ukraine and Russian pressure on Belarus to join the fighting are likely causing friction within the Belarusian military. 
Belarus ruler Aliaksandr Lukashenka's setting of information conditions likely further constrains Belarusian willingness to enter the war. 
Belarus is already unlikely to invade Ukraine due to internal dynamics within the country. 
Belarusian entry into the war would at worst force Ukraine to temporarily divert manpower and equipment from the current front lines. 
Belarus will continue to help Russia fight its war in Ukraine even though Lukashenko is highly unlikely to send his army to join the fighting. 
Russian officials will continue to conduct information operations aimed at suggesting that Belarusian forces might invade Ukraine in order to pin Ukrainian forces at the Belarusian border. These information operations are extraordinarily unlikely to herald actual Belarusian intervention in the foreseeable future.
Read also:
Tags: Alexander Lukashenko / Alyaksandr Lukashenka, Belarus, Russian invasion of Ukraine