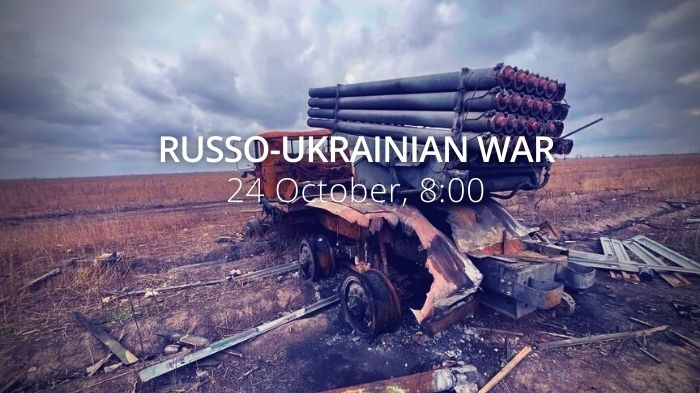 Daily overview — Summary report, October 25
The General Staff's operational update regarding the Russian invasion as of 06.00 am, October 25, 2022 is in the dropdown menu below:
Military Updates
According to British Defence Intelligence: 
Losses of the Russian army 
As of 24 October, the approximate losses of weapons and military equipment of the Russian Armed Forces from the beginning of the war to the present day: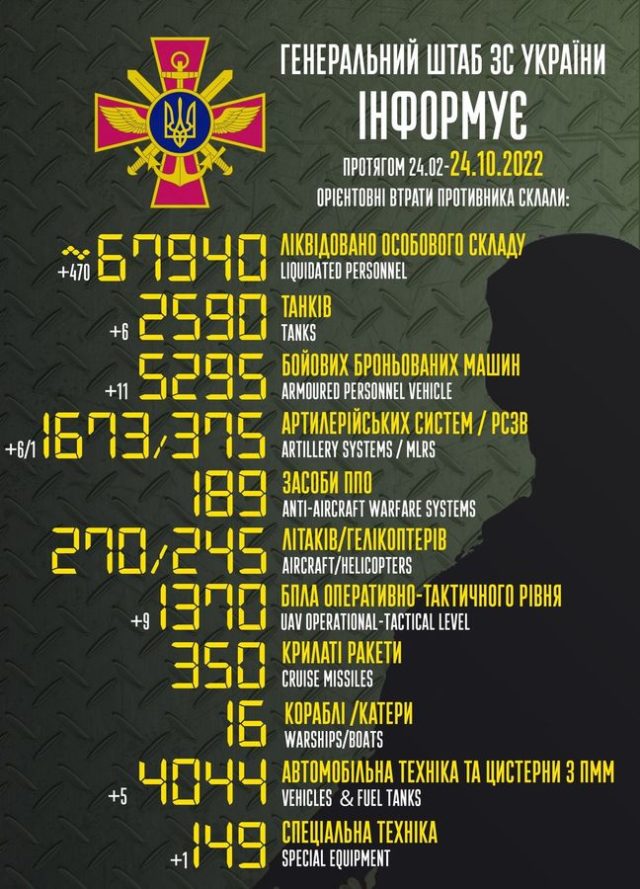 Humanitarian 
In Northern Ukraine, Chernihiv braces for a tough winter amid Russian attacks on energy grid
Ukraine restored power supply in all areas affected by Russia's Oct 22 missile attack – Zelenskyy
86% of Ukrainians say Ukraine should continue repelling Russian aggression despite Russian shelling of civilian infrastructure
UK MPs demand 'just reconstruction' in Ukraine amid fears for workers' rights. Money for Ukraine's recovery must 'not disappear into the hands of oligarchs'
Ukrainians consider Poland, Lithuania, UK & US the most friendly nations; Hungary and China joined the list of hostile — poll
Ukraine's economy is expected to shrink by 30% this year, First Deputy Prime Minister Yulia Svyrydenko said on Monday, as Russia's invasion enters its ninth month.
The creation of the territorial defense of Kherson by the occupation regime may turn into a direct mobilization of Ukrainians. The invaders are creating a humanitarian crisis in the city. Serhii Khlan, a deputy of the Kherson Regional Council, said this at a briefing
Environmental 
Ukraine lost almost all wind power capacity, half of solar power facilities due to Russian invasion – Minister
The share of Russian gas on the EU market decreased from 40% to 7%, the Commissioner for the Internal Market said
Ukraine said seven vessels sailed off from its ports carrying grain bound for Asia and Europe, but accused Russia of blocking the full implementation of Black Sea grain deal.
Legal 
Support 
The European Bank for Reconstruction and Development (EBRD) will commit up to EUR 3 billion over 2022-2023 to help Ukraine's businesses and economy keep functioning.
Investing in Ukraine means investing in a future EU member state, Scholz says
74% of Germans are still willing to support Ukraine

Ukrainians will be the ones to "choose the moment and the terms" of peace in the war with Russia, French President Emmanuel Macron said

As Ukraine's energy infrastructure comes under sustained Russian attack, two summits in Berlin will seek to spur the country's post-war reconstruction. Germany has proposed a Marshall Fund for Kyiv
Assessment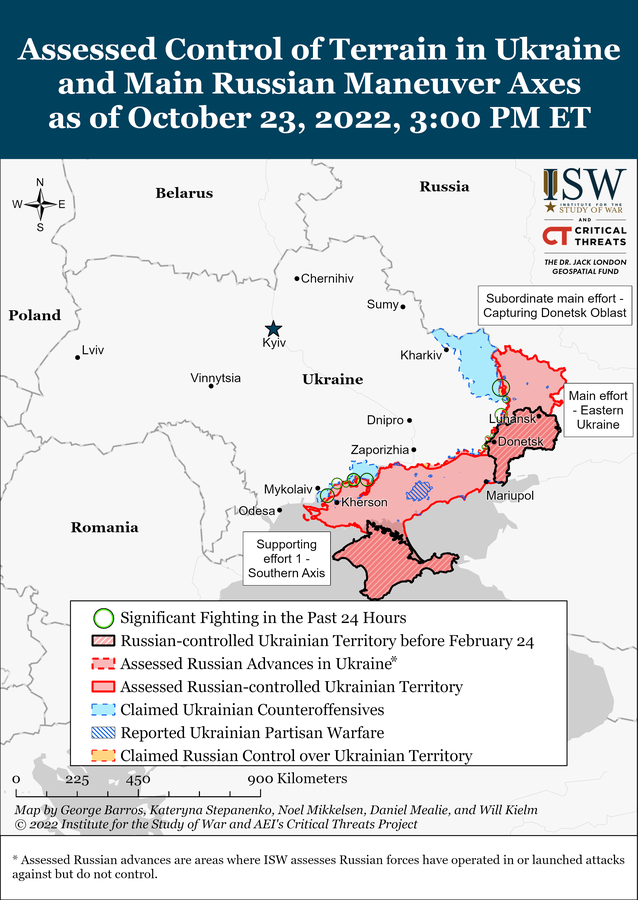 The Institute for the Study of War has made the following assessment as of 23 October 2022:
Kremlin unlikely to be preparing imminent false-flag dirty bomb attack or non-strategic nuclear weapon strike – ISW
Tags: Russian invasion