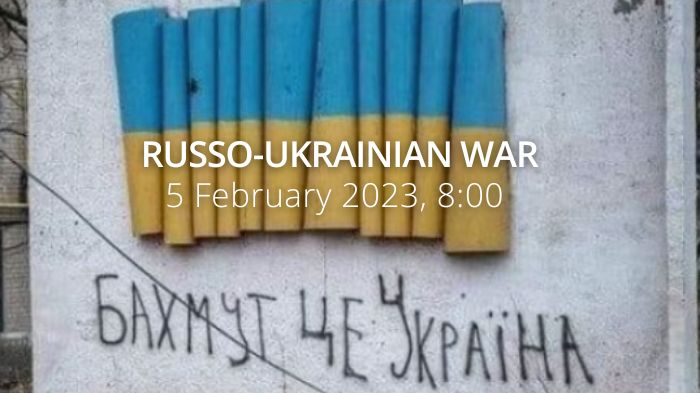 Russia has continued to make small advances in its attempt to encircle Bakhmut.
NATO Parliamentary Assembly supports the establishment of a tribunal to investigate Russian war crimes. G7 agree to a price cap for refined Russian oil.
Daily overview — Summary report, February 5
A map of the approximate situation on the ground in Ukraine as of 00:00 UTC 05/02/23.

There have been no notable changes to control since the last update. pic.twitter.com/4A6FnWJrBw

— War Mapper (@War_Mapper) February 5, 2023
The General Staff's operational update regarding the Russian invasion as of 18.00 pm, February 5, 2023 is in the dropdown menu below:
Day 347 of the full-scale russian military aggression begun.
The russian federation is concentrating its efforts on conducting offensive actions on the Kupyansk, Lyman, Bakhmut, Avdiivka and Novopavlivka axes.
Over the past day, units of the Defense Forces of Ukraine have repelled attacks of the occupiers in the vicinities of Kreminna and Shypylivka in Luhansk Oblast and Verkhnyokamianske, Blagodatne, Krasna Gora, Paraskoviivka, Bakhmut, Ivanivske and Klishchiivka in Donetsk Oblast.
The enemy continues to defend previously captured lines on other axes, shelling the positions of our units and settlements bordering the contact line.
During the day, the enemy carried out 61x attacks from MLRS, including on the civilian infrastructure of Kherson. In addition, the threat of strikes by the russian federation on civilian objects throughout Ukraine remains high.
Volyn, Polissya, Sivershchyna and Slobozhanshchyna axes: no enemy offensive groups were detected. At the same time, areas of Senkivka settlements in Chernihiv Oblast; Boyaro-Lezhachi – Sumy and Oleksandrivka, Hlyboke, Krasne, Zelene, Neskuchne, Staritsa, Ohirtseve, Vovchansk, Budarky, Chugunivka and Velikiy Burluk in Kharkiv Oblast were shelled.
Kup'yansk axis: the enemy shelled the areas of Novomlynsk, Dvorichna, Hryanykyvka, Syn'kivka, Kup'yansk, Pishchane, Kyslivka, and Krokhmal'ne settlements of the Kharkiv Oblast, as well as Novoselivs'ke and Stel'makhivka – Luhansk Oblast, with tanks and artillery.
Lyman axis: Terny in the Donetsk Oblast and Makiivka, Ploshyanka, Nevs'ke, Chervonpopivka and Dibrova in the Luhansk Oblast were affected by fire.
Bakhmut axis: Spirne, Berestove, Vesele, Bilogorivka, Rozdolivka, Paraskoviivka, Bakhmut, Ivanivske, Klishchiivka, Bila Gora, Ozaryanivka, Druzhba, Mayorsk and New York of the Donetsk Oblast were affected by the fire of the russian occupiers.
Avdiivka axis: Avdiivka, Pervomaiske, Nevels'ke, Georgiivka, Mar'yanka, Pobieda and Novomykhailivka were under artillery fire once again.
Novopavlivka axis: Vugledar, Bogoyavlenka, Prechystivka, Neskuchne, Vremivka and Velyka Novosilka were fired upon.
Zaporizhzhia and Kherson axes: the areas of the settlements of Novopil of the Donetsk Oblast were affected by the entire range of enemy artillery; Gulyaipole, Yehorivka, Charivne, Mala Tokmachka, Novodanylivka, Orihiv and Shcherbaky of the Zaporizhzhia Oblast and Antonivka and Kherson.
In the temporarily occupied Horlivka of the Donetsk Oblast, all medical facilities are full of wounded invaders. Therefore, the russian occupiers are setting up kindergartens, schools or simply warehouses for field hospitals. It is also known that medical personnel from Yakutia arrived at one of these hospitals, where about 70 people are being treated, in the city of Svitlodarsk, Donetsk Oblast.
It is noted that some of the mobilized personnel refuses to participate in hostilities. As of February 3, up to 600 persons of the specified category were returned from the Luhansk Oblast to the territory of the russian federation.
During the past day, Ukrainian aviation made 5x strikes on areas of concentration of manpower and military equipment of the occupiers, as well as 2x strikes on anti-aircraft missile complexes.
Over the past 24 hours, missile and artillery troops of the Defense Forces of Ukraine have hit the control post, 3x areas where the enemy's manpower is concentrated, an anti-aircraft missile complex, and a warehouse of fuel and lubricants.
Military Updates
Ukraine to implement Delta situation awareness system in defense forces.
On 4 February, Ukraine's Cabinet of Ministers
adopted
a resolution to introduce the Delta system to the country's Defense Forces, following a proposal by Minister of Defense of Ukraine Oleksii Reznikov. Delta is a situational awareness platform that integrates real-time intelligence data from multiple sources and provides real-time monitoring of the battlefield for commanders of different levels.
According to British Defence Intelligence, (last 48 hours): 
Over the last week, Russia has continued to make small advances in its attempt to encircle the Donbas town of Bakhmut.
The M03 and the H32 – the two main roads into the city for Ukrainian defenders – are likely now both threatened by direct fire, following the Russian advances. Earlier in the week, Wagner paramilitary forces highly likely seized a subordinate route which links Bakhmut to the town of Siversk.
While multiple alternative cross-country supply routes remain available to Ukrainian forces, Bakhmut is increasingly isolated.
Losses of the Russian army 
Humanitarian 
https://twitter.com/EuromaidanPress/status/1621887308818423816
Ukraine's prosecutor general says over 460 children were killed in the Russian war. At least 460 Ukrainian children have been killed and 919 children have been injured as a result of Russia's invasion, Ukraine's General Prosecutor's Office said on 4 February. The numbers of casualties are not final, juvenile prosecutors added, because they were still verifying information from zones of active fighting, liberated areas, and territories still occupied by Russian forces.
Ukraine returns home 116 POWs from Russian captivity – President's Office

Those exchanged are 87 army soldiers incl two SOF servicemen, 8 territorials, 7 national guards, 6 policemen, 5 border guards, 2 navy sailors, and 1 emergency service employeehttps://t.co/XDfkp1iIeK

— Euromaidan Press (@EuromaidanPress) February 4, 2023
Ukraine returns home 116 POWs from Russian captivity in another exchange. Head of the Ukrainian President's Office Andrii Yermak reported another prisoner exchange on 4 February in which 116 Ukrainian POWs returned home. According to Yermak, those freed are "defenders of Mariupol, Kherson partisans, snipers from the Bakhmut direction, and other heroes of ours."
European Commission to allocate EUR 1 billion to help Ukraine rebuild schools and hospitals. European Commission will provide Ukraine with €1 billion to rebuild civilian infrastructure, such as residential buildings, schools and hospitals damaged or destroyed by the Russian invasion, according to the EU-Ukraine joint statement following the EU-Ukraine Summit in Kyiv. "We have already created a special department that will coordinate the process of restoration, which will begin immediately," the President of the European Commission Ursula von der Leyen said in Kyiv on 3 February.
Norwegian paramedics get wounded by Russian shelling in Bakhmut. Two Norwegian volunteer paramedics Sander Sørsveen Trelvik and Simon Johnsen got wounded by the Russian shelling in Bakhmut (Donetsk Oblast, eastern Ukraine) ) on 2 February, VG reported.
Environmental
G7 agree to a price cap for refined Russian oil. The international Group of Seven industrialized countries agreed on 3 February on a price cap for refined Russian oil exports, VOA reports. US Treasury Secretary Janet Yellen said in a statement that the agreement follows a similar price cap on crude Russian oil exports set in December and "helps advance our goals of limiting Russia's key revenue generator in funding its illegal war" in Ukraine. Officials say the cap is at two levels — $100 per barrel for Russian diesel and other fuels that sell for more than crude, and $45 per barrel for Russian oil products that sell for less than the price of crude, such as fuel oil.
Legal 
https://twitter.com/EuromaidanPress/status/1621989466129711111
NATO Parliamentary Assembly supports establishment of tribunal to investigate Russian war crimes, Joëlle Garriaud-Maylam says. On 4 February, Deputy Speaker of the Verkhovna Rada of Ukraine Olena Kondratiuk met with the President of the NATO Parliamentary Assembly, Joëlle Garriaud-Maylam. During the meeting, they visited Borodianka village in Kyiv Oblast, which suffered the most massive destruction of any town in the Kyiv Oblast during the Russian occupation.
US attorney general allows the first transfer of Russian oligarch's confiscated assets to Ukraine. US Attorney General Merrick Garland announced on 3 February that the frozen assets of a Russian oligarch will be transferred to Ukraine, RFE/RL reports. "Today I am announcing that I have authorized the first-ever transfer of confiscated Russian assets for use in Ukraine," he said. The assets were seized after the indictment of oligarch Konstantin Malofeyev on sanctions evasion charges. Garland said the assets will be transferred to the State Department to be spent "in support of the people of Ukraine."
Russia's crime of aggression must be tried before the international court – Estonia's PM. Russia's invasion of Ukraine and war crimes against Ukrainians must be punished, Estonia's Prime Minister Kaja Kallas said during the meeting with the Prime Minister of Latvia Krišjānis Kariņš, and Prime Minister of Lithuania Ingrida Šimonytė in Tallinn on 3 February 2023.
https://twitter.com/EuromaidanPress/status/1621974051743744000
Disabled Kherson volunteer tortured by Russian invaders for insane propaganda confession to 'spying for Ukraine'. Mykola Petrovsky was abducted on 27 March 2022 from the centre of Kherson and has been imprisoned ever since.  The Russians who invaded and occupied his home are in all seriousness charging the 28-year-old Ukrainian volunteer with 'spying for Ukraine' and threatening a sentence of up to 20 years' imprisonment.  Petrovsky lost part of his foot and sustained serious injuries a few years ago, and now also needs urgent treatment for a stomach ulcer.
Canada imposes sanctions against 38 individuals, 16 legal entities from Russia

Those sanctioned "are complicit in peddling Russian disinformation and propaganda," the Canadian MFA said in a press release on Feb 3.https://t.co/BCDyLzKs0M

— Euromaidan Press (@EuromaidanPress) February 4, 2023
Support
Portugal to send Leopard 2 tanks to Ukraine – PM. Portugal will send Leopard 2 tanks to Ukraine, Prime Minister António Costa said, without specifying how many will be shipped, DW reports. He added that Portugal is in talks with Germany to obtain parts needed for the repair of a number of inoperable Leopard tanks in Portugal's inventory of the weapon.
US announces USD 2.175 bn worth aid for Ukraine, confirms it includes longer-range rockets. The US has announced two new military aid packages for Ukraine worth $2.175 billion in total. "Pursuant to a delegation of authority from the President, I am authorizing our 31st drawdown of US arms and equipment for Ukraine since August 2021, valued at $425 million.  In addition, the US Department of Defense will be committing another $1.75 billion in support for Ukraine under the Ukraine Security Assistance Initiative to help strengthen Ukraine's military," US State Secretary Antony Blinken's press statement reads.
New Developments 
A company that produces content for a Russian propagandistic channel ceases its operation in Germany. The RT DE Productions company which produces content for the German-language TV channel of Russian state broadcaster RT has announced it is halting all of its operations in Germany, DW has reported. The RT DE went live with its German channel in December 2021 but was taken off the air by satellite operator Eurosat within days. Regulators said that RT used a Serbian broadcasting license to operate in Germany.
Ukrainian hackers target Russia's briefing on cybersecurity. The GuildHall media outlet has reported that Ukrainian hackers targeted a briefing of the Russian Ministry of Foreign Affairs on cybersecurity for African nations and accused Russia of terrorism and invasion of Ukraine. "Russia is a terrorist state, and Russia's war against Ukraine is definitely a colonial war," hackers said. The briefing was organized by the Russian ministry to involve officials from African countries to cooperate.
A new package of sanctions will cost Russia EUR 10 billion – von der Leyen. The restrictions under the upcoming tenth package of sanctions against the Russian Federation will cost Russia €10 billion, the President of the European Commission Ursula von der Leyen announced on 3 February during the EU-Ukraine Summit in Kyiv.
Assessment 
https://www.understandingwar.org/backgrounder/russian-offensive-campaign-assessment-february-4-2023*
On the war. 
The Institute for the Study of War has made the following assessment as of  February 4, 2022:
Russian decisive offensive operations are unlikely to target Zaporizhzhia City from the western Donetsk–Zaporizhzhia frontline as the Russian military continues to prepare for an offensive in western Luhansk Oblast. Advisor to the exiled Ukrainian mayor of Mariupol, Petro Andryushenko, stated that Russian soldiers in Mariupol are telling residents that the Russian military ordered offensive operations against Vuhledar, areas southwest of Bakhmut, Zaporizhzhia City and Zaporizhzhia Oblast.[1] Andryushenko added that Russia is also building up forces at barracks and settlements on roads leading to frontline positions, and that Russia had brought an extra 10,000–15,000 troops to Mariupol and its outskirts.[2] Andryushenko noted the Russian forces reportedly have 30,000 troops in the greater Mariupol area. ISW continues to assess that Russia is concentrating troops and military equipment to stage a decisive offensive on the western Luhansk Oblast and Bakhmut areas.
Western and Ukrainian military officials have repeatedly noted that Russian forces are likely setting conditions to reach the Luhansk and Donetsk oblast borders — an objective that Russian Chief of General Staff Army General Valery Gerasimov had also outlined on December 22.[3] ISW continues to observe Russian transfers of military equipment and elite units and the preparations of logistics in occupied Luhansk Oblast that support Western, Ukrainian, and Russian forecasts for the western Luhansk Oblast–Bakhmut offensive.[4] Russian forces are also intensifying attacks on Bakhmut while neglecting frontlines around Donetsk City.[5] The Ukrainian military has reported that Russian forces have not massed a powerful enough strike group to conduct an offensive in the Zaporizhzhia direction.[6]
Russian sources have been claiming Russian forces have been making territorial gains in Zaporizhzhia Oblast in late January, claims that ISW assesses were likely an information operation aimed at dispersing Ukrainian forces ahead of the decisive offensive in the east.[7] Andryushenko had previously stated that Russian officials were restricting Mariupol residents from accessing non-Russian information and were misrepresenting the situation on the frontlines, so Russian forces spreading rumors about an attack on Zaporizhzhia City may be a continuation of such information operations.[8] Andryushenko has also consistently reported increases of Russian forces in Mariupol throughout different stages of the war and noted that Russian forces are using the city as a military base due to its proximity to Russia.[9]
Russia has not shown the capacity to sustain the multiple major offensive operations that would be necessary to simultaneously reach the Donetsk Oblast administrative borders and take Zaporizhzhia City. Andryushenko's reported Russian troop concentration of 30,000 servicemen in the Mariupol area is not sufficient to attack Zaporizhzhia, a city of roughly three-quarters of a million people, while continuing offensive operations to encircle Bakhmut and launching a new major attack in Luhansk Oblast. Russian conventional forces, reserves, and Wagner forces have committed tens of thousands of troops to the effort to seize Bakhmut already, reportedly suffering many thousands of casualties in that effort.[10] Bakhmut had a pre-war population of slightly over 70,000.
The Russian Ministry of Defense (MoD) has launched a series of efforts to restructure and consolidate the mismatched blend of irregular forces supporting Russia's war in Ukraine into Russia's conventional military forces. A Russian MoD map published on February 3 included occupied Donetsk, Luhansk, Kherson, and Zaporizhzhia oblasts in the Southern Military District's (SMD) area of responsibility.[11] The SMD press service also announced that the Donetsk and Luhansk People's Militias are integrating into the Russian Armed Forces.[12] The UK MoD assessed on February 4 that integration of occupied Ukrainian territories into the SMD zone likely follows Russian Defense Minister Sergey Shoigu's January 17 reform announcement about the formation of "self-sufficient force groupings" in Ukraine.[13] The UK MoD further assessed that these integration efforts aim to integrate occupied territories into Russia's long-term strategic posture but are unlikely to generate an impact on combat operations in the near term. ISW has also previously assessed that the Kremlin's effort to reconstitute the Russian Armed Forces is a long-term commitment in its preparations both for a protracted war and to rebuild Russia's conventional military might generally.[14]
The Russian MoD might be taking some steps to integrate volunteer battalions into its framework. A prominent Russian milblogger stated on February 4 that the Union of Volunteers of Donbas military units elected to create a single Russian Armed Forces Volunteer Corps from Russian Armed Forces volunteer units.[15] A DNR Telegram channel claimed on February 2 that Russian officials coerced mobilized miners into taking military oaths to Russia despite months of prior service.[16] Russian media outlet TASS also reported on February 4 that the Russian government expanded military medical commissions' mandate to provide care for volunteer formations as well.[17]
The Russian MoD may be rushing to integrate and professionalize irregular forces into its conventional structure while Chief of the Russian General Staff Army General Valery Gerasimov has the favor of Russian President Vladimir Putin.[18] Russian irregular forces in Ukraine include contract soldiers, mobilized soldiers, the Donetsk and Luhansk People's Republics' (DNR and LNR) forces, volunteer battalions, Russian Combat Army Reserve (BARS) forces, Cossack and Chechen units, and Wagner Group mercenaries. These formations have different objectives, limitations, pre-requisites, hierarchies, and legal statuses. The Russian MoD has initiated several professionalization efforts since Gerasimov's appointment as the Commander of the Joint Grouping of Forces in Ukraine on January 11, and it is logical that the Russian MoD would seek to cohere the current odd mix of forces into a more traditional structure.[19] These integration efforts coincide with the launching of decisive offensive operations, however, and will likely generate short-term disruptions and pushback among units needed for those operations. Undertaking complex structural and administrative changes while launching major offensive operations is an unusual step, however appropriate the changes. Gerasimov likely feels that he has a limited window to make changes to Russian forces before the impossibility of achieving the grandiose objectives he has apparently been set causes him to lose Putin's favor once again.
Wagner Group financier Yevgeny Prigozhin is likely overcompensating for his declining influence by continuing to frame himself as the sole victor in the Bakhmut area and attempting to leverage his remaining influence online. Prigozhin responded to a question on February 4 about rumors of a new Russian offensive by comparing Wagner Group forces' battle strategy to a chess game in which players must "hit [their opponents'] head with a chessboard."[20] Prigozhin also called for Russian authorities to investigate US-based Russian-language international media outlet RTVI for disseminating "slanderous information," one of many recent calls for Russian officials to take action based on his demands alone.[21] Select Russian milbloggers no longer flock to Prigozhin's defense, however. One Russian milblogger, for example, characterized Prigozhin as a "brilliant troll" and claimed that DNR and LNR mobilized forces suffer significant casualties on the entire Donbas frontline without sufficient support while Wagner Group forces concentrated their efforts around Bakhmut.[22]
Russia and Ukraine conducted a prisoner of war (POW) exchange on February 4, exchanging 63 Russian POWs for 116 Ukrainian POWs.[23] The Russian MoD claimed that the Russian POWs included personnel of an unspecified "sensitive category," and the MoD credited the United Arab Emirates leadership for mediating the exchange. A Russian milblogger expressed continued frustration at uneven Russo–Ukrainian POW exchanges.[24]
Key Takeaways
A Russian decisive offensive operation is unlikely to target Zaporizhzhia City from the western Donetsk–Zaporizhzhia frontline.
Russian forces have not shown the capacity to sustain the multiple simultaneous large-scale offensive operations that would be necessary to reach the administrative borders of Donetsk Oblast and seize Zaporizhzhia City.
 The Russian Ministry of Defense (MoD) has launched a series of efforts to restructure and consolidate the mismatched blend of irregular forces supporting Russia's war in Ukraine into Russia's conventional military forces.
The Russian MoD's decision to undertake significant structural reform while preparing for a major offensive in eastern Ukraine likely represents an effort by Russian Chief of the General Staff Army General Valery Gerasimov to complete reforms while he has Russian President Vladimir Putin's often fleeting favor.
Wagner financier Yevgeny Prigozhin is overcompensating for his declining influence by continuing to frame himself as the sole victor in the Bakhmut area.
Russian and Ukrainian officials exchanged 63 Russian POWs for 116 Ukrainian POWs.
Russian forces conducted limited offensive operations northwest of Svatove and continued offensive operations around Kreminna.
Russian forces continued offensive operations around Bakhmut and Vuhledar but have slowed the pace of their offensives along the western outskirts of Donetsk City.
Ukrainian forces continue to target Russian military assets in east (left) bank Kherson Oblast.
Russian authorities are attempting to reinvigorate force generation efforts by drawing from broader pools of manpower.
Tags: Russian invasion