This article will be updated; come back for more
[hr]
17:30: Russia plans to form an independent state on the territory of the occupied part of Zaporizhzhia Oblast
Russian occupation authorities are planning to declare the occupied part of Zaporizhzhia Oblast "independent" before it will be "integrated" into Russia after the sham referendum, Vladimir Rogov, a member of the so-called Main Council of the Administration of the Zaporizhzhia Region, announced.
Rogov said that "integration" will only be possible after the territory has been declared independent in accordance with federal constitutional law No. 6 'On the accession of the Republic of Crimea to the Russian Federation and the creation of the new subjects of the Republic of Crimea and the federal city of Sevastopol within the state of the Russian Federation," Russia's state-controlled TASS reported.
[hr]
16:30: Sociologists estimate how southeastern Ukraine would vote in a real referendum on joining Russia
Sociologists from the Kyiv International Institute of Sociology (KMIS) have used a regression model to make an estimate of how many people in Ukraine's occupied regions would vote in favor of joining Russia if a real referendum would be held instead of the show Russia is orchestrating based on real polls of pro-Russian secession sentiments in the region.
They used two polls from 2014 and one from 2021-2022 to interpolate the results that one would be likely to see if a real referendum on joining Russia was held in Ukraine's occupied areas, finding that, as in 2014, an overwhelming majority would be in favor of remaining a part of Ukraine.
Sociologists estimate how southeastern Ukraine would vote in a real referendum on joining Russia
[hr]
14:06: G7 condemns Russia's pseudo-referenda show in Ukraine, pledges more sanctions
The Group of Seven (G7) countries have
condemned
Russia's pseudo-referenda show in occupied Ukrainian territories after meeting at the UNGA in New York and called on other countries "to unequivocally condemn any referenda and not to recognize the results," according to a
statement
of German Foreign Minister Annalena Baerbock.
"Any referenda held under conditions of Russian military presence, intimidation, and forced deportation cannot be free or fair. Any annexation of Ukrainian territory would be a gross violation of Ukraine's sovereignty and the UN Charter," the statement said.
The G7 countries also pledged to pursue further "targeted sanctions and are committed to sustained economic and political pressure on Russia."
"The G7 Foreign Ministers and the High Representative were unanimous in their unwavering commitment to continue and sustain economic, financial, humanitarian, military, and diplomatic support for Ukraine for as long as necessary and to the extent necessary, to ensure Ukraine's path to freedom, peace, reconstruction, and economic development," the statement reads.
[hr]
13:40: Ukraine's security service IDs 1,500 people Russia involved in pseudo-referendum show in Zaporizhzhia Oblast.
Citing intercepted documents of Russian occupiers, the SBU (Ukraine's Security Service) reports that over 1,000 Russian "siloviki" (Rosgvardia, military police of the Russian Army and Interior Ministry) are planned to be involved in "security" measures of the pseudo-referendum show Russia is holding in occupied Zaporizhzhia Oblast.
"They will be assisted by traitors and collaborators who are part of the occupation "main department of the Ministry of Internal Affairs in Zaporizhzhia Oblast," as well as private security firms controlled by the Russian special services," SBU writes.

The SBU also says it has identified the identities and whereabouts over 390 Ukrainian collaborators who agreed to head the so-called "territorial voting commissions."
Ukrainian authorities had earlier warned that Ukrainians willingly organizing or taking part in the sham "referendums" in occupied regions face criminal liability.
[hr]
13:20: How "voting" takes place
https://twitter.com/EuromaidanPress/status/1573253964371484674
Russia's state-controlled TASS reports on Russia's pseudo-referendum show in Donetsk: inside apartment buildings, with armed security, and no privacyhttps://t.co/eHcrpBBQJd pic.twitter.com/xdb6OkEe3V

— Euromaidan Press (@EuromaidanPress) September 23, 2022
[hr]
12:57: "Ballots" used in Russia's pseudo-referendum show lack unique verification numbers.
To prevent fraud, real ballots in Ukraine have a unique number in two places: the main part where a voter leaves a mark – it is torn off from part 2, the header of the ballot when a voter registers. Part two stays at the polling station and can be referred to if fraud is suspected, i.e. if fake ballots are tossed in. The pseudo-ballots Russia is spreading in its occupied territories lack this unique number, which means tracking fraud is physically impossible.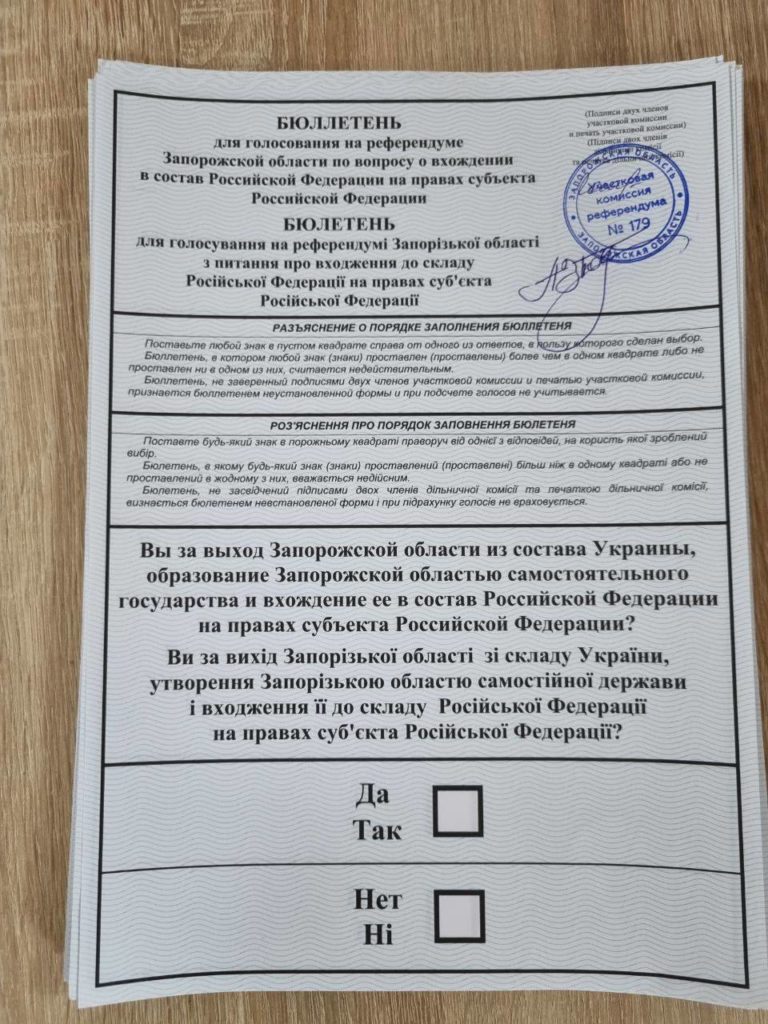 "Do you support Zaporizhzhia Oblast exiting from Ukraine, forming an independent state, and joining the Russian Federation on the rights of a subject of the Russian Federation?" says this "ballot." Photo: Operativnyi ZSU
[hr]
12.00: Ukrainian military-aged men urged to leave Russian-occupied territories to avoid conscription
Melitopol Ivan Fedorov has called upon all Ukrainian men aged under 35 to immediately leave the Russian-occupied territories of Ukraine to avoid being used as cannon fodder in the army of the occupiers.
He called upon men in occupied Zaporizhzhia Oblast to leave for Ukrainian-held areas or to Georgia through Crimea and reported that on 22 September, Russians blocked Ukrainian men 18-35 years old from leaving the Ukrainian-held regions of Zaporizhzhia Oblast at the Vasylivka checkpoint.
"The goal of the occupiers is to mobilize [Ukrainian] men as cannon fodder to the front," Fedorov said, reminding that Russian occupiers have already conscripted Ukrainians this way in their proxy states in Donbas, the "Luhansk and Donetsk People's Republics."
[hr]
11:20: Zelenskyy's aide Mykhailo Podoliak calls Russia's pseudo-referendum in occupied Ukrainian territories a "propaganda show for z-conscription."
This could be interpreted in 2 ways:
1) Russia could start conscripting Ukrainian men in occupied territories for its war
2) could use annexation as a morale boost for own soldiers
[hr]
In the so-called "Luhansk and Donetsk People's Republics," Russian proxy statelets occupied since 2014 whose "independence" Putin recognized on the eve of invading Ukraine on 24 February, people will be asked: "Do you want to join Russia?". And on the occupied territories of Zaporizhzhia and Kherson oblasts – "Do you support Zaporizhzhia Oblast exiting from Ukraine, forming an independent state, and joining the Russian Federation on the rights of a subject of the Russian Federation?"
Russia's state-controlled TASS reports that even residents of the occupied territories who left for Russia could join the "referendum" – in particular, the "voting" is held in Yakutia.
The occupation administration should announce the results of the so-called "referendum" already on September 27-28.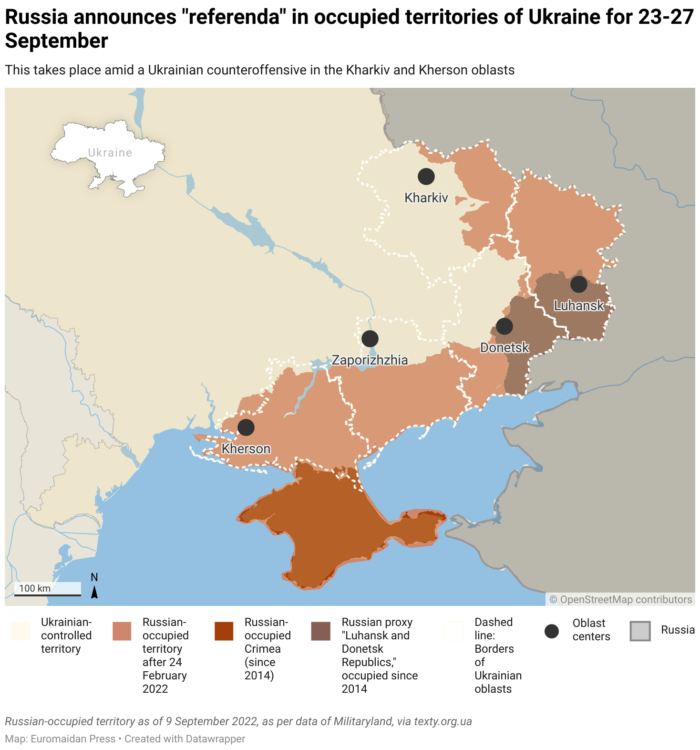 Russia's mobilization "likely to be highly unpopular" with Russians – British intel
Mobilization and "referenda": Russia escalates the confrontation with the West
Mykhailo Podoliak, an adviser to President Zelenskyy, responded to the "referendum show" plans by saying they will not stop Ukraine from destroying Russian troops. Ukrainian administrative officials of the occupied regions have called upon Ukrainians to stay at home and ignore the show. Deputy Chairman of the Kherson Oblast Council Yuriy Sobolevsky wrote that according to his information, the Russian occupiers plan to draw a turnout of about 70% of voters, of which about 75% will allegedly vote "yes."
Historian Timothy Snyder has meanwhile suggested that calling this show a "referendum" confers an air of legitimacy to an exercise that has zero legitimacy and serves to declare results predetermined by the Kremlin. He suggests calling it a "media exercise." We have chosen the term "show."
Russia is undertaking a media exercise regarding Russian-occupied Ukraine, which its propagandists call "referendums" on annexation by Russia. People elsewhere are struggling to characterize this action. I am going to propose "obscenity" and "element of war crime." 1/

— Timothy Snyder (@TimothyDSnyder) September 22, 2022
Meanwhile, EU and US officials have condemned the sham "referendum" show, stating that it will have no legal consequences for Ukraine and the world.
"This is Russia's attempt to legitimize its illegal military control and aims to forcibly change Ukraine's borders in clear violation of the UN Charter and Ukraine's independence, sovereignty, and territorial integrity," said the High Representative of the European Union for Foreign Affairs and Security Policy Josep Borrell in a statement. He noted that the results of referendums would be null and void and would not be recognized by the EU and its Member States.
"Since the start of the invasion, Russia has intimidated, illegally detained, tortured, and abducted Ukrainian citizens and a significant part of the original population in the invaded areas has been forced to flee. Legally elected local officials have, in some cases, been forcibly replaced. Access to the internet, free and independent media, and freedom of expression have also been greatly restricted. Therefore, these illegal "votes" cannot be considered under any circumstance as the free expression of the will of the people living in these regions under constant Russian military threat and intimidation," Borrell underlined and added that there would be additional restrictive measures against Russia.
The US will continue to stand with the people of Ukraine, the United States Secretary of State Antony Blinken said. "If Russia does stage these sham "referenda", the United States and the international community will never recognize Russia's claims to any purportedly-annexed parts of Ukraine."
Canadian Prime Minister Justin Trudeau also condemned the "referendum" in occupied territories. "Canada denounces Russia's planned "referendums" in occupied regions of Ukraine. We will never recognize them. This is a blatant violation of international law. It is a further escalation of the war. And it is unacceptable."
"Sham referendums have no legitimacy and do not change the nature of Russia's war of aggression against Ukraine. This is a further escalation in Putin's war," Secretary General of NATO Jens Stoltenberg stated. He called the international community to condemn the blatant violation of international law and step up support for Ukraine.
The world condemns sham referendum in occupied territories of Ukraine