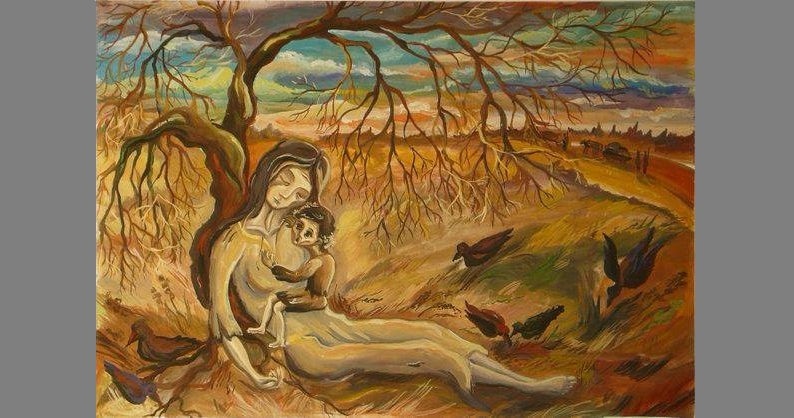 Holodomor (Ukrainian famine-genocide 1932-1933) painting by Nina Marchenko 
A petition to recognize Holodomor, the artificial famine in Ukraine during 1932-1933, as genocide of the Ukrainian people has been registered on the website of the German parliament.
"The German Bundestag. like 23 governments of the other countries of the world, should decide that the Holodomor in Ukraine in 1932-1933 was a genocide of the Ukrainian people, caused by Soviet regime under the leadership of Stalin!" says the text of the petition.
In order for the German MPs to review the petition, it needs to gather 50,000 signatures. At publishing time, it had 2818. The petition can be signed before 27 May.
Ukrainian Foreign Minister Pavlo Klimkin called upon Ukrainians in Germany to support the petition.
"Friends, our moral obligation before millions of innocent victims of the Holodomor, is for the world to remember them and the tragedy of the Ukrainian people. The world needs to know the truth about the bloody, carnivorous crimes of the Soviet regime, in order to be able to respond to the current manifestations of Stalinism, nurtured by the current Russian authorities," he wrote on his Facebook page.
In order to sign the petition, one needs to register at the website of the Bundestag (anmelden). Then, select "Ich bin neu hier" and enter your data. The password (Passwort) needs to have small and capital letters, as well as numbers or special signs. The boxes next to "Ich habedie Datenschutzhinweise zur Kenntnis genommen.*" and "Ich erkläre mich mit den Nutzungsbedingungen einverstanden.*" have to be checked.
Read more:
Tags: Crimes of the Soviet communist regime, Germany, Holodomor, Holodomor genocide recognition, Soviet history, Ukraine, Ukraine history