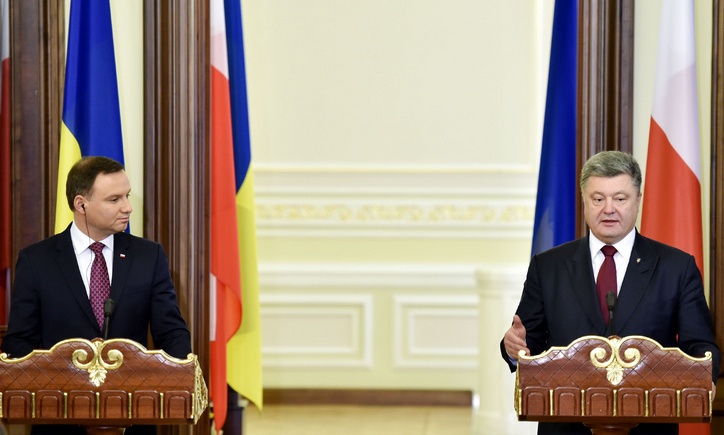 Polish President Andrzej Duda (left) and Ukrainian President Petro Poroshenko. Photo: president.gov.ua  
Euromaidan Press offers to your attention an abridged version of a
report
 by Kateryna Zarembo about Ukrainian-Polish relations from the series
Audit of Ukraine's foreign policy
from the
Institute of World Policy
.
Unlike most bilateral tracks that Ukraine has with partner countries, the agenda of relations between Ukraine and Poland is shaped by neither economic interests nor opportunistic factors. Ukrainian- Polish relations have a truly strategic dimension, although Poland has a greater role than Ukraine in that.
Being the first state to recognize the independence of Ukraine, Poland has consistently supported it ever since.
In fact, Warsaw has been much more proactive in bilateral relations than Kyiv has, and has lobbied for Ukraine's European integration more than Ukraine itself has.
Poland has formulated its approach to Ukraine based on the strategical importance of Ukraine. For Poland, the independence of Ukraine, Belarus, and Lithuania, plus a democratic Russia were seen as being of critical importance in Poland's security. Poland's interests in Ukraine continue to be:
an independent Ukraine
Ukrainian integration into NATO and the EU
democratic and economic transformation in Ukraine and, recently
the resolution of  disputes on sensitive issues of common history, including the events in Volyn in 1943 and in Galicia in 1944.
Arguments by Polish intellectuals against Polish territorial claims in Ukraine have shaped Poland's approach to Ukraine since 1989, although Prawo i Sprawiedliwość (PiS), the dominant party in the Polish parliament, has shifted its focus towards historical problems between Ukraine and Poland. In particular, PiS has made the events of Volynia in 1943 a major talking point.
Unfreezing a historical conflict
Tensions rose dramatically recently with the Polish Sejm's adoption of a resolution in July of this year which labeled made July 11 the memorial day for Polish "victims of genocide at the hands of the OUN-UPA."
This was taken by many Ukrainians as an attack on Ukraine and was the Polish response to an equally inflammatory measure taken by Ukraine.
The decommunization laws of May 2015 which provided legal status to "Ukrainian freedom fighters" of the UPA-OUN elicited a strong reaction in Poland, where these same fighters are seen as murderers of innocent Poles. For Ukrainians, however, these fighters are seen as important historical figures in the fight for Ukrainian independence from Russia.
These confused measures taken up by both parliaments are partially behind the rise in anti-Ukrainian sentiment in Poland, where even incidences of physical violence, desecrations of Ukrainian graves, etc. have been noted recently.
Read also: Why are there new tensions between Ukraine and Poland?
Throughout the 90's on up to very recent years, Ukrainians and Poles have enjoyed good relations on the day-to-day level.
However, in one poll taken in 2016 by the CBOS analytical center showed that the percentage of those who felt antipathy to Ukraine had exceeded the number of those who felt positively about Ukraine (34% and 27%, respectively).
The time of friendship has passed
PiS's coming to power in 2015 meant that Poland lacked the kind of pro-Ukrainian heavyweights like Radoslaw Sikorski and Bronislaw Komorowski, who relied on support for Ukraine as part of their political image.
Polish experts explain this deficit in the PiS party by Ukraine's less prestigious standing than other foreign partners for Poland. Furthermore, pro-Ukrainian experts who could have had influence in the government are limited by their ideological opposition to PiS. Unfortunately, the situation is made even worse by the fact that there are some in PiS, like Yan Zarin, who place cooperation with Ukraine, especially in the security sphere, in dependence of whether or not "Kyiv is ready to accept the historical truth."
Read also: Polish ruling party: Ukraine's version of historical memory of Volyn is "a problem"
The good news is that there are still politicians in PiS that are more pro-Ukrainian in their views, including those that argued against using the term "genocide" in the July resolution concerning Polish victims of Ukrainian fighters.
While the focus on historical politics led to a major step backward for bilateral relations, Poland continues to be Ukraine's main advocate in the EU.
Poland continues to stand for a visa-free regime for Ukraine to the EU, while also arguing against lifting EU sanctions on Russia. Poland's investment in Ukraine, which has focused mostly on financial services, insurance, and manufacturing, has also been significant, with investments worth 2.4% of all FDI to Ukraine by July 1, 2016. Poland is one of the top 10 investors in Ukraine. This, plus both countries' opposition to the Nord-2 pipeline, serve to bind the two countries together rather closely.
A common neighbor
Poland and Ukraine's shared interest in regional security in light of Russian context continues to be another binding factor.
Ukrainian and Poland mutual cooperation in the military defense sector has opened a lot of doors that memory politics can not touch. Ukrainian forces underwent training under Polish forces and Poland continues to push for Ukrainian integration into the Intermarium Union, and both countries have mutual interests in the joint production of unmanned aircraft systems and helicopters.
Given the importance of this aspect of mutual cooperation, it is important for Ukraine to also work towards integrating into the Intermarium Union, particularly by attending the June 2017 summit in Wroclaw.
The migration factor
Another area of potential weakness for Polish-Ukrainian relations, aside from the question of memory politics, is the rising anti-immigrant tensions in Poland that are partially a result of the refugee crisis in Europe. The Polish government has used Ukrainian refugees as a justification for their inability to take in more refugees, inflating the number of Ukrainian refugees as a result. Meanwhile, labor migrants from Ukraine are also seen as threatening by Poles, though the former tend to fill a large gap in the labor market left by Poles who work abroad.
Read also: Polish authorities show no interest in reducing ethnic confrontation
While it is hard to say exactly how many Ukrainian labor migrants there are in Poland, diplomats from both governments tend to rely on the number of 1 million.
There are also currently 30,000 Ukrainians officially enlisted in degree programs. While this number is significant, it is a far cry from the crisis that Polish politicians claim is occurring in Poland, especially since the number of Ukrainian refugees who received such status number in the double digits.
Future cooperation in this sphere would be best concentrated on improving border efficiency to allow for both better monitoring of the situation, and for smoother travel between both countries.
Improving border control on the side of Poland and the improving the transport infrastructure on the side of Ukraine are two critical steps in this effort.
While Polish and Ukrainian relations have a solid foundation in shared security, economic, and energy interests, both countries should continue to work on their troubled past. By cooperating in mutual academic projects focusing on questions of shared history, Ukraine and Poland can engage in discussion as equals with shared interests.
Ukrainian efforts to promote cultural understanding of the Ukrainian view on history, plus promoting understanding of the benefit that Poland derives from Ukrainian labor migrants are also needed. 
This would help decrease the current anti-Ukrainian sentiment that has risen in the past year and allow both countries to focus on more urgent problems concerning shared geopolitical goals.
Related: Polish-Ukrainian confrontation over historical past gains momentum
This report was conducted within the project of the Institute of World Policy "Ukraine's Foreign Policy Audit". This project is implemented with the support of the Black Sea Trust for Regional Cooperation of German Marshall Fund (GMF). 
The contents are those of the Institute of World Policy (IWP) and do not necessarily reflect the views of the German Marshall Fund (GMF).
Other materials from this series:
Tags: EU, International, Poland, Polish history, Ukraine-Poland relations, Ukrainian history, Volyn