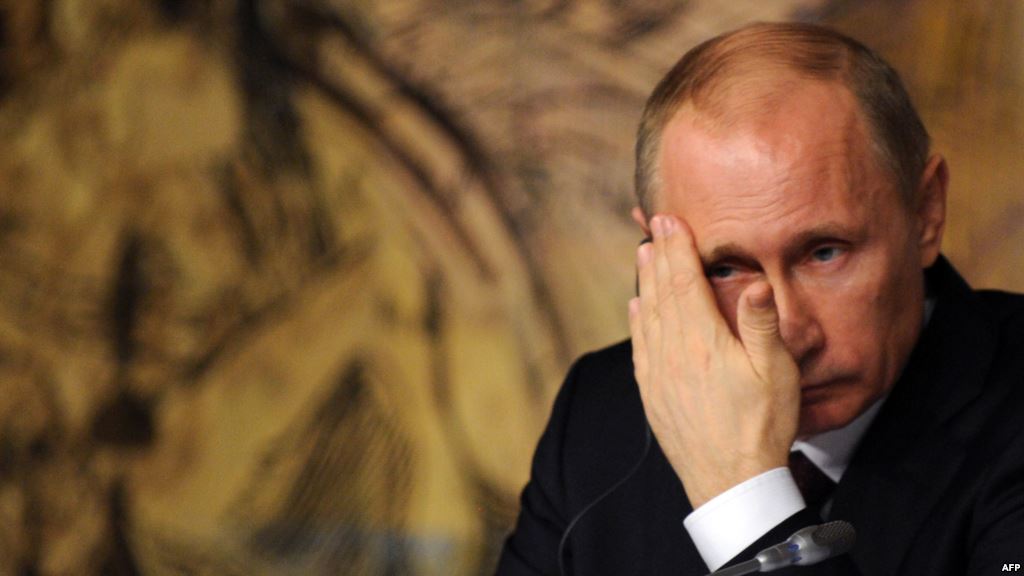 The President of the Russian Federation Vladimir Putin, 2015 (Image: AFP) 
Vladimir Putin's ultimatum to the West over the plutonium issue may be "tactically clever" on his part largely for domestic reasons, MGIMO professor Valeriy Solovey says; but it is "strategically disastrous" because it undermines much of what he has been claiming and reinforces the commitment of the West to stand up to him.
In a post on the Kasparov.ru portal, the commentator makes six points in support of his general contention:
As he has so often before, Putin has issued an ultimatum that his opponents do not know immediately how to answer. That allows him to portray them domestically as weak and gives him room for maneuver.
The timing of his latest move coincides with a period during which "the departing American administration already doesn't want to do anything, and the new one will not appear anytime soon."
"At the strategic eve, Russia confirms its reputation as an extremely unpredictable country."
The demand for compensation from the West, however, undercuts Putin's own claims that sanctions haven't harmed Russia.
This verbal escalation does not necessarily point to a real one, especially since one can always play Russian roulette with confidence if the gun isn't loaded.
This foreign policy escalation is incompatible with Russia's need for reforms, "but on the other hand it is perfectly in step with the militaristic psychosis … the increasingly harsh domestic political arrangements and other aspects of a semi-mobilized economy."
Many other Russian commentators are also discussing this issue today. Two of the most insightful are Ilya Milshteyn on the Grani portal and Andrey Piontkovsky on Kyiv's Apostrophe one.
It is clear, Milshteyn writes, that Putin is engaged in blackmail and has raised the stakes to the nuclear level. But it is also clear that the West isn't now ready to give in and do what he wants. In fact, by issuing such a declaration, Putin has "sent a signal that he has forever lost his connection with reality."
The tragedy is that this is not Putin's problem: it is the world's problem because he has the capacity to destroy the world. And even if few think he is prepared to go that far, his retention of the plutonium raises two disturbing questions: is he going to build more bombs? And is he going to give some of it to other world outcasts. Both are a threat to the stability of the world.
It is clear as well, the Grani commentator says, that Putin wants to interfere in the American election not because he necessarily has concluded that one of the candidates is better for him than the other but because he wants Russia to be at the center of the election and he wants to spread chaos. Meanwhile, at home, he wants to tighten the screws.
But there are other questions where the answer is less clear, Milshteyn says. It is far from certain that Putin is "really prepared" to go to war against the US and NATO. He has bluffed before and then backed away concerning the Baltic countries, all of which are members of the Western alliance and have Article 5 guarantees.
"Nevertheless," he continues, "to assert that there is nothing behind the blackmail except anger and hatred" is perhaps a mistake. The forces exist and a particular kind of habit and ability at making calculations about a multi-move geopolitical combination." In short, the situation is extremely dangerous.
"In the person of Putin, the world for the first time in its history is encountering a real threat of destruction, and no one should underrate that threat – although it is not necessary to overrate it and fall into a panic."
Instead, sober minds need to think carefully about how to counter the Kremlin leader rather than meeting his demands or leading him to go to war.
Piontkovsky agrees that Putin is engaging in blackmail and that this latest effort isn't going to work. He says that this ultimatum is Putin's very own version of "'the letter of the Kremlin Cossacks to the American sultan,' an act of despair on the part of the head of the Kremlin."
Putin's blackmail, even raised to the level of nuclear weapons, isn't going to work, Piontkovsky argues, because it hasn't worked up to now. Indeed, the West has so changed its tone with Putin that his latest outburst may be read as little more than his angry response to the change in Western tone about him and his regime.
---
Related:
Tags: International, Nuclear blackmail, Putin, Putin regime, Russia, Russia's confrontation with the West, Russian militarism, Russian repressions, Russian totalitarianism, Western diplomacy