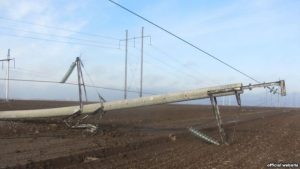 The blockade and blackout of Crimea got the Kremlin's attention. Putin may be preparing a response to expand his hybrid war to Kherson Oblast. Russian propaganda trumpeted the formation of supposed "self defense groups" or "partisan bands" in Crimea, Donbas, and Kharkiv right before Russia attacked these regions. The same pattern seems to be repeating in Kherson Oblast. Late last week a couple of videos surfaced of a Kherson farmer and a local politician complaining about thefts and coercion from individuals wore the uniform of the Ukrainian Aidar territorial battalion. These videos were quickly picked up by Russian propaganda, which proclaimed that "residents of Kalanchatskyi District, Kherson Oblast are arming themselves and uniting in self defense units." Kalanchatskyi District shares a border with occupied Crimea.
These videos initially appeared on the website Kherson.life. This supposed local news website was registered anonymously in late September. It is hosted on a dedicated server in Moscow.
Three days ago Russia's Luhansk separatist project reached out to the new propaganda project in Kherson. The head of the so-called Luhansk People's Republic (LNR) Iigor Plotnitsky wrote an open letter to the people of Kherson, which was immediately translated into English on a separatist-linked website. He decried their "suffering" from the "battalions controlled by Kiev and former Crimean Tatar and now Kherson-Turkish radicals." and then proposes that if their "elected people's representatives" appealed to the LNR for help "we will figure out how to help." He concludes his letter with the cry: "Long live the future People's Republic of Kherson…"
An expected next step for a Russian separatist propaganda project in Kherson would be the formation of a "Kherson Fraternity" similar to the Donetsk and Sevastopol based "
Odesa Fraternity
" or the Russia and Donetsk based "Kharkiv Territorial Fraternity" which serve as political fronts for Russian subversion and terrorism inside these districts. A Kherson front group supposedly headquartered in Luhansk and operating out of Crimea could give Russia another layer of deniability to conduct terrorism in Kherson Oblast.
The Russian propaganda outlet 
RIA Novosti Ukraine
 took the narrative one step further, reporting that representatives of the 
Kherson s
elf-defense groups said that the marauders wearing the Aidar uniforms had a "…Tatar appearance. They have a sneaking suspicion that they are not related to military formations of Ukraine, but to a radical Islamist wing."
The mention of potential links to "radical islamists" hints at the direction Russia may spin this narrative: The Crimean Tatars, funded by Türkiye, will make an assault on Crimea and the peaceful Ukrainians living to the north of Crimea as part of Türkiye's general offensive against Russia. Russia will justify the use of force in southern Ukraine (or more likely, its "support" for "self-defense" units that operate out of Crimea and act a lot like Russian special forces.) The hardline Russian propaganda outlet News Front is already
pushing reports about how fighters from Türkiye and ISIS are coming into Kherson
.
While all this propaganda is going on, farmers in Kherson did indeed protest recently and block the highway from Kherson to Odesa, though they were protesting against amendments to the tax code. Also, there is probably some friction between the blockade participants and locals, which is not unusual whenever a large group of soldiers or activists begins activity on a new territory. The timing of this Russian propaganda push of impending violence alongside the peaceful protests of Kherson locals indicates a Russian attempt to co-opt local grievances and launch a separatist project using them as cover. The previously mentioned Russian propaganda outlet News Front published a story yesterday titled "The Crimean Blockade and the Genocide Budget could lead to a Popular Uprising in the Kherson Region." The story appears to have been quickly taken down. Perhaps it was published too soon? As in Donbas, as in Crimea, Russia is taking the cover of local grievances to build a narrative of repression, foreign influence, and armed locals rising up. What is Putin's next step?