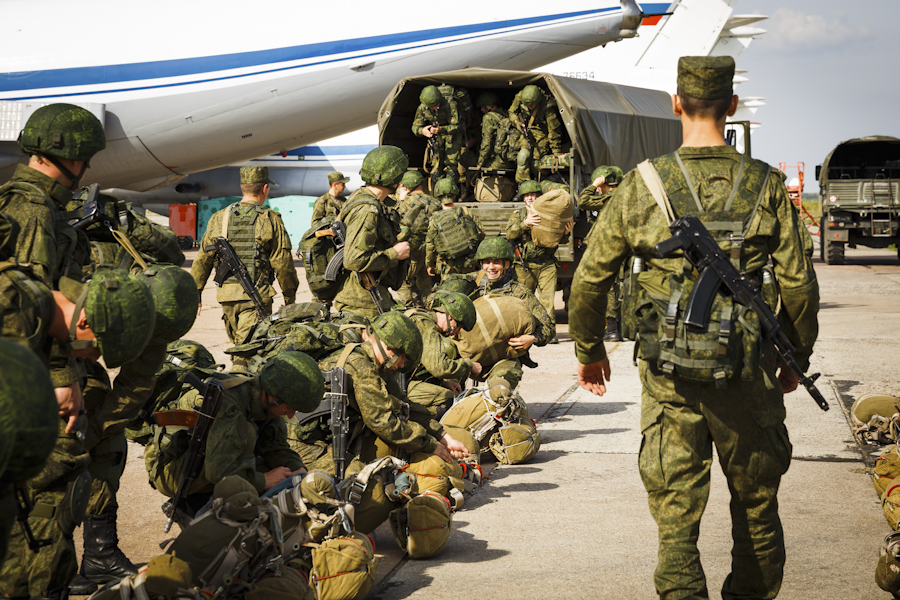 Russian paratroopers (the VDV) arriving to board a military transport plane. Image: stat.mil.ru 
Whether Vladimir Putin will launch a full-scale invasion of Ukraine in the near future or simply continue to engage in destabilizing saber-rattling to undermine Kyiv and distract Russians from their problems at home in advance of the State Duma elections and the international community from his actions is far from clear.
One survey of regional experts found no agreement on what the Kremlin leader may do next, instead concluding that with Putin, "it is possible to expect almost anything" given that he has made surprise and unpredictability the centerpieces of his approach to policy making.
But in the last 24 hours, three developments represent a further ramping up of tensions by the Kremlin, adding to those it has already put in place as a result of the new military maneuvers and the involvement of large parts of the civilian authorities in them. They thus deserve to be taken seriously even if they do not necessarily point to an expanded war.
First of all, the Kremlin's favorite polling agency, VTsIOM, reported today that ever fewer Russians are paying attention to events in Ukraine and ever fewer back the regime's support for the "DNR" and "LNR," with some Russian analysts saying that Russians no longer view this conflict as "'the victory of good over evil.'"
Given how central that trope has been in Putin's propaganda effort, it is entirely possible that he might think that a new round of aggression would refocus Russian attention on Ukraine and mobilize support for himself. It is unthinkable, given his nature, that he would back down and even implicitly acknowledge his errors and crimes.
Instead, this result almost certainly pushes Putin in the direction of redoubling his bets either in Ukraine or somewhere else.
Second, Sergey Markov, a Russian analyst with close ties to the Kremlin, says that the US is planning to commit aggression in Ukraine both to undermine the G-20 summit in Beijing and to help Hillary Clinton defeat Donald Trump.
Accusing Russia's opponents of planning to do what Moscow in fact is planning to do is a standard operating procedure in the Orwellian world of Kremlin propaganda. And Markov is consistent not only with that trope but with another: he says that "Russia's fate and to a large extent the fate of the world" is being decided in the Donbas.
That also points to a dangerous trend in Russian thinking: It reaffirms what many Kremlin backers have insisted on, that Russia is not fighting Ukraine in Ukraine but fighting the United States or even the West as a whole. That position makes it even more difficult for someone like Putin to back down.
And third, the Russian media are giving enormous play to reports from Kyiv that the Ukrainian army is mobilizing and that secret orders to that effect have already gone out to regional commanders.
Kyiv "is afraid of provocations. Where one will take place, in Crimea or in the Donbas is still not clear," according to sources in the Ukrainian defense ministry cited by the Ukrainian media and replayed in the Russian media and a Ukrainian response that the Russian outlets are treating as suggesting that Ukrainian forces may advance.
That is part and parcel of the Markov line, but there is another aspect to this report that Moscow is playing up. The Polit.ru portal quotes Georgy Zhizhov of the Center for Political Technologies as saying that there is no need for Ukraine to mobilize because there is no threat, exactly the kind of calming message that an aggressor would put out before acting.
---
Related:
Tags: Donbas war (2014-present), International, Military analysis, Putin, Putin regime, Russia, Russia's occupation of Donbas, Russian aggression, Russian militarism