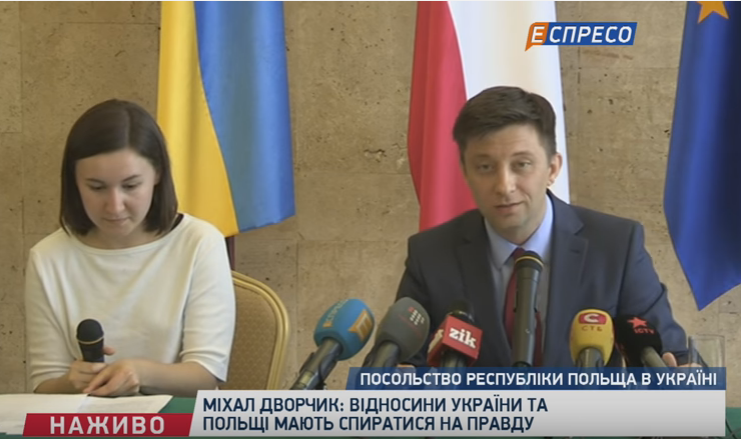 Michal Dworczyk presenting the letter at the Embassy of Poland in Ukraine, Kyiv, 20 June 2016. Screenshot from YouTube 
The Poles say they believe in sincerity of Ukraine's apologies, but Ukraine's version of historical memory of Volyn is "a problem."
In the early June Ukraine's political and religious leaders addressed the Polish society in an open letter of "repentance and forgiveness." They called for a reunion of two nations and mutual support in fighting the common enemy (Kremlin) instead of fighting over painful and difficult common past.
The letter, however, was accepted by many Poles with skepticism and criticism. Many commentators took the letter as Ukraine's attempt to overwrite history with own narrative, in which the OUN-UPA members are considered heroes, and massacres against Polish civilians are called a "Polish-Ukrainian war." Furthermore, they took this repentance letter as "blackmail" and "manipulation," stating that Ukraine "just needs Polish support."
"For the Poles, this is unacceptable. This is a statement that demands us to acknowledge a just and dignified struggle of Ukrainians for sovereignty. […] It means acknowledging activities of OUN and UPA during the war as [a fight – ed.] for independence, […] that their methods were just and appropriate. This is unacceptable, neither from the moral viewpoint nor from the point of view of the victims' dignity," Ewa Siemaszko, who studies the Volyn tragedy, commented at #dziejesienazywo program.
Jerzy Haczynski, editor of the foreign department of Rzeczpospolita, stated that Ukraine apologized too little. Phrases […] such as "killing of the innocent has no justification" is definitely too little. Especially when in Ukraine cult of UPA is flourishing at its best (streets of Kyiv have just been named after key responsible people for the Volyn genocide, Roman Shukhevych and Stepan Bandera)".
A positive response came a week later when Polish Church leaders called for mercy and unity that should lead to the dialogue. Lublin Metropolitan Archbishop Stanislav Budziak and Przemysl and Warsaw Metropolitan Archbishop of the Greek Catholic Church Yevheniy Popovych emphasized that the historical questions belong to historians, while the Christians should be able to forgive each other.
The official response from Polish ruling "Law and Justice" party came almost three weeks later. And their letter wasn't quite what Ukraine might have expected.
"We fully acknowledge not only the value of current Ukraine's statehood but also Ukraine's separate point of view on its fight for independence. We acknowledge as proper and understandable Ukraine's many centuries-long struggles for the right to free cultural and state development. Ukraine's, as well as Poland's setbacks in the fight for independence, had dramatic consequences not only for both of our nations but also for the whole Europe," the beginning of the letter "To Ukrainian friends" states.
On 20 June, Michal Dworczyk, Poland's MP and chief of the parliamentary Commission of Contacts with the Poles Who Live Abroad read out loud Polish response in Kyiv. The letter was signed by over 200 members of the ruling party. The full text of the letter was published by Ukrainian news portal Espreso.TV.
The signatories emphasize further, that Ukraine and Poland do not share same historical memory and Ukraine's current attitude towards "perpetrators of the genocide against the Poles" during World War II is a "problem." "In Poland, on the state level, we do not glorify people with blood of innocent civilians on their hands," the letter says.
The authors state that despite the heroism of the fight against imposed Soviet rule, they will not share glorification of actions aimed at unarmed women and children, as well as they won't accept naming those events as "Polish-Ukrainian war." They emphasize that they can't stay indifferent to the version of historical past that Ukraine chooses, even though they believe in the sincerity of Ukraine's apologies.
In the nearest days, the letter informs, the Polish parliament will commemorate the victims of Ukrainian nationalists in Volyn and former Polish territories. "We want to explicitly point out, dispelling your fears expressed in the letter, that this is not a type of an unbalanced political declaration, but only a fair tribute paid to the murdered victims."
The authors of the letter reminded that Poland stood with Ukraine side by side helping to oppose Kremlin's aggression and assured in their future support. They also stressed the "fundamentals of European civilization, to which both nations belong," and which "are based on Christian values, which turn remembering victims into an ethical duty." Thus, "Law and Justice" signatories call that Poland, together with Ukraine, put crosses on the graves of each victim, independently of nationality or territory where it is located.
Finally, the authors of the letter promise not to take actions that may erect a wall of misunderstanding between the two nations, and warn: "We cannot accept ideology and actions that allow murder of innocent civilians, even in the name of the highest goals, to which undoubtedly fight for state independence belongs."
---
Related:
Tags: historical politics, History, International, News, Poland, Politics, Ukraine, Ukraine-Poland relations, Ukrainian history, UPA, Volyn