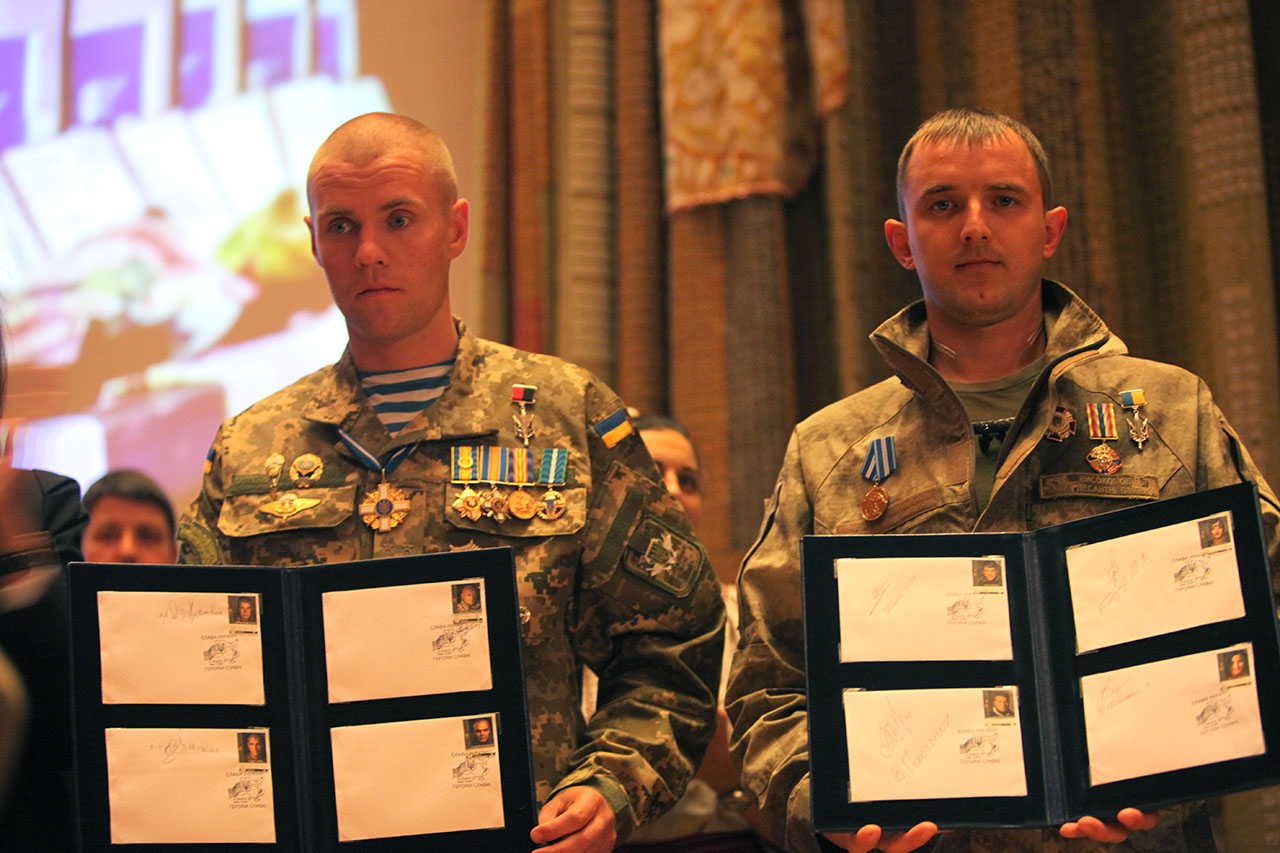 Ukrainian soldiers receiving the National Hero of Ukraine award at Museum of The History of Ukraine in World War II on 7 May 2016. Photo from Museum's press service 
"I am no hero. I am a part of a heroic nation," this is how Adriana Susak from Ukraine's Aidar battalion commented receiving the National Hero of Ukraine order.
Since the Russia-Ukraine war conflict, ideological lines in Ukraine became much more precisely defined, and terms received new interpretations. Instead of the imaginary "enemy," Ukraine unfortunately received a very real one; instead of "patriotism" overused by populists, Ukraine met its very real and active patriots. Revolution and war has also helped to redefine another term, "hero" and "heroism."
On 7 May 2016, a day before celebrations of the newly-created Remembrance Day, 22 Ukrainians were awarded the order "National Hero of Ukraine." The event took place in Museum of The History of Ukraine in World War II. This award has been established by  volunteers in 2015 to commemorate merits in defending Ukraine's independence and volunteer support of the armed forces of Ukraine. The order has been awarded to almost 200 people so far, including 140 servicemen, as well as 56 volunteers, medics, chaplains, and journalists.
The full list of awarded Ukrainians can be found at the Museum's website. Here are profiles of some of Ukraine's new heroes:
Adriana Susak is a soldier of the Aidar battalion. In 2014, she was an active participant of the Revolution of Dignity, known also as Euromaidan. In June of 2014, after the war in eastern Ukraine began, she started her year long service in the army. She took part in the battles near Shchastia, Metalist, Georgiivka, Lutuhyne, Khriashchuvate in Luhansk Oblast.
Surgeon Oleksandr Zeleniuk has been operating in a truck converted into operating room in the most dangerous war hot spots: Sloviansk, Krasnyi Lyman, Debaltseve, Shakhtarsk, and Avdiivka. Thanks to conducting successful operations together with fellow surgeon Yaroslav Levchenko, Zelenyuk saved hundreds of lives.
During the award ceremony, Zeleniuk emphasized on symbolism of the date of the event, which took place on the eve of the Remembrance and Reconciliation Day which is celebrated in Ukraine on 8 May. He said, that the recent tragic events will stay with us for long, but it's important to find reconciliation inside one's self without dividing our people into "easterners" and "westerners," Catholics and Orthodox believers.
Snizhana Potapchuk is a UA:First channel's documentary producer. She has been filming in war zone in the Eastern Ukraine. Together with the camerawoman Svitlana Koval, she became an author of three documentaries. Earlier she told the Fakty outlet that she always carries a note with address where to send recordings in case anything happens to her. Her backpack with a camera once saved her from sniper's bullet.
Among the awardees, five were awarded post mortem.
Stepan Chubenko from Kramatorsk was 16 years old when in July 2014 he ripped off the flag of self-proclaimed "Donetsk People's Republic" from one of the administrative buildings in the town. Later he was providing food and water for the defenders of the Kramatorsk airport, as well as organizing demonstrations in the occupied town. Because of his pro-Ukrainian activism, the teenager was kidnapped and tortured to death. Chubenko's mother received his son't body decapitated.
The couple of Olena Kulish and Volodymyr Alyokhin hid their neighbours' children in their basement to save them from bombings, helped the elderly, and provided food to Ukrainian soldiers who stayed in the Luhansk airport. In 2014 volunteers were also kidnapped and tortured to death by the militants.
At the event Refat Chubarov, head of the Mejlis of the Crimean Tatars, commented: "The last two years have changed us all. We are not different now, but we became more wise and experienced. There are times when the only force that unites and strengthens Ukraine are individuals."
Tags: heroes, New Ukraine, News, Ukraine