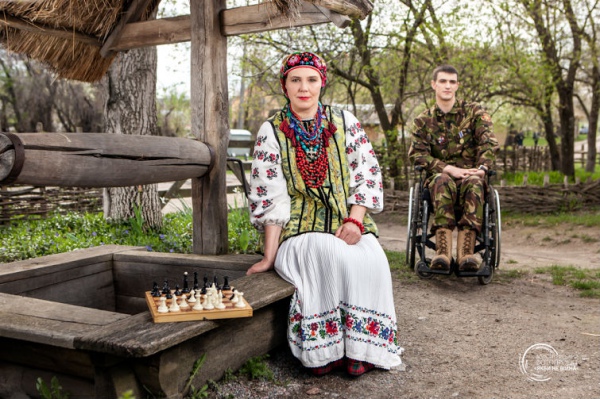 Uliana Vinyarska and son Volodymyr Vinyarsky, wounded at Starobilsk, Luhansk Oblast on June 4, 2014  
For Mother's Day, volunteers have created an amazingly eloquent portrait gallery of Ukrainian heroes and their mothers who bravely surrendered their sons to the war and lived through hell.
The photos appear on the Facebook page of the Photo Projects Volunteer Community.
 "Not every man is capable of heroic deeds, and not every mother is capable of accepting and understanding such a sacrifice. We admire these people and want to understand. How did they do it ??? How did they live through this horror and not lose the ability to laugh so loudly and sincerely?" say the project managers.

 "These 12 photo reports are shining examples of unconditional maternal love and sacrifice coupled with their sons' incredible heroism. A mother is also a fighter. Just like her son! Mothers of our Heroes, you protect our country in this undeclared war, surrendering the most precious thing you have. Mothers of our Heroes, you are truly worthy of respect, appreciation, and grateful acknowledgement from all Ukrainians!" declare the volunteers.
The volunteers met the families in hospitals where these men were admitted for treatment.
"It was a difficult period in their lives. We tried to help the boys and support their mothers. We talked a lot with them… or rather, we listened."
"Can you imagine… phoning your son and hearing loud shelling, explosions or the roar of tanks?!"
"Can you imagine… someone calling from an unknown number and a strange voice saying that your only child is on the brink of death?!"
These conversations and reflections contributed to a new cycle of the photo project called "If not for the war".
Irayida Marchenko and son Oleksandr Marchenko, wounded at Donetsk Airport on November 6, 2014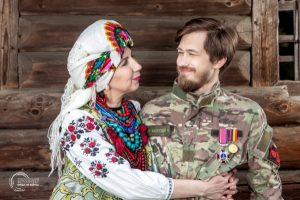 Oksana Zavartseva and son Viktor Andriychuk, wounded at Butovka mine on May 12, 2015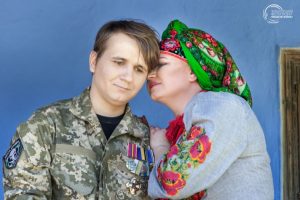 Tetiana Blokhina and son Dmytro Blokhin, wounded at Luhanske, Donetsk Oblast on June 3, 2015
Liubov Khariv and son Vasyl Khariv, wounded at Stanytsia Luhanska, Luhansk Oblast on May 17, 2015
Tamara Platmir and son Yaroslav Platmir, wounded near Donetsk Airport on January 30, 2015
Olha Zybina and son Yevhen Zybin, wounded at Debaltseve on February 17, 2015
Svitlana Kondrashovaand sons Oleksiy and Andriy Kondrashov. Oleksiy was wounded at Ilovaisk on August 29, 2014 and held prisoner. Andriy was also captured at Ilovaisk
Olena Katerusha and son Oleksandr Katerusha, wounded in Avmrosiyivsky Raion, Donetsk Oblast on August 5, 2014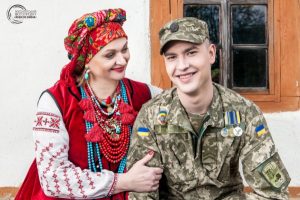 Nadiya Semchyshyna and son Danylo Semchyshyn, wounded near Artemivsk, Donetsk Oblast on June 26, 2015
Iryna Pasichnyk-Petrinko and son Vasyl Petrinko, wounded near Izvaryne checkpoint, Luhansk Oblast on July 15, 2014
Uliana Vinyarska and son Volodymyr Vinyarsky, wounded at Starobilsk, Luhansk Oblast on June 4, 2014
Oksana Yahelska and son Dmytro Yahelsky, wounded near Rubizhne, Luhansk Oblast on May 22, 2014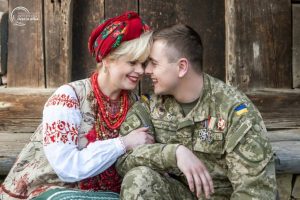 Related:
Tags: Donbas war (2014-present), heroes, mothers, photo report, sacrifice, Stories from the Front, Ukraine, Volunteers