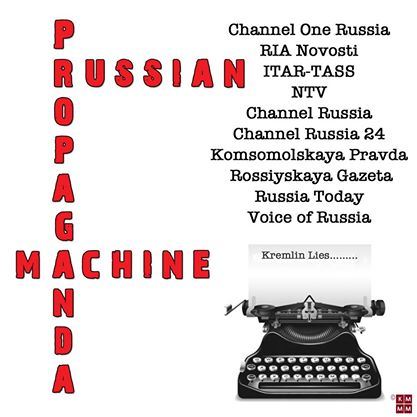 Russian propaganda makes use of so many techniques to succeed that Moscow novelist and commentator Elizaveta Aleksandrova-Zorina performs a useful service by listing in an article in "Gazeta.ru" 15 of its favorite and, it should be said, effective methods. She provides excellent examples of Putin's propaganda machine using each of these methods, but I will limit this post to just naming them:
A black and white division of the world into "ours" and the "alien" other;
Epithets that imply more than they describe;
Constant assertions that those supporting Putin not only are numerous but united (results of manipulated and flawed polls are frequently used to support such assertions);
Empty declarations that mean nothing but that appear to promise or justify everything;
Playing games with cause and effect, often reversing their true order;
A false effect stated as if being a priori, requiring no proof;
A vicious circle or tautology in which the second part of an assertion is simply a repetition of the first;
Confusing the part and the whole by focusing on only one part of something such as liberals within the opposition;
Creating false dilemmas that don't exist;
Careful preparation of headlines which are the only thing most people pay attention to;
Citations to experts, often false and even more often out of context;
Claiming the media say when in fact only one media outlet does;
Using weasel words like "so-called" or "it would appear" to give the appearance of objectivity;

To illustrate #13, compare the following statements: «Friends of Putin were mentioned in an anti-corruption investigation» and «Some alleged Putin friends were purportedly mentioned in a so-called anti-corruption investigation».

Outright falsification; and
Conspiracy theories and suggestion of hidden motives.
Related:
Tags: Russian propaganda