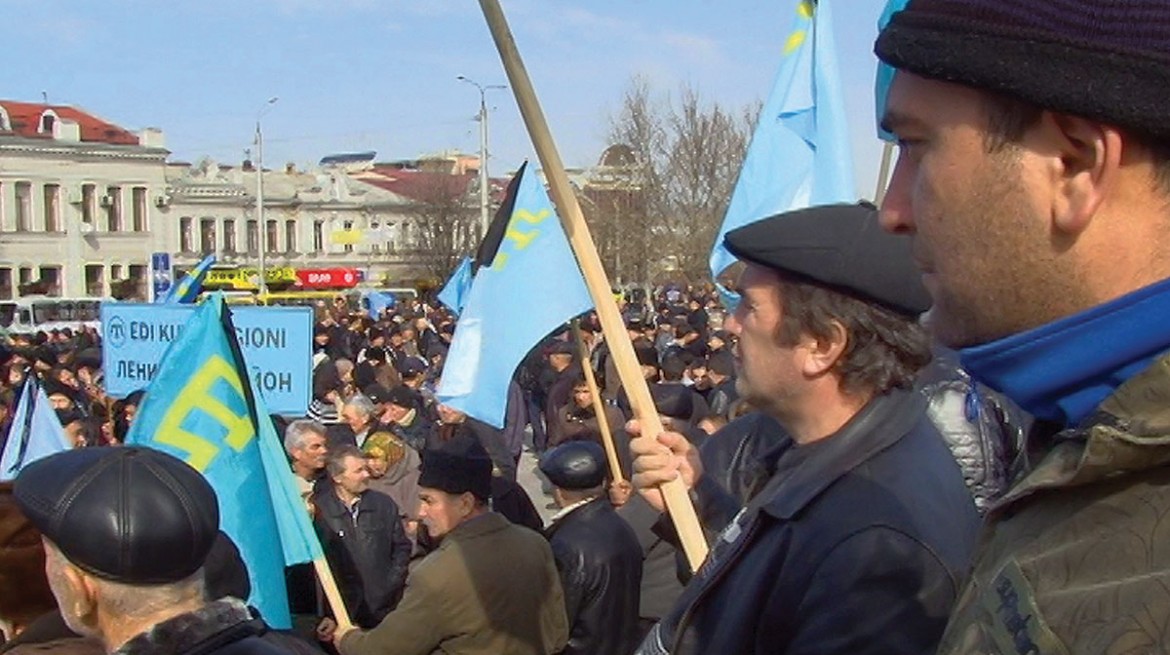 [article by Adrian Bryttan from THE UKRAINIAN WEEKLY, 3/20/16]
NEW YORK – On March 29, 2014, the main clock at the Symferopol railway station was advanced two hours in a symbolic ceremony as Crimea now jumped into the time zone of its new masters in Moscow. The former mafioso known as "Goblin" and now the new leader of the peninsula, Sergey Aksyonov, congratulated his partying Russian crowds on "going back home." The hypocrisy of Mr. Aksyonov's words amid the centuries-long struggle of Ukraine's Crimean Tatars to return to their true ancestral home (only to be crushed by Vladimir Putin's invasion) is the subject of Christina M. Paschyn's film "A Struggle for Home: The Crimean Tatars."
Attending the screening at the Ukrainian Institute of America in New York on January 29 were prominent leaders of the Crimean Tatar community: Mubeyyin Altan, publisher of the Crimean Review, and Ayla Bakkali, US representative of the Crimean Tatar Mejlis.
Writer and director Ms. Paschyn returned to this same surreal Symferopol scene near the conclusion of her 44-minute documentary. By that point the audience had viewed the ancient history of the Crimean Tatars and their struggles to survive in the face of Russian Imperial persecution, Soviet atrocities, genocidal deportation and finally the 2014 Russian invasion and takeover.
"A Struggle for Home" interweaves the director's running narration with interviews of various eyewitnesses, newsreel footage and the commentaries of historians Brian Glyn Williams and Alan W. Fischer. But perhaps what comes across most vividly are the personal accounts of several individual Crimean Tatars caught up in the whirlwind of events. Appearing several times was the elderly Shefika Consul, a self-described radical nationalist who as a 7-year-old girl dug for potatoes in exile in Uzbekistan.
Safinar Dzhemilev, the wife of Mustafa Dzemilev, recalled her work as head of the League of Crimean Tatar Women and how she was attracted to Mr. Dzhemilev's courage in the face of persecution and arrests, saying: "I decided to dedicate my life to this man."
The revered leader of the Crimean Tatar National Movement, Mustafa Dzhemilev was 7 months old when deported to Uzbekistan. Suffering arrests as a Soviet dissident, he mounted a 303-day hunger strike, successfully attracting the world's attention to his people – the indigenous people of Crimea that few had heard of before.
A member of the Ukrainian Parliament since 1988, Mr. Dzhemilev bravely denounced local Russian organizations for pro-Moscow activities, inciting inter-ethnic conflict and agitating for Crimea to become part of Russia. He declared: "If you really want to leave your country that much, take your suitcases, get on the trains, and go back to Russia."
Ancient and modern history
As historian Mr. Williams observed during the film, Crimean Tatar roots extend back much further than the establishment of the Crimean Khanate in 1441; he drew connections to the Huns, Crimean Goths and even the ancient Greeks who established trading outposts and cities. Although the Islamic Khanate conducted an extensive slave trade, today's Crimean Tatars are among the most secular, moderate Muslim societies, in which, in particular, women freely play a major part in the community. (In 1917 Crimean Tatars became the first Muslim people in the world to affirm women's right to vote.)
Another historian, Mr. Fischer, explained that Empress Catherine II annexed Crimea in 1783 because Russia needed a warm-water port on the Black Sea. The construction of Sevastopol solved their strategic problem, but Catherine also commenced a long-term policy of persecution of the Crimean Tatars, stealing their lands, destroying mosques, gradually displacing them with Russian settlers. A vast demographic shift resulted in the Crimean Tatars becoming a minority, under siege by local hostile Russians.
After a brief flash of independence in 1917, quickly snuffed out by the Bolsheviks, the Soviets installed a so-called autonomous republic, the Crimean ASSR.
Then in 1944 Joseph Stalin deported practically the whole Crimea Tatar population to the wilds of Uzbekistan, where 46 percent died within two years. From the mid 1950s, exiled Crimean Tatars worked unceasingly to demand the right to reclaim their homeland. Finally, in 1989, the Soviets allowed their return.
Crimean Tatars return
The second half of Ms. Paschyn's film outlines what happened next. Prior to the 2014 invasion, Mr. Aksyonov, head of the Crimean Russian Unity Political Party, extolled the deep Orthodox connections across borders, at the same time professing: "Russian people have no problem living with representatives of other nationalities."
But returning Crimean Tatars encountered ethnic and religious bigotry from local Crimean Russians in schools. Russian nationals deliberately antagonized them with public commemorations of Stalin. In December 2012 an explosion targeted the Great Mosque in Symferopol. Crimean Tatar "squat" settlements were destroyed by members of Russian ultra groups.
On February 26, 2014, some 1,000 Crimean Tatars clashed with Mr. Aksyonov's men in front of the Crimean Parliament. The following day, Russia's "green men" began their invasion. Even though his party previously had received only 4 percent of the vote, Mr. Aksyonov emerged as the new prime minister. The March "referendum vote" – rejected as illegal by the European Union and most of the U.N. General Assembly, and also boycotted by the Crimean Mejlis, the highest executive/representative body of the Crimean Tatars – started the ball rolling for Crimea to declare independence from Ukraine and to request that it join the Russian Federation.
As Mr. Putin signed the official unification treaty, the clocks at the Symferopol train station were advanced to match Moscow time.
After the 2014 annexation 
Since the annexation of Crimea, Crimean Tatars have reported a return of Soviet-era repression and persecution. Russia closed the Mejlis headquarters and its supporters were attacked and killed. The Crimean Tatars' television channel lost its broadcast rights, and Mustafa Dzhemilev was banned from entering Crimea for five years. Currently, Russian authorities still refuse to recognize the Mejlis, whose members now operate out of Ukraine. Mr. Dzhemilev continues to advocate for his people from Kyiv.
"Struggle for Home" concludes with the words of Safinar Dzhemilev: "Our reality is we have our motherland, but it is now part of another state with other laws, at gunpoint… nobody knows what to expect tomorrow… that is why we have to stand firm and prepare ourselves to resist and protect our rights on all levels in a peaceful, democratic way."
The tragic history of the Crimean Tatars deserves to be widely known. [Last year, The Ukrainian Weekly devoted articles to two other admirable films dealing with common themes: "Crimea Unveiled" (April 10, 2015) and "Haytarma" (August 7, 2015).]
Writer/Director Christina Paschyn
A native of Parma, Ohio, writer/director Ms. Paschyn completed degrees at Northwestern University in Illinois and the Ben-Gurion University of the Negev in Israel. Since 2011, she has been lecturer of journalism in residence at Northwestern University in Doha, Qatar. Ms. Paschyn's "Struggle for Home" was the Silver Award winner at the Spotlight Documentary Film Awards for 2015 and is an official selection for the Las Cruces International Film Festival in Las Cruces, New Mexico, (March 2-6) and the DC Independent Film Festival in Washington (March 10).
"Struggle for Home" advocates persuasively for the long-suffering but always hopeful Crimean Tatars. It is all the more regrettable this documentary voiced several opinions that, at the least, seem like a poor choice of words, if not misleading. (In her Internet video, Ms. Paschyn states she purposely did not include Ukrainian historians in this film because they would "promote Ukrainian propaganda.")
In the first video interview, the elderly Crimean Tatar activist Ms. Consul morally equates Ukraine with Russia, saying both want and love Crimea, "but without the Tatars." It might strike viewers as strange that Ms. Paschyn chose to begin her film with this extreme statement, which (while reflecting the position of Ms. Consul) would be most dubious as representative of Crimean Tatars.
Secondly, historian Mr. Williams stated that the 1924-1928 Soviet period is one of the periods of their history which Crimean Tatars "relish" the most, concluding that the Tatars therefore "benefitted from Communist rule." (Would one thus say Ukrainians "relish" and "benefitted from Communist rule"?)
At the 2014 Harvard Ukrainian Research Institute (HURI) symposium "Crimea: Whose Homeland?", Mr. Williams' similar characterization of Crimean Tatar "nostalgia" for this Soviet time was refuted by Prof. Idil Izmirli, a Crimean Tatar, as representing only one viewpoint among others. She explained that even this brief period of relative freedom was part of the Soviets' "divide and conquer" policy.
In fact, Mustafa Dzhemilev himself asserted in a 2008 interview: "The Soviet authorities and the Communist regime began committing crimes against the Crimean Tatars from the time they got control of Crimea … the defeat of the elected body of Crimean Tatars (Kurultay)… the systematic killing of our intelligentsia."
Finally, Ms. Paschyn's narration remarkably declared "thanks to Nikita Khrushchev" for transferring Crimea "as a gift to Ukraine." Her assertion repeats the widespread Russian mantra dismissing Ukrainian claims to Crimea and, as such, deserves to be addressed.
Crimea as a "gift" to Ukraine?
The cynical charade of a "gift," presented on a whim, is often advanced along with Moscow's claim that this transfer was a part of the 300th anniversary of the 1654 Pereyaslav agreement. In fact, the official documentation contains no mention of "re-unification" or of any "gift." Pravda reported on its front page of February 27, 1954, that the Soviet Supreme Presidium's reasons were the "integral character of the economy, territorial proximity and close economic and cultural ties" between Crimea and Ukraine (90 percent of water sources come from Ukraine, as do electricity and gas).
Furthermore, Crimea was hardly Khrushchev's to "give." According to HURI Associate Director Lubomyr Hajda, even as late as 1957 Khrushchev's power was not consolidated, while 1954 was still barely months after Stalin's death. And at that time, Crimea was pretty much a basket case, after the deportation and the catastrophic results of the USSR's latest Five-Year Plan.
Bohdan Lisovych, who was deputy U.N. representative and worked closely with Organization for Security and Cooperation in Europe, the US State Department and the Crimean Mejlis in the first years of Ukraine's independence, wrote to this author, describing how imperial Russia devastated Crimean forests to build its warships. Tree roots had been trapping the scarce water on the peninsula for ages.
The Crimean Tatars developed a system of small water reservoirs called "kaptazhs" (qapqans), later destroyed by the Soviets, who started growing water-intensive crops like wheat and potatoes, thus exacerbating the problem. (Historically, the Tatars cultivated apricots, cherries and grapes – low-water crops more suited to the environment.) So, in addition to purging the indigenous population, the Soviets managed to destroy the Crimean environment.
Ukraine, which still had not finished rebuilding its own Khreshchatyk area in post-war Kyiv, now found itself saddled with the peninsula's many agricultural and economic problems. Yet, tens of thousands of Ukrainian volunteers went to work in Crimea with the result that, after just two years, electricity, irrigation and water availability, iron ore production, meat and vegetable farming, wine production, etc., were all dramatically improved. In effect, Ukraine transformed and modernized Crimea, something the Russians were unable and unwilling to do.
Significantly, during the same 2014 HURI symposium, Mustafa Dzhemilev stressed that the Congress of Ukrainian Nationalists in Munich had declared that such a transfer could not be done before the native populations had first been resettled and only with their consent.
But the ultimate proof of the pudding that Crimea belongs to Ukraine is that the Crimean Tatars themselves say so.
In the Q&A following the film, Ms. Bakkali stressed that the real motivation for Russia's bellicose expansion is the same rationale that Spanish conquistadores drew from papal edicts to conquer new territories and peoples. She said Mr. Putin's 2014 invasion was therefore a direct continuation of Empress Catherine's annexation of Crimea in 1783. Ms. Bakkali concluded her remarks with a ringing: "Ukraine is Crimea! Crimea is Ukraine!
– Adrian Bryttan, "The Ukrainian Weekly" 3/20/16
Tags: Archive, Christina M. Paschyn, Crimea, Crimean Tatars, Mustafa Dzhemilev, Ukraine