The mother of a 'Banderite' son who died in battle in Donbas refused to bury him. This fake was spread by the Russian media this Wednesday. In reality, the woman did not want for the grave of her son to be in Alchevsk, the young man's hometown. She decided to bury him in Ternopil oblast, where his grave would not be violated by separatist mercenaries. 
Russian Internet publication pravda.ru spread misinformation online about Fedir, a soldier of Aydar battalion from Alchevsk. The medium says that his mother allegedly disowned the dead young man because of his pro-Ukrainian position.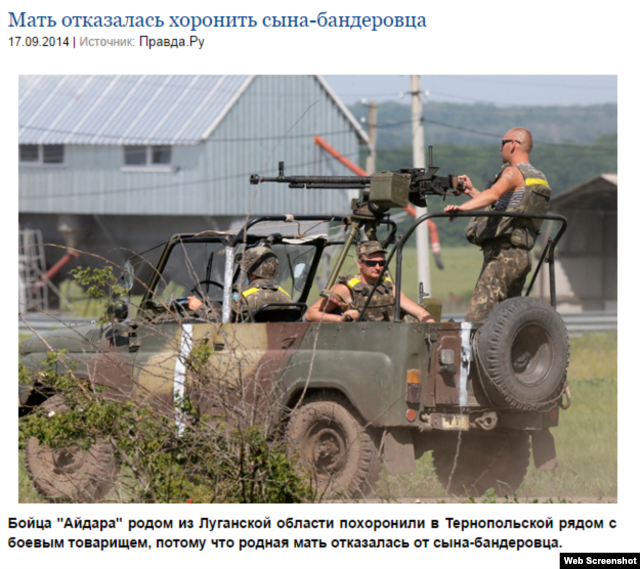 "33-year-old Fedir Kolomiyets was born in Alchevsk. He went through Euromaidan with Ternopil citizens. And when war broke out in Donbas, he became part of the murderous 'battalion' Aydar together with them. He died recently, but his burial took place in Ternopil and not at home, as his mother disowned him. He was brought home, his mother said that she didn't need a 'Bandera' son and shut the door," the website claims.
A mother's will: to bury him next to his fellow soldier 
The young man was really buried in Ternopil oblast on September 11 together with his fellow companion Andriy Yurkevych. However, his mother did not disown him: on the contrary, she addressed the volunteers and the city administration herself, as she did not want to bury her child in his hometown. Radio Liberty turned to the spokesperson for the Ternopil oblast administration Nadiya Turchyn to clarify the situation.
"His parents never disowned him. Unfortunately, they did not have the possibility of burying him in Alchevsk, and his mother was very worried and afraid that the grave of the Hero of Ukraine would be violated. Therefore she asked us," the spokeswoman said.
The commentary of Yury Humeniuk, member of Ternopil patriotic community of the UNSO, also proves that his mother never disowned him and wanted to send him off on his last journey. The man attended the funeral and shared his experience with journalists of local TV channel IN-TB.
"The mother is in Alchevsk, she cannot leave because the separatists are not giving her a chance to come here. This is a mother's will, she asked to bury her son together with his fellow soldier, with whom he died in battle," said he.
Fellows in arms and several hundred Ternopil citizens came to pay their respects to the fallen. Just like his mother, they do not disown, but take pride in Fedir.