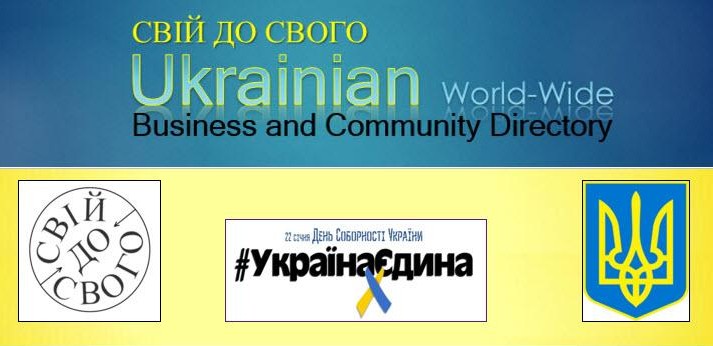 Michael Karaszkewycz arrived to Australia in 1950. He was 3 years old, and he together with his parents arrived to Melbourne as refugees. However, Michael did not forget his Ukrainian roots and tries his best to help Ukraine and Ukrainians. In 1987, he established the Ukrainian Directory project, which aims to connect all Ukrainian organizations worldwide, and is now looking to bring it to a new level.
The Ukrainian Directory: history of creation
The Ukrainian Directory was first set up as a printed booklet and ran until 1997. 5,000 copies were printed and distributed at the churches across Australia during Easter each year. In 2010 the Directory broadened to an Internet based source www.ukrainianbusinessdirectory.com. This online project was very successful. At its peak, before the system was hacked several times, it had 80,000 hits per month. Michael Karaszkewycz has made several attempts to repair the Directory at considerable cost, but finally he decided to rebuild the system to be larger, better, and more informative. In addition, the system got more protected. In the event of further hacking, its creator would be able to resurrect the system within an hour. The new version of the Directory was released in recent and is available at www.UkrainianDirectory.org.
Connecting the Ukrainian community worldwide
The Ukrainian Directory has been developed to provide a means of communication for the Ukrainian community worldwide at the community, business, and professional levels, as well as on a personal level. The main idea is to encourage Ukrainians worldwide to support each other in our everyday activities in an endeavor to be more united and to embrace the true spirit of "Свій До Свого," which means that Ukrainians by origin cooperate with Ukrainians by origin all over the world. Thus, it helps to develop Ukrainian community worldwide and to strengthen support for Ukraine from far abroad.
"We, as Ukrainians, need to show the world that we are creative and productive and are leaders in this world. We, especially in the Diaspora, have to demonstrate, encourage and educate our fellow Ukrainians in Ukraine that Ukraine can once again be a major player in Europe," is how Michael Karaszkewycz explains his idea of the Ukrainian Directory. It is intended that this directory would be a living and up–to–date resource. The project needs Ukrainians worldwide to assist by providing information that they see as relevant to Ukraine and Ukrainians.
This is
h
ow
i
t
w
orks
The main idea is to encourage Ukrainians worldwide to support each other in our everyday activities in an endeavor to be more united and to embrace the true spirit of "Свій До Свого". 
The new directory has approximately 150 categories and sub-categories. They will be expanded as the directory grows. There are nearly 2,000 individual listings linking directly to the individual organizations or business website, thereby minimizing details within the Directory. The intent is that each organization and business maintain their own website, making information current. However, if the organization or business does not have a website, the Ukrainian Directory would provide one page of detail for them at the website.
If a company or organization wants to be listed in this directory, they have to provide their details including a brief description of their activities, logos, photographs and websites. Community listings will be free of any charges. Business listings will incur a small once-off establishment fee and a minimal annual service charge. However, should this project become financially viable, all profits will be channeled back into the community in support of Ukraine.
Motivation and inspiration for the project
«My motivation behind the Ukrainian Business and Community Directory started back in the early 1980's when I saw the Ukrainian Community slowly dispersing and becoming assimilated into the broader Australian community," Michael Karaszkewycz told Euromaidan Press. Today, according to the Australian Census there are some 38,000 persons of Ukrainian descent in Australia and yet there are barely 1,200 persons who are members of any Ukrainian Organization in Australia. The majority are elderly and committed Ukrainians, who are dwindling very fast. In fact, there are only about 150 persons who actually actively participate and organize Ukrainian activities.
The creator of the project will be glad for any help with maintaining the Directory. "Over the years I had many offers of assistance; sadly none have come into fruition. It is an ungrateful task, but I am enjoying every moment and can see the larger picture emerging," he explains. Besides the Ukrainian Directory, given the current situation in Ukraine, Michael is keeping Ukrainians in Australia and in other countries informed about events and progress that is occurring despite the increasing negativity the Russians are forcing on the world about Ukraine. He believes that strong and connected diaspora can make Ukraine stronger as well.
If you want to participate in the Ukrainian Directory project, please email your information to [email protected]. Join the Directory! Let us build strong Ukrainian community all over the world together!
Tags: Act!, activism, Archive, Business, Diaspora, Help Ukraine