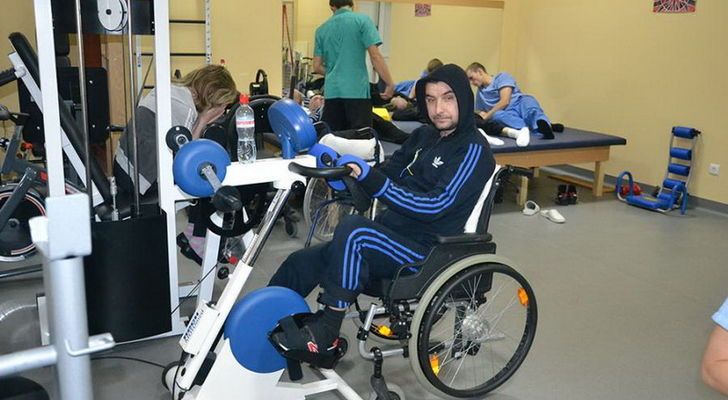 Report from the Lviv Military Hospital where doctors, volunteers and ordinary people help wounded ATO soldiers.
 Ten a.m. Hospital corridor. The volunteer office opens its doors. Volunteer Tetyana shows us their stock; the shelves and boxes are full of goods that people have donated to the wounded soldiers. On the wall – a list of urgent needs, a flag, children's drawings, books …
"We have lots of cookies and cakes." says Tetyana "We'll need more in two or three days. But, there's never enough water, fruit and dairy products. Our boys take drugs that alter their microflora, so they constantly need kefir, yogurt …"
Money is also required; the volunteers collect funds for urgent needs: compression stockings, postoperative belts, bandages, drugs… someone needs two packs of Gliatilin (one pack costs 619 UAH).
ATO soldiers are given hospital pyjamas even though they prefer to wear sports clothes, but rules are rules. Food supplies have become worse. We interview volunteers who have been working here for over a year. We check the latest packages – braided bracelets made by children from Ivano-Frankivsk, children's drawings and moving letters to the soldiers. Several pairs of warm socks, boxes of chocolates … Volunteer Maryna Yakusheva puts aside some interesting Plasticine images that will be sent to the eastern front. Something rather unique for the soldiers over there…
Svitlana Sydorenko, Head of the Volunteer Sotnya in Lviv tells us about one of their most dedicated activists – Mariya Vertetska, who lives and works in Spain.
"She lives in Madrid." explains Svitlana "Her husband died, and her son passed away a year later. Mariya now works for our boys. She and her friends organized a trip to Spain for several wounded soldiers. She helped with passports and visas. She saved her hard-earned money, bought four cars and donated them to Pravy Sektor, Aidar's medical unit and our field hospital. She continues to send funds. Thanks to her, we bought two night vision devices …"
We meet a young couple near the coffee machine in the lobby of one of the buildings. The woman brings a cup of hot coffee to a young man with a bandaged head. This is Yura Harbuziuk and his wife Natalia. They are from the village of Mynilky (Korostyshiv District, Zhytomyr Region)… Natalka has left her children – first-grader son and two-year-old daughter – with her sister for a few days. Yura has been in hospital since late August. He was admitted with a serious gunshot wound to the head, multiple fractures of parietal, temporal and frontal bones, displacement of bone fragments and severe brain contusion. He underwent complex head surgery on October 16 – a titanium plate was implanted in the skull; money for this operation was collected by volunteers. Yura requires particular care; his wife and volunteers are constantly at his side. Yura is recovering slowly; he is trying to walk with a cane and is doing regular exercises with his arms and wounded leg.
Yura smiles and raises his cup of coffee. Rehabilitation will be long – to regain the ability to walk and talk, to rebuild arm and leg strength…
In the corridor of the Rehabilitation Ward we run into a young man with scars on his head sitting in a wheelchair and talking with some other guys, all wearing white hospital gowns.
"These friends came to visit Artem." says Anna, the young man's mother. The family comes from Sarny District, Rivne Region.
Artem Nykonenko is a minesweeper. He was injured on August 19 during a demining operation in an ATO field… Shards from a shrapnel mine penetrated his skull. He was operated on at the Lviv Hospital; surgeons implanted a metal plate that replaces the missing portion of his skull. Fundraising for this operation was organized by volunteers Yuriy Lipar and Anna Shevchenko.
Artem also suffers from hemiplegia; the right side of his body does not respond. However, neuro-surgeons and rehabilitators are working hard to attenuate the complications caused by such severe injuries. They say he is progressing rapidly; he can talk and walk… His wife Tetyana is constatntly at his side (Artem's mother is replacing her for a while). Two little boys are waiting at home for their father.
Artem Nykonenko and his wife will soon be going to a private rehabilitation centre where treatment is very expensive. Any financial assistance would be greatly appreciated; Tetyana Nykonenko's bank card number:
PryvatBank: 6762 4683 0453 3726
We meet Artur Melnyk, another wounded soldier from Zhytomyr Region. He comes from a family of seven children, four of whom are adopted. Four boys are on the frontlines. Artur is in a wheelchair, but he firmly believes that he will walk again. He has been in the Rehabilitation Ward since the beginning of September. His hands do not work properly; he has no sensation in the lower part of his body. But Artur is doing everything he can to return to his four-year-old daughter as quickly as possible. Artur's brother, Oleksandr, takes care of him. Artur Melnyk and Yura Harbuziuk have also received special aid from the Ukrainian community in Canada.
As we leave the Rehabilitation Ward, we meet a young man with a cane. This is Taras Lukach, a 20-year-old from Sambir. He was wounded at Luhansk Airport in August. He is scheduled for another operation as his body has rejected the metal plate in his leg. The surgeons will either use an external fixation device or put the leg in a cast. Plastic surgery is also planned. During these long months of treatment and rehabilitation, Taras's girlfriend, Diana, has not left his side. Volunteers say that they form a wonderful couple…
Tags: Donbas war (2014-present), Lviv Military Hospital, Stories from the Front, Volunteers, wounded soldiers