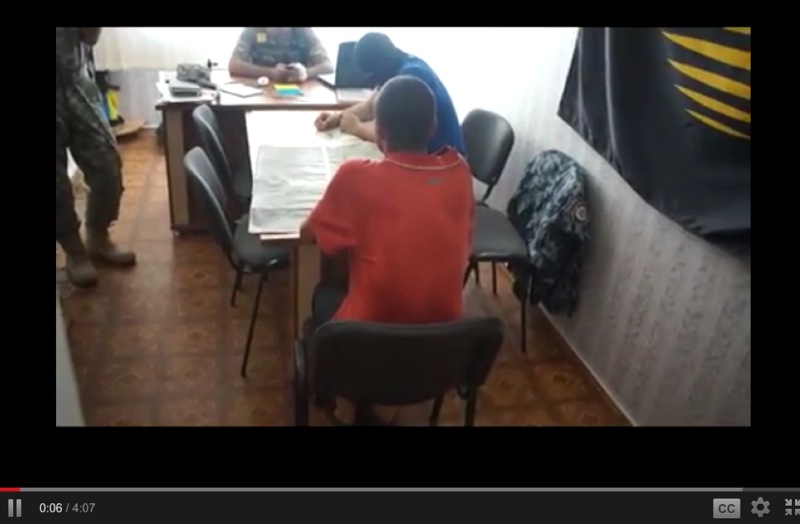 In Artemivsk, a town of the Donetsk Oblast, servicemen of the Artemivsk sub-unit captured a spy serving the terrorists whose task was to survey the movement of the Ukrainian forces, as journalist Yurii Kasyanov informed.
"The most ordinary separatism. Rape followed by murder. Looting passing vehicles and shooting the drivers… He is an ordinary "separatist" with a common story of rape, looting, murders…" wrote Kasyanov.
On the video the man sitting with his back turned to the camera tells how he was at a check-point in Sloviansk for more than two months, and had to flee when the Ukrainian servicemen were approaching it.
According to him, the pro-Russian militants raped and then killed young women that were brought from the town, shot peaceful civilians who were resisting while the militants tried taking away their valuables and money. When asked who was taking part in shooting peaceful civilians, the terrorist replied: "Matveichenko Kostyantyn, who reported directly to Girkin."
The arrested told that the young women were brought in by a certain Kostiantyn Shybitov, a Ukrainian citizen approximately 40 years old. There were Chechens, Russians and Cuban Cossacks among the militants – around 700 people in a garrison.
Earlier, it was reported that the terrorists are moving to Sloviansk in small groups, under the guise of peaceful civilians.
Original video in Russian:
Source: 
liga.net
, translated by Dasha Darchuk, edited by Alya Shandra