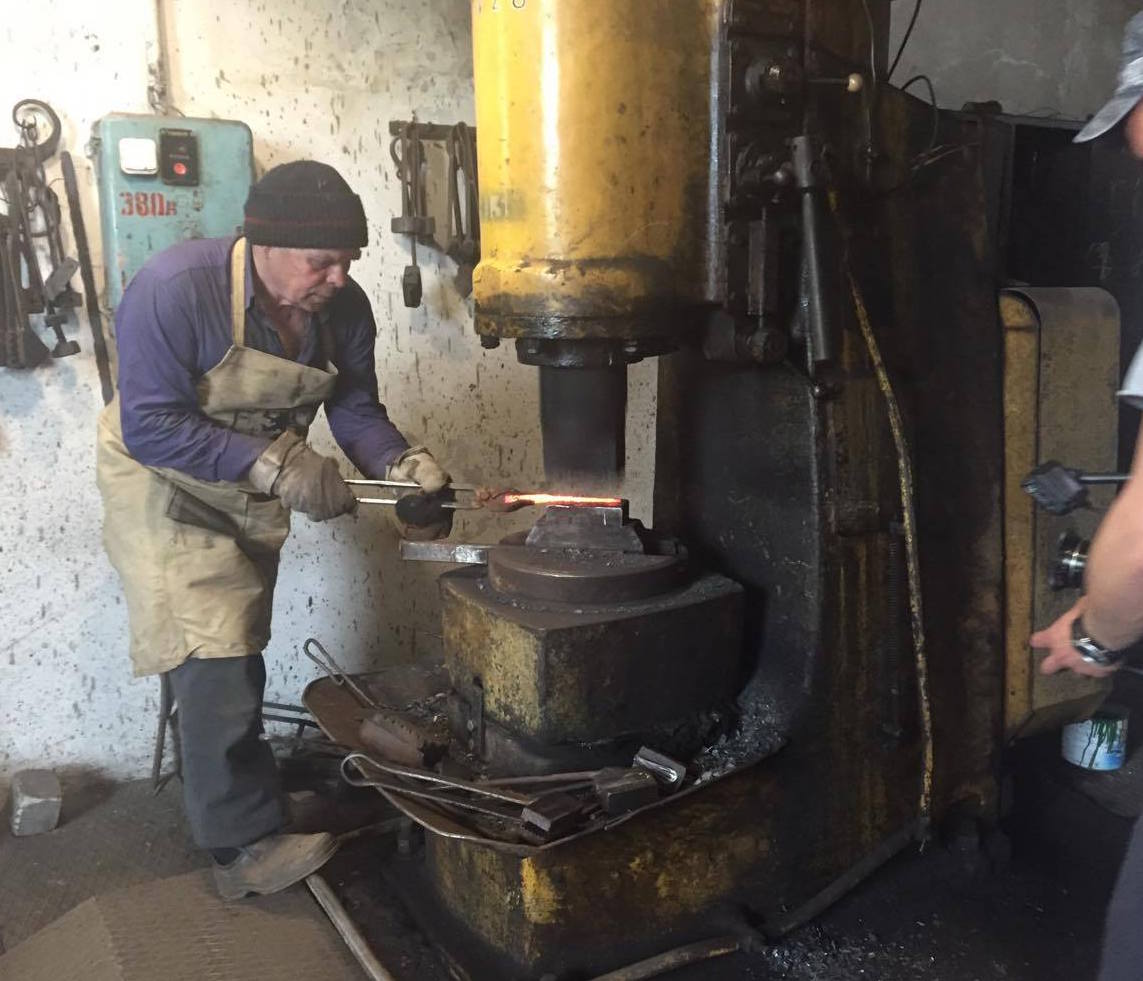 70-year- old businessman Pavlo Stepanov opened a blacksmith workshop in Kharkiv region after the war forced him to leave his native Luhansk. Photo provided by the "Big Stories of Small Businesses" project press service 
A baker from Mariupol, a blacksmith from Luhansk, and a travel guide from Donetsk Oblast – these people know how to lose everything, start from scratch, and succeed. Watch their inspiring "Big Stories of Small Businesses".
Last year UNDP disbursed grants to support small businesses. In eight months 248 businesses have been created that employed 868 people. In June 2016, 11 teams of young filmmakers travelled all over Ukraine filming their success stories.
Ihor Ternovyi opened a small bakery in Mariupol. He bakes bread with his own hands and his wife sells it. The author of the video "Good bakery" is a Ukrainian filmmaker Maxim Liukov who took the first prize of the "Big Stories of Small Businesses" contest.
The winners of the film contest were chosen by the selection panel that consisted of the TV producers, journalists, nationally acclaimed directors and representatives of international organizations. This included UNDP Country Director in Ukraine Janthomas Hiemstra, music producer Alexander Ksenofontov, creative director of TABASCO Ukraine Alexander Smirnov, film critic Volodymyr Voitenko and others. The total prize fund of contest was UAH 50 000: UAH 25 000 for the winner, UAH 15 000 for the second place, and UAH 10 000 fort the third place.
The company PaperPlanes Production took the second place. The team filmed a story about a blacksmith from Luhansk. The hero of this movie is a 70-year-old businessman Pavlo Stepanov who opened a blacksmith workshop in Kharkiv region.
The third place of the contest was shared by two teams – NGO "Yasno!" and filmmaker Dmytro Kaminskyi. Katareryna Prokrasova from "Yasno" presented a video about Yana Synytsia. Because of the military conflict Yana was forced to leave hometown, but she was not able to leave her native land. Yana inspired by love to Donetsk region started her own green tourism project "Tourist village the Crooked Meadow".
The second holder of the third place filmed the story about Oksana, the teacher at the Donetsk National University, which is now evacuated to Vinnytsia. Currently, Oksana lives there and also in Zaporizhzhia, where she opened "Children Scientific Laboratory".
The United Nations World Food Programme (WFP) said on 1 July it will extend its emergency operation in East Ukraine to provide more than 280,000 conflict-affected people in the region with food assistance until the end of 2016, Reuters informs.
WFP Representative in Ukraine Dorte Ellehammer stated, that due to the ongoing conflict tens of thousands of people no longer have means to secure their most basic food needs; most of them have exhausted their savings and lost their jobs. "They are either trapped by the conflict or have fled their homes and are living in extremely difficult conditions," Ellenhammer added.
As of June 29, 2016, 1.788,527 internally displaced persons (or 1.447,343 families) from Donbas and Crimea were registered by the social protection departments of regional and Kyiv city state administrations, the press service of the Social Policy Ministry of Ukraine informed, UKRINFORM reports.
Information Reference: The grant programme and the movie contest have become possible due to the financial support of the Government of Japan, governments of the Czech Republic, Republic of Poland and the United Kingdom of Great Britain and Northern Ireland.
Tags: Donbas, Donbas war (2014-present), Eastern Ukraine, News, Stories, Ukraine, Ukrainian IDPs, UNDP