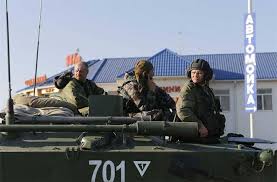 A convoy of military equipment from Russia has gone through the village of Mykolaivka-Stanichno in the Luhansk region, according to Informator, Espreso.TV reports.
"A caravan" with tanks, MLRS "Grad", artillery and even field kitchens stretched for 1.5 kilometres.  The convoy of technical equipment drove through the villages Pioneerske and Mykolaivka in the direction of Luhansk.
Subsequently, the convoy was spotted in the vicinity of the Epicenter hypermarket in the eastern neighbourhood. According to eyewitnesses, the military men talked with locals reluctantly, but nevertheless admitted that they are from Russia.  The Russian green men" passed drove through Budennoho vul. [street] towards the city center.
Note: Through the border areas controlled by terrorists of the [so-called] Luhansk Peoples' Republic (LPR) and the Donetsk People's Republic (DPR) into Ukraine regularly pass convoys of Russian military equipment. The convoys are made up of soldiers of the Armed Forces of Russia.
---
Source: Espreso.tv,  Translated by Olena Wawryshyn
Tags: Donbas, Donbas war (2014-present), Russia, Russian invasion, Ukrainian Army