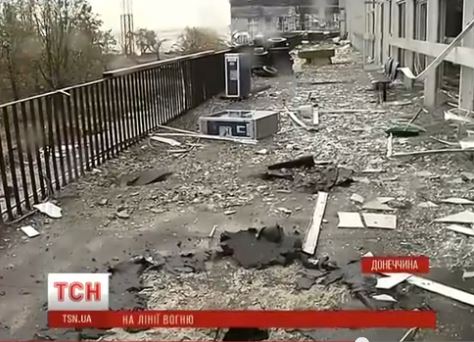 The ‪Ukrainian‬ TV channel One Plus One on 26 September ran at 19:30 Kyiv time what it called an exclusive correspondent's report from inside and around Donetsk airport, which had withstood repeated attempted stormings by pro-Russian separatists since May 2014 and was currently partially controlled by pro-Russian forces.
The correspondent said that the airport had been virtually ruined by artillery and mortar fire. He said that servicemen of ‪Ukraine‬'s 3rd Kirovohrad special regiment and a company of the 93rd mechanized brigade were guarding the terminal buildings against continuing separatist attacks.
The video showed damaged terminal buildings, burnt-out airside vehicles, remnants of a civilian jet on the apron; Ukrainian servicemen having lunch inside a terminal, handling ordnance, dispensing ammunition, inspecting a damaged Russian tank, firing from firearms.
Tags: Donbas, Donbas war (2014-present), Donetsk