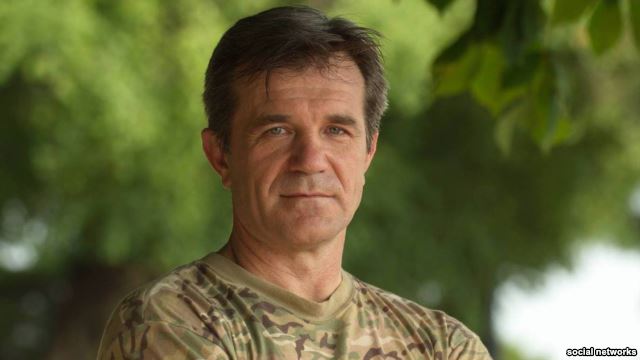 "The group I was in charge of captured three commandos. That unit was led by a Russian officer and two of them were "militiamen" trained in Rostov-on-Don."
Popasna, Ilovaisk and raids behind enemy lines. Taras Kostanchuk, commander of the Donbas Assault Battalion tells us that, from the first hours of military action in the Donbas, he understood that there was a war in Eastern Ukraine and that Russia had instigated it.
– I went to fight as a volunteer in the spring of 2014; it was my conscious decision. I knew I was too old for the recruiting station, so I decided to join a volunteer battalion where no one paid attention to your age. I got into the Donbas Battalion and went through hell all summer and fall of 2014. It's interesting that I was officially registered in the battalion on the day I was wounded!
You were in charge of an assault unit. Did you ever run into the enemy face to face?
– Yes. I saw professional Russian soldiers in the Donbas for the first time in Popasna; it's the first city we fought for and liberated. Then the first unit, which I commanded, captured three commandos who had hidden in the forest to shell our convoy that was moving towards Popasna. The unit was led by a Russian officer and two of them were "militiamen" trained in Rostov-on-Don, on the military base where Russian FSB specialists and military intelligence experts teach soldiers subversive operations. That was the first time I saw the enemy face to face.
– What do you remember most from the combat zone?
– …the death of my good friend – "Schulz" (Serhiy Shkarivsky-Ed.).
It happened before my very eyes, and that's what I remember most clearly and what's always there…before my eyes. I still see that moment and wonder if I could've prevented his death. I was in charge of the assault unit; "Schulz" was supposed to follow my orders, but at that moment he acted heroically, went back to the danger zone and was shot by a sniper. The guys wanted to rush out and help, but I ordered them not to move because I knew that a sniper was sitting and waiting for the next guy to come out and get "Schulz". So I ordered them to hold their positions and silently counted 3-4 seconds…there was a second shot and the sniper finished off our soldier. Everyone understood why I'd ordered them to remain still. Yes, that's war…
– What were your days like?
– Our assault team had specific tasks. We were the most likely unit to see the enemy at close range. I still remember the faces of the young kids on the other side. One day, we hit and destroyed a vehicle with separatists. I went to assess the damage and there I saw several dead 19 and 20-year-old boys… my children are older than them. And now, remembering those young men, I understand that they shouldn't have been there, they should still be alive! They took up arms because they fell for Russian propaganda, Russian TV lies and idiocies spouted by politicians. They believed they were protecting something. There are many boys from eastern Ukraine in the Donbas Battalion; they told me there are hardly any Ukrainian radio stations or Ukrainian TV channels in the region. I think the Kremlin media "idols" are to blame for the deaths of those young kids who believed in "Novorossiya" and firmly believed the "Kyiv junta" controlled Ukraine.
– So, what should the Ukrainian government and civil society do to help Donbas people understand what's really happening?
– This problem can't be resolved without the government. As for civil society, Ukrainians are doing everything possible and impossible to help out. Look at our strong volunteer movements and amazing patriotic actions and events organized by ordinary citizens! We see it everywhere, and this war has shown us just how patriotic and sensitive Ukrainians can be! But, the government must perform its duties more efficiently and expeditiously, starting with effective support for the army to assisting the residents of liberated Donbas areas. That's impossible to do without a clear, coordinated and purposeful strategy worked out by the authorities. We must also remember that the government should, in accordance with applicable law, ensure minimal social benefits for veterans and volunteers.
– You say the Kremlin lies to the people in Eastern Ukraine. The Ukrainian government calls it an "information war". What should be Kyiv's response?
– Concerning information policy, the government should have installed retransmission stations along the demarcation line a long time ago. These stations should send information to people in the liberated regions of the Donbas and in temporarily occupied zones. In fact, our retransmitters could cover the entire Donbas, all of Crimea, and not one "jammer" could stop them! In Soviet times we listened to the Voice of America and adjusted our receivers to bypass jammers and listen to foreign radio broadcasts. These technologies are even more powerful now! But, we don't use them to pass on messages and information about Ukraine. Furthermore, I believe our government should broadcast more information than before, using both state radio and television. We must send strong patriotic messages to Eastern Ukraine. We shouldn't be ashamed… it's time to recognize that there's a war in our country and that our northern neighbour, Russia, has invaded us.
– Given your military experience, what's the greatest security issue in Ukraine today?
– First we have to return the occupied territories, Crimea and the Donbas to Ukraine and then think about the rest. We talk about these things and say that they're most important. It's equally important that the authorities finally reform Ukraine's defense system and increase the combat capability of the Armed Forces and the National Guard of Ukraine. I would call this creating "military dignity", changing the system of military leadership and military training. My comrades-in-arms and I suggest creating a reserve army. Such an army should be competent, motivated, armed, properly dressed and fed… and remunerated!
Tags: Donbas, Donbas war (2014-present), Information war, Russian soldiers, Stories from the Front, Ukraine