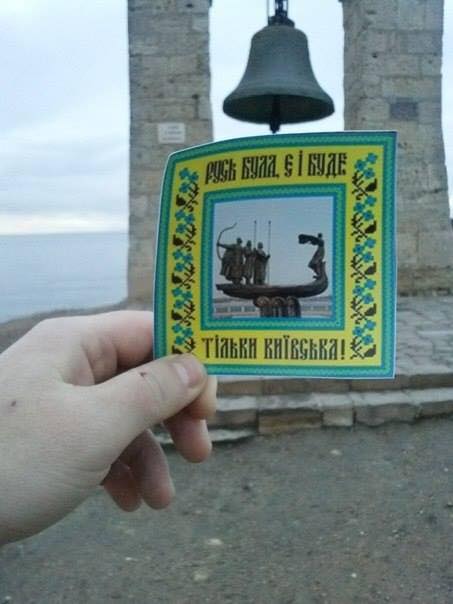 The Bell of Chersonesos in Sevastopol, Crimea, Ukraine with a sign reading "There was, is, and only be Kyivan Rus" in Ukrainian. The picture was taken in early 2015 while the city is still under the Russian occupation (Image credit: Anonymous author) 
You might say this picture is out of focus, colors are washed out, and its overall photographic value is doubtful, but I will tell you its value is truly high and here's why…
The picture shows a free-standing fog bell on a seaside hill in what used to be Chersonesos, an ancient Greek settlement in the current-day city of Sevastopol in the Putin-occupied Crimea. The picture was taken by a Ukrainian patriot for the Euromaidan Press campaign called "Open Ukraine for the World."
The little sign placed in front of the landmark says "There was, is and will only be Kyivan Rus!" to symbolize that Kremlin's long-lasting attempts at hijacking the ancient Ukrainian history are destined to fail.
According to a legend, the baptism of Grand Prince Volodymir the Great, the ruler of the ancient Ukrainian state Kyivan Rus, that took place in Chersonesos. The bell in the picture was cast for a large Orthodox Christian cathedral that was built on the site of his baptism to commemorate it in the early XIX century. Ancient historians reported that Volodymyr became Christian to be able to marry Princess Anna Porphyrogenita of the Eastern Roman Empire, daughter of Emperor Romanos II and sister of Basil II. A marital union of a former pagan king and a imperial sophisticate princess was unheard at the time, but was made achievable by Volodymyr's military prowess. After accepting Christianity himself, Volodymyr baptized the people of his state.
After the Russian Bolsheviks defeated the young Ukrainian People's Republic and took the Crimea from the remains of tzarist troops, they took all bells from the cathedral and moved the largest to its present location to provide fog warning for ships, but after the invention of radars, its usefulness was exhausted and the bell became just a tourist site. That's the history associated with the landmark in the picture, but let's return to our time.
If you live in a free society, you would probably never suspect that taking a photograph like this one is in itself an act of bravery, but it was. Stalin's times returned to the Crimea on the cannons of Putin's tanks, missiles of his airplanes and machine guns of his military. Independent press outlets have been shuttered. Journalists are arrested and their families are harassed by security services. Residents of the Crimea who are opposed to the Russian occupation of the peninsula disappear to never be found, or they get arrested, tortured and imprisoned on made up charges, their businesses get ransacked or torched.
Whoever took this photograph risked all of that, but he did it nonetheless. He demonstrated that despite their cruelty, the repressions by the Russian occupation force have failed to break the spirit of freedom, the spirit of Ukraine in the city. Thank you for that, friend.
---
More on History:
Crimea and the Crimean Tatars: Centuries of competing claims and forgotten history
Response to imperialist video "I am a Russian occupant" challenges Kremlin's selective history
On Holodomor denial, and fisking a denialist Russian professor of history
Moscow writes its own History of Crimea
5 facts about "Novorossiya" you won't learn in Russian history class
Ignorant of history, Russians blame Lenin and Stalin for Moscow's problems in Ukraine
North Crimea Canal, a history of its construction
How Moscow hijacked the history of Kyivan Rus'
Ukraine and Russia "share a long and common history" FAQ
More on Crimea:
Putin's Crimea film borrows from Nazi propaganda film about Sudetenland (2015/05/04)
Russia's occupation of Crimea repeats Latvia's occupation by USSR (2015/04/22)
Russian occupation force pressures Crimean Tatars by offering aid to other deported peoples (2015/04/21)
Crimea and the Crimean Tatars: Centuries of competing claims and forgotten history (2015/04/21)
Russia 'de-Ukrainizing' population of Crimea, occupation census shows (2015/04/16)
"Crimea Unveiled": Documentary film spotlights Crimean Tatars and Ukraine (2015/04/14)
Crimean Tatar leaders, NGOs meet in Türkiye, pledge to seek justice for repression (2015/04/09)
Moscow wants Crimean Tatars to forget their history; Kyiv wants all Ukrainians to remember it (2015/04/08)
Russian occupiers close 11 of 12 Crimean Tatar media outlets and 2700 of 3000 others (2015/04/08)
Putin conducting 'hybrid genocide' against Crimean Tatars, Muzhdabayev says (2015/04/07)
Russians refuse to note Putin is treating Crimean Tatars the same way Hitler did (2015/04/05)
Russia's closing of Crimean Tatar media backfires on Moscow (2015/04/02)
Signing off, Crimean Tatar broadcaster says 'We survived Stalin; we'll survive Putin' (2015/04/01)
No place for gays in Putin's Crimea (2015/03/31)
Crushing dissent: Timeline of repressions against Crimean Tatars in occupied Crimea (2015/03/31)
Moscow's success in gutting Crimea's independent media and Two meanings of 'Russianization' (2015/03/29)
"Son of Crimea": Documentary tells of struggle of Crimean Tatars to return to homeland. Watch online (2015/03/28)
Russians repress Ukrainians in Far East and threaten to deport Crimean Tatars there (2015/03/26)
Putin's Crimea confessions expose Russia's ideology of cynicism, Kashin says (2015/03/26)
Russia's treatment of Crimean Tatars recalls Hitler's treatment of Jews before 1938 (2015/03/21)
Crimean Anschluss, the October Revolution of today, will eventually be scorned as such (2015/03/18)
Tags: Crimea, History, Image of the Day, photo, photography, Russia's occupation of Crimea, Ukrainian history