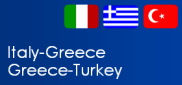 Italy, Greece and Türkiye have provided Russia with six ferries to help transport supplies to Crimea.
Greece, Türkiye and even Italy do not hesitate to carry out commercial operations in Kerch Strait. Andriy Klymenko, Honored Economist of Crimea, announced that ferries transport cargo, people, vehicles and military equipment from Russia to occupied Crimea.
NATO countries provided Russia with six large ferries – three ferries from Türkiye, two from Greece and one from Italy. Despite strong statements by European politicians condemning Russia's military occupation of Crimea, these ferries do not hide their identity and operate openly under the flags of their mutual countries.
"The three Turkish ferries were resold fictitiously and changed their names and flags after our story came out. However, they continue to operate between Zonguldak and Sevastopol and in the narrowest section of the strait, from Novorossiysk to Feodosia. We have information that at least one of them is transporting Russian military equipment to Crimea. The Greek and Italian ferries do not even consider it necessary to conceal where they come from as they continue transporting vehicles from Taman to Kerch." said Klymenko.
It should also be noted that European courts systematically violate the agreement on sanctions against Russia. Large cargo ships sail into Crimean ports every day. Türkiye is the biggest offender. Ships carrying liquefied natural gas dock in Crimean ports every day. The strangest thing is that EU countries are actively cooperating with Feodosia tank farms, which previously fell under western "sanctions".
Andriy Klymenko believes that countries dealing with the Russian Federation may be punished. It would be a simple matter for Ukrainian diplomats and lawyers. Unfortunately, no one is attending to such cases. Klymenko thinks that actions and protests should be organized by activists and the media.
"We've seen this in practice – after a violation had been reported to the Ilyichevsk transport procurator by an activist from Euromaidan Odesa, a Turkish tanker, which was waiting in Feodosia waters, did not dare to enter the port." Klymenko added as an example.
Ex-Georgian President Mikhail Saakashvili has accused the European Union of indulging and catering to the "Kremlin vampire". Speaking on a Ukrainian TV show a few days ago, he told of similar stories that happened in Georgia in 2008, and added that the West failed to react to such gross violations.
Translated by Christine Chraibi
Source: news.eizvestia.com
Tags: Crimea, Sanctions against Russia