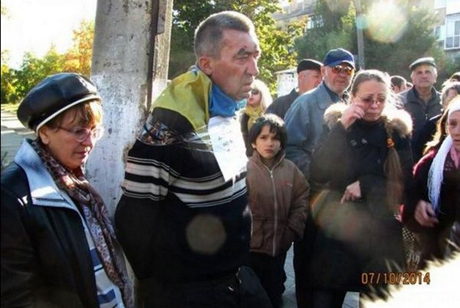 Militants have tied a man to a lamp-post in the town of Zuhres in Donetsk Region, the Ukrayinska Pravda website reported on 7 October.
Reports about the incident were posted by separatists on their accounts in social media, the Ukrainian internet-based television channel Hromadske TV reported.
The man was tied to the pole at the intersection near the community centre in the Zuhres-2 neighbourhood at around 08:00 on 7 October].
He was called an "executioner". The militants said that the detainee was a volunteer from the Donbas battalion, currently fighting pro-Russian 'militants' in eastern Ukraine, by the nickname of Zuhres.
"We got him at his house when he came for the weekend to rest and to heal his leg, which was injured in fighting outside Ilovaisk," postings on separatists' message boards read.
The "Republic of Novorossiya" youtube channel published a video of the atrocity:
Fighters from the pro-Russia Vostok battalion in Donetsk tied a woman to a lamp-post several weeks ago, accusing her of acting as a Ukrainian forces' gun-layer during artillery shelling of ‪Donetsk‬.