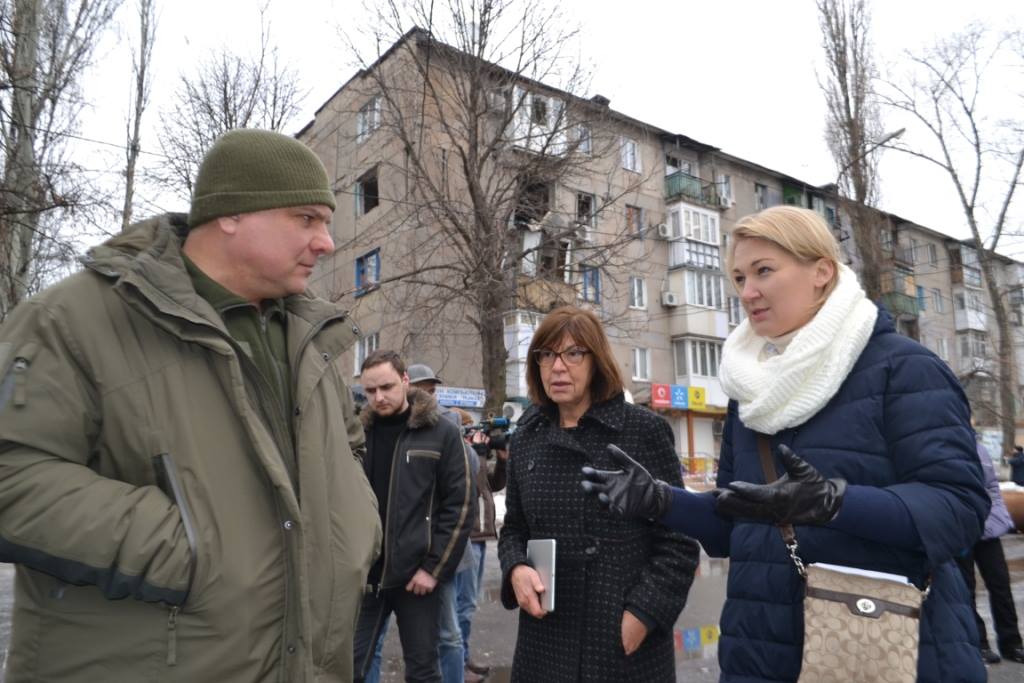 February 20, MEP Rebecca Harms visits Avdiyivka. Credit: FB ato.news 
A Polish delegation headed by lawmaker Malgorzata Gosiewska visited the frontline town of Avdiivka on February 18. Two days later EU Commissioner Christos Stylianides and MEP Rebecca Harms made their trips to Donetsk Oblast.
European Commissioner visits Mayorsk
On February 20, EU Commissioner for Humanitarian Aid and Crisis Management Christos Stylianides made his trip to the entry-exit checkpoint Mayorsk in the government-controlled suburb of occupied Horlivka to assess the humanitarian and security situation. Stylianides was accompanied by EU Ambassador to Ukraine Hugues Mingarelli and Ukraine's Minister on issues of Occupied Territories and IDPs Vadym Chernysh.
February 20. EU Comissioner Christos Stylianides on his way from Donetsk Oblast to Kyiv. Credit: FB iryna.gerashchenko
February 20. MEP Rebecca harms on her way from Donetsk Oblast to Kyiv. Credit: FB iryna.gerashchenko
Later that day Christos Stylianides has announced €18 million additional funding for people affected by the conflict in eastern Ukraine:
"The recent escalation of violence in eastern Ukraine, and its impact on the civilian population, is of great concern. Here today in Bakhmut, I want to tell the Ukrainian people: you are not alone. All civilians in need must be helped, on both sides of the contact line. Our new aid package will help humanitarian partners in eastern Ukraine to cover urgent medical, shelter, water and sanitation needs. It is crucial that aid gets to all vulnerable people affected by the conflict swiftly, safely and impartially." said Commissioner Christos Stylianides.
MEP Rebecca Harms visits Avdiivka
Member of the European Parliament Rebecca Harms has visited the frontline town of Avdiivka on February 20. MPs Iryna Herashchenko, Mariia Ionova, head of Avdiivka civil-military administration Pavlo Malykhin accompanied the MEP. Harms visited the advanced positions of the 72nd Mechanized Brigade near Avdiivka and the hardest-hit areas of the town.
MP Iryna Heraschenko says,  328 residential houses were damaged in recent shelling in Avdiivka since January 29. Two houses were damaged on February 19. 1032 houses in private housing area and 91 apartment buildings were damaged since the war began.
Iryna Herashchenko reported:
It is not the first Rebecca's visit to the Donbas, but she is also shocked. According to the agreements reached at the meeting of the Trilateral Contact Group in Minsk on February 15, and the meeting of the Ministers of Foreign Affairs of the Normandy format countries at the Munich conference the ceasefire regime and withdrawal of heavy military hardware should have started on February 20. We came to Avdiyivka to see if the ceasefire is realized.
Officers of the 72nd brigade informed their visitors, that there were some bombardments overnight and some provocations in the morning, but the situation is generally quieter than a couple of days ago when the military and civilians were killed. "It is rather quiet at the frontline today [February 20], except for separate provocations", MP Herashchenko wrote in her Facebook post.
"While inspecting damaged objects, we have heard explosions. I am interested whether other Europeans and ambassadors who support elections in the Donbas are ready to visit Avdiivka as Rebecca did,", Iryna Herashchenko underlined.
At a later briefing in Kramatorsk, MEP Harms said:
"We met with the local authorities of Avdiivka. And they clearly showed that the contact line was two kilometers closer to Donetsk according to the first Minsk agreements. As of now the contact line in in the middle of the controlled area. And now it is clear that Minsk agreements are breached… They just took the territory and there is no question which side violates the ceasefire.".
Remnants of a tank projectile found in one of the ruined apartments in Avdiivka:
"#Avdiivka: #1, #Haharina, Feb16 18:10-18-15" – remnants of a 125mm T-90 tank projectile @rechnikato pic.twitter.com/sY8FydIHzD

— English Lugansk (@loogunda) February 21, 2017
One tank shell destroyed 4 entire apartments in #Avdiivka in eastern #Ukraine. The fact everyone survived is surreal. pic.twitter.com/DTYq2ZmhSD

— Christian Borys (@ItsBorys) February 20, 2017
Tags: Avdiivka, Donbas, Donbas war (2014-present), Hugues Mingarelli, Iryna Herashchenko, Malgorzata Gosiewska, Mariia Ionova, Mayorsk, News, Pavlo Malykhin, Rebecca Harms, Russo-Ukrainian War (2014-present), Vadym Chernysh