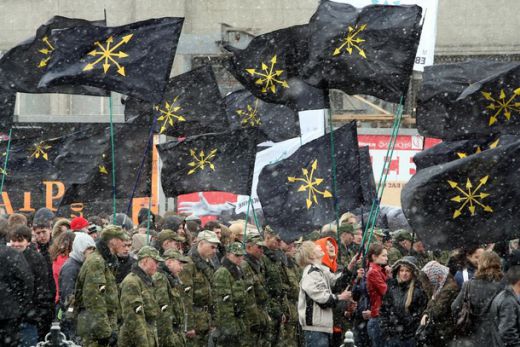 Russian ultra-right march in Moscow 
Xenophobia exists almost everywhere, based as it typically is in a sense of how different other peoples are and how distinctive one's own is. And it has often been used by political leaders to mobilize their populations or distract their attention from domestic problems.
But Russian Ukrainophobia is different in three important ways, Olga Mikhaylova writes today on UAinfo.org, and those differences in turn have serious consequences for the future of Russian-Ukrainian relations and should dictate the world's reaction to what Moscow is doing.
"Ukrainophobia as perverted in Russia is constructed somewhat differently" that xenophobia normally is, she writes. "It does not cultivate the idea of the otherness of Ukrainians and does not lead Russians to hold themselves apart from Ukrainians." Instead, "its structure is more complicated" and rests on three notions.
First of all, it is based on "the denial of the uniqueness and specificity of the Ukrainian nation." The fact that Ukrainians speak closely related languages and share a religious faith "are being used in anti-Ukrainian rhetoric as arguments for the unity of Ukrainians and Russians in the framework of a single (or triune) Russian people."
Second, Mikhailova writes, Russian Ukrainophobia denies "the self-sufficiency of the Ukrainian nation" and thus of its ability to function on its own. Those who are "infected" by this notion believe that Ukrainians must be directed and carried by Russians because they cannot make progress on their own.
And third, she continues, Russian Ukrainophobia is based on a denial of unique achievements of Ukrainians in the past and of the possibility that Ukrainians on their own can achieve anything in the future.
Mikhaylova points out that "an important element" of this set of notions is "the hyper-identification of the Russians themselves" and an increased focus by them on their identity "markers" and a sense of superiority over others, in this case, even over those whom they view as culturally close.
Imperial peoples like the Russians frequently promote the hyper-identity of their core nationality and promote a negative view of neighbors like the Ukrainians who do not share a sense of imperial mission, Mikhaylova writes. Regarding peoples who are culturally dissimilar like the Estonians and Georgians, Russian xenophobia is typical of xenophobia elsewhere. But when Russia deals with a nation similar in many respects, its xenophobia takes on this very different form.
Russian Ukrainophobia's insistence about "the non-unique, non-self-sufficient, and non-independent" nature of Ukrainians, Mikhailova says, gives Russians a sense that they have the right and even the moral duty to interfere in Ukrainian affairs. Ukrainians have often ignored such attitudes in order to avoid clashes.
But when Russians intervene as now, Ukrainians can no longer afford to do that, especially since one of the consequences of Russian Ukrainophobia is unprecedented cruelty.
Such a complicated xenophobia "could not have appeared spontaneously," she suggests. Instead, it has been promoted and developed "by all the intellectual and organizational resources of present-day Russia. And this means that xenophobia is an organic and inalienable part of the state policy of imperial Russia."
Not all xenophobia represents the kind of threat that Russian Ukrainophobia does, Mikhailova says. The nearest parallel was "the elevation of anti-Semitism to the rank of state policy" by Nazi Germany. That kind of xenophobia threatens the world and should dictate how the world should respond.
Tags: Featured, Russian nationalism, Ukrainophobia, xenophobia