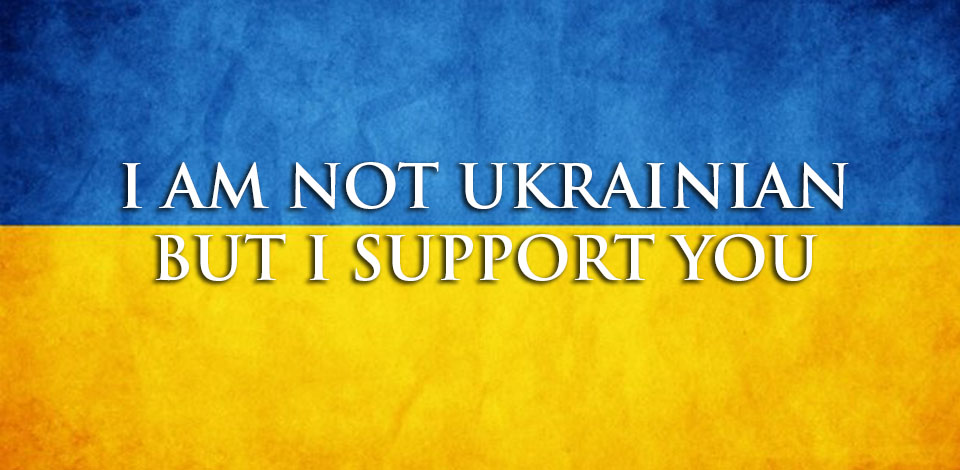 ... but I support you 
During almost nine months of its existence, Euromaidan Press has made a lot of friends around the world that are not Ukrainian in origin, but have shown lots of support to Ukraine through its quest for freedom during Euromaidan and, currently, with fighting off the Russian invasion. We continue investigating the motifs of Ukraine supporters around the world in the second part of our series. Part 1 can be found here.
As an European I am ashamed that we are doing so little and favoring Russian rubels over human lives and moral values.
History has tought us over and over again that one can not appease madmen like Putin.
The world is a dangerous place, not because of those who do evil, but because of those who look on and do nothing.
My prayers go out to the people of Ukraine. I believe that your country will rise like a phoenix from the ashes and have a golden future.
I am supporting Ukraine for many reasons. As an artist, I love the rich variety of Ukrainian arts and crafts, especially the wonderful gold creations of the Scythians! I support Ukraine because most Americans feel keenly about liberty and care about the Ukrainian people preserving their history and their heritage. So sad the rest of the world is not standing up to the Russian invasion.
-Kathleen Bartoletti, Englewood, NJ, USA
I have no personal connection with Ukraine, although as a teenager I had already read about the horrors of the Famine, Dekulakisation and Terror in the Kuban and Ukraine. The independence in 1991 came and went; working as a translator for a Russian NGO I was briefly in tune with events around the time of Yuschenko; then lost contact, and even the Maidan went by almost unnoticed. Hearing that the Lviv police chief was threatening to send his force to protect the protestors was the first tremor, but it was the appearance of the green men on the Crimea that awoke profound fear. Would the latest expansion drive in the Kremlin's long history of bloody conquest see it expand all the way to Odesa, the Danube, or would Putin even tell his Bosnian Serb ally to declare independence from Bosnia, with the Russian president sending in "peacekeepers" to cement Europe's total humiliation?
I support Ukraine first of all because it is the right thing to do. Moral values and right vs wrong has always been important for me and for me it is clear that Ukraine is fighting for freedom, human values and democracy against oppression and tyranny. On a more personal level I strongly believe it is important to do good for the society I am a part of and having lived in Ukraine for five years I see it as my duty to do as much good as I can for the Ukrainian society. Being Swedish I refer to Sweden as my mother but it is also very clear that if Sweden is my mother Ukraine is my wife.
-Anders Ostlund, Swede living in Kyiv, Ukraine, Europe.
Others have already expressed the key thoughts and opinions elsewhere: Anders Ostlund in an impressively steadfast, Lutheran defence of European values against "Putinism" on Hromadske TV; or above all Timothy Snyder's epic, in qualitative terms "super jackpot" essay through Ukrainian history up to the present for Der Spiegel. As the latter wrote, Europe cannot afford to fail in Ukraine but (with Angela Merkel confirming the right to defend territory and Crimea as part of Ukraine while her deputy calls for federalisation and "Krim-RUS") it is highly unclear whether Europe, corrupted by commercial interests, decreasing internal state cohesion and over-large EU, adequately understands what is at stake, or if indeed it still has the strength to defend itself against Kremlin "krepost" expansion and "divide and rule". Civilised Rome fell to the Barbarians; there are more than enough parallels of civilisation succumbing to the primitive in history – look no further than the bloody past of the country with the beautiful blue-yellow flag… and the primitive people it is fighting today in the Donbas.
-Michael Garrood, Zurich, London.
Ukraine is the place where people now fight for the values I fought for my whole life long. That is for me the thing to do to join the fight. I am half French, half German, 100% European, a bit of American spirit and a touch of Slavic soul, a citizen of the world.It is time to turn definitively the back to the past.
My maternal great grandfather fought in Sevastopol, my father fought in Cherkassy, Kharkiv, Stalingrad and many other places in Europe. In fact, on both sides of my family, my ancestors have spilled blood all over Europe.There is more to unite us than to separate us in Europe's culture and I feel like at home when in Ukraine.
Ukraine is a fascinating country with a huge potential and the Ukrainians deserve my utmost respect and admiration for the Revolution of Dignity, for the way they fight the fascism that is revived in Russia. I understand how World War II could happen when seeing what is happening but today nobody can say "I did not know."
-Edmond Huet, Paris, Europe, Kyiv, Europe.
It is incredible how much Ukraine has to offer the world. My father was a Canadian soldier in WWII. His nom de guerre was the "Mad Russian." The couldn't call him the "courageous Ukrainian" because no one had a frame of reference for Ukraine. For me that name is now a metaphor of misunderstanding, being dismissed as irrelevant, and yet proving on our own that Ukraine has a legitimate place in the world. -Jeffrey D. Stephaniuk, Canada
I support Ukraine people for many reasons other than their obvious physical beauty, creativity, ingenuity, awesome sunflower meadows, and tragic history.
Until the Spring of 2014, I was pretty ignorant about Ukraine and called it "The Ukraine" as if it were a mountain or plain. However, when I watched Maidan revolutionaries take a stand to clear their government of corruption, I was humbled by their ideals, bravery, and sacrificial follow-through. Instead of waiting for others to change the world, or asking for handouts, or blaming others (though there are others who have contributed), they owned their issues and just became the change – and at great cost. . They did all they could to own their problems and take responsibility for their own recovery; such maturity promises growth and success.
Secondly, when I watched P. (no need to say his name – he gets enough attention) take advantage of this deep turbulence in his neighboring country, and move in with paid terrorists and criminals to cause chaos and killings… and when I saw how low he would crawl with lies and treachery… but Ukraine's new leaders in response, though still fighting inward corruption, continued to reach for the high road of democracy, honesty and improved accountability… I was brought to a point of great respect and soul involvement. These people were "fighting the good fight" against great odds, and then being further attacked. I wanted to join my heart with their heart, and fight with them in spirit by educating myself and creating opportunities to advance awareness.
I support Ukraine because I saw he determination of all the people in Euromaidan over the winter. They deserve better and should not have to put up with Russian aggression. I remember the euphoria when they all realised Yanukovych had left, and then just one week later came Crimea. I have done my best to spread the word amongst our local town, where my son, one of the leading Expats for Euromaidan, comes from. I am looking forward to coming back to visit the city in which my son has chosen to make his home with Kate, his Ukranian wife.
-Janet Taylor, Southport, UK.
Then, as I was reading a biography about my hero Bonhoeffer: Pastor, Martyr, Prophet, Spy by Eric Metaxas, I started noting the similarities between this time and the events prior to WWII. I realized that Bonhoeffer would not be watching this from afar, sitting down at leisure, casually clicking through news posts of courageous heroes risking their lives for all that is good and right. My conscience bade me to take a serious stand and become further involved as much as possible through volunteering and connecting resources, and support through reliable nonprofits.
Lastly: I have always said that if I had been of age during the 60's Civil Rights Marches in the USA, I would have joyfully marched. That is easy to say with words now, post-victory. Over the last few weeks, as I "meet" Ukraine heroes online, correspond with and pray for them, and am personally welcomed into their vulnerable chaotic wartime struggles,
I support Ukraine because I have an undying love for Ukraine and Ukrainians. I am married to a Ukraine and I am 6th generation Western Australian. I am very lucky to have been born in a country that is free and democratic. It upsets me to see such a beautiful country such as Ukraine being bullied and persecuted by it's neighbour (Russia) all because Ukraine wants it's own Independence and to stand on their own two feet without having a dictator like huylo putin standing over them. Ukrainians deserve their freedom and if we all stand together and show huylo putin that the world is beside and with Ukraine.-Lynette Kulynycz, Australia
I feel God stirring in my heart that this is "my" Civil Rights March, and I invite others to join; we are here for such a time as this.
Psalm 82: "How long will you defend the unjust and show partiality to the wicked? Defend the weak and the fatherless; uphold the cause of the poor and the oppressed. Rescue the weak and the needy; deliver them from the hand of the wicked… All the foundations of the earth are shaken… Rise up, O God, judge the earth!"
Becoming so involved with a country so far away, which I have no connection with, has been an incredible journey. I am daily humbled when reading stories of life-risking heroes who seek no honor but the freedom of their country and provision for its war-torn refugees, as I sit and "support" from the comfort of my California condo. Most of my peers are so-far unaffected and think I'm crazy, but I believe that the passion I have for Ukraine is God's passion, the tears I cry are from the heart of its Creator, and the words I write or edit are inspired by the Lover of all that is good and noble, pure and right, true and honorable, lovely and worthy of praise.
-Lisa Spencer, California, USA
Ukraine occupies a special place in my heart. It is the birthplace of my youngest daughter, and the Ukrainian people welcomed my family warmly when we lived in Kyiv for five months in 2007 and when my husband and I returned for a short time in 2008. We still have dear friends there now, in both East and West.
Though I am an American citizen, a part of my heart will always abide in Ukraine, and I long for an opportunity to return there. I can't be there now. I'm a wife and mom and have responsibilities with my family here in the US. Even if I were there, there's not much I could do against Russian invaders. But I can pray, and I can ask others to pray.That's why I started my Facebook group, Pray for Ukraine. Someday, I want to go back to Ukraine. I want to take my daughter back there to see where she comes from. I pray that I will be taking her to an independent Ukraine, forever free of the Russian yoke.
Melinda K. Busch
I support Ukraine because I saw he determination of all the people in Euromaidan over the winter. They deserve better and should not have to put up with Russian aggression. I remember the euphoria when they all realised Yanukovych had left, and then just one week later came Crimea. I have done my best to spread the word amongst our local town, where my son, one of the leading Expats for Euromaidan, comes from. I am looking forward to coming back to visit the city in which my son has chosen to make his home with Kate, his Ukranian wife.-Janet Taylor, Southport, UK.
I support Ukraine because of the people I've gotten to know there since 1998, when I came to Lviv to work on a dissertation in Russian and East European history. It was my first time seeing Ukrainian society close-up after the Soviet Union had fallen, and I had been shocked by the terrible social inequalities between rich and poor, the corruption in the state, the manipulation and intimidation of the political opposition, and the arbitrary treatment of journalists. Despite all these problems, politicians, students, and intellectuals talked about Ukraine one day joining the European Union and overcoming the difficulties created by the Soviet Union's collapse. I was confident that the children coming of age at the end of the 1990s would see a future closer to that of their western neighbors. I supported the Ukraine without Kuchma demonstrations in 2001-2002, and I'd even taken part in one in Lviv in 2002. I sent in a donation to help demonstrators during the Orange Revolution of 2004. When the Euromaidan demonstrations broke out in the fall of 2013, I knew I had to support those demonstrators who wanted to change the entire system, one that had shocked me when I'd first seen it in 1998. Regarding the war between Ukraine and Russia, I support Ukraine because I believe that the past quarter century has produced a political nation of Ukrainians that the Western media largely ignores, preferring instead to speak conveniently of a "civil war" between a Ukrainian-speaking west and a Russian-speaking east.
-William Risch, Milledgeville, Georgia
 I first visited Ukraine to see a Ukrainian-American friend in Lviv and have been back several times since. Each time I was struck by people's warmth and honesty, and I watched the Euromaidan revolution with great hope for the country. The values that were fought and died for on the Maidan are more genuine representation of the European ideal than one can find in most western capitals. It's a moral imperative that we support Ukrainians in their effort to resist Russian-style corruption and cronyism, which Putin wishes now to impose through brute force. All Americans and all Europeans should be fighting for Ukraine to become the democratic, modern society for which so much has already been sacrificed.
-Andrew Kinder, American living in Cologne, Germany
The first reason I support Ukraine is that you fought against a corrupt government and old oligarchies with nothing more than your dreams and your will. You all decided that it was time to end an old and permissive relationship of slavery and become true partners. It is a very important fight since you are now at war with one of the most powerful countries in the entire world and the most daring and unbalanced contemporary government we know so far. The second one is that what the elders told us in the beginning of creation which we forgot, has somehow again sprang to life through this very fight. A true rebirth to our old values. The third and the last one is that Ukraine is leading this contemporary change in our culture that we all need to support it. My wish is that Ukraine is independent, constructs a free nation and be self-sufficient.
-Shirley Damazo, Cadiz, Spain. Europe
 To be continued…