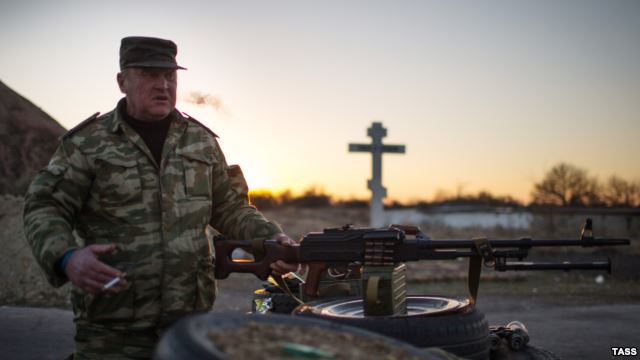 340 residents of terrorist-occupied Alchevsk pronounced the first death sentence. Then they cheered and congratulated one another…
In the terrorist-occupied city of Alchevsk (Luhansk oblast), the "People's Court" pronounced the first death sentence at the end of October: one of the members of the "LNR" battalion was sentenced to death by firing squad. Another man, whom the residents of Alchevsk tried for rape, was sent to the front line to "die with dignity". 340 people took part in the 50-minute "court session". The same "court hearing" also wanted to bar all women in the "LNR" from entry to cafes, bars and night clubs under threat of arrest.
The first to appear before the "court" was Ihor Ananev, a 37-year-old member of the "people's militia" and former police officer. The commander of a the Prizrak mechanized brigade, Alexei Mozgovoy and his comrades-in-arms, who control the city of Alchevsk, spoke on behalf of the "prosecution" of the "People's Court". Ananev had previously served three years in a Ukrainian prison.
On October 30, Mozgovoy's office published a video where Alchevsk residents can be seen deciding whether to sentence Ananev to death for raping an underage girl.
However, a "trailer" announcing the sentence was published on October 29.
Ananev was arrested on September 14. The "People's Inquest" completed investigations in one and a half months. The "People's Court" gathered in the auditorium of one of the Alchevsk houses of culture, and came to a decision in one day in late October… more exactly, it took them just half an hour to decide. The "prosecution" noted that Ananev had a son the same age as the raped girl.
"According to the laws of war, we ask the people of Novorossiya to announce the sentence by voting – a simple majority vote." stated Mozgovoy. Participants were asked to raise their hand. Mozgovoy explained the essence and advantages of such "court proceedings":
– I want you to understand why we are holding this court proceeding. Even though the legal community might say that this is imperfect in terms of the law, we say that it represents a perfect form of democracy. Today, you have the first opportunity to prove that you're part of an active civil society with an active position and the right to speak out. You have a chance to share full responsibility for everything that happens … We were forced to remain silent all our life. Each person here can offer an opinion on this issue. The microphone is here for this purpose.
Despite the fact that Ihor Ananev had neither a public defender nor a defence attorney at his side, he was given the chance to speak:
– I ask for forgiveness. It was my fault, of course. When this happened, we were driving to my home for the second time. The first time, when her colleagues pulled her out of the car, she said herself: "Let's go to your place." The second time, she asked whether there was any alcohol around. I gave her a drink… I smoked some grass, but I didn't deal or sell. I gave her my mobile phone. Of course, I lied to her a bit, and we got together. I'm sorry for this and ask you to let me atone for my guilt by sending me to the front.
More than 110,000 people live in Alchevsk. A little more than three hundred attended the "court hearing" in the auditorium of one of the houses of culture. Incidentally, when someone remarked that Ananev was a member of a battalion, the "prosecution" replied:
– You're reproaching us that he was with us, a member of our militia. I have another question for you. And where were you when he lived among you? When we got him, we put him on trial. Where were you, the civil society? Could you have solved this problem under the old system?
Out of 340 people present at the "trial", 164 voted for death by firing squad, 37 were against. The rest of the people voted for an alternative sentence – to send Ananev to the front lines so that he would die at the hands of the enemy. In the end, his life was spared so that he could "die with dignity".
During the proceedings, Alexei Mozgovoy forbade women of the "LNR" to frequent clubs and cafes so as to stop them from enticing men:
– If I see a single lady in a café or in a bar tomorrow, she will be arrested. Take care of your children. A woman should be a mother and the guardian of the home. What kind of mothers can they be after hanging around bars? How can they raise their children? What kind of example are they? Don't say that she's so-and-so or such-and-such. All pubs and nightclubs are crammed with females …Do you want to remain an honest person and stay faithful to your husband? Stay at home and work on embroidery. So, I repeat, patrols will be issued a special order – all girls found in bars will be arrested. All of them, I repeat. Stay at home, bake some pirozhki, celebrate March 8… It's high time you remembered that you're Russian. It's high time to remember spiritual values. – said Mozgovoy.
His announcement was greeted with applause and loud cheering. However, later Mozgovoy said that this was only a warning and that no local women would be prosecuted.
After this, the "People's Court" began to deliberate on the second "case" of statutory rape; the accused was sentenced to death by firing squad by a majority vote. Vitaliy Kravtsov, born in 1979 like Ananev, made a "confessionary statement". His crime was more serious: for two weeks, Kravtsov and his accomplice had held a girl in their apartment and raped her; she managed to get away, but they caught her again.
The commander of the Prizrak brigade promised that such courts would be held regularly so that the republic would become a true people's republic.
Anton Gerashchenko, adviser to the Minister of Internal Affairs of Ukraine said that Ukrainian authorities have called the "People's Court" a sham and a usurpation of power:
– Even the "tribunal" is a punishable offence. Nobody has the right to do what should be done by official government bodies as stipulated by the law. If this person is really executed, these people will be charged with murder. Ukrainian authorities have called the actions of the "People's Court" a usurpation of power even if the sentence has not yet been carried out. All the people taking part in the voting should also be condemned as accomplices to the crime.
Elena Lishchinskaya, a psychologist, explains that a "People's Court" has two functions: first, to intimidate people who still doubt the strength and power of the "LNR", and secondly, to creating the illusion that the people are actually in charge of the situation.
– Those who support "People's Courts" share the same values as the people in power, so they let them do it. On the contrary, those who are shocked by what's happening are beginning to be afraid.
Leonard Svidovskov, a TV reporter from Luhansk, who participated in the November 2 elections and recognizes the "LNR" commented carefully on the "People's Court" and called it "not such a good phenomenon", adding that the "elected parliament" should deal with it first:
– I really believe that everything should be done according to the law. There should be a law governing all investigative measures and court proceedings. However, there is no Criminal Code, nor are there any laws on court proceedings in the Luhansk People's Republic, so we see certain phenomena that are not very good. They must be eliminated as quickly as possible in the near future.
– What is the reaction of the people in the oblast to this court?
– It's different. People have changed a bit, both in Luhansk, and elsewhere; they've become more violent. It's probably due to the war. Sometimes, people even demand a very severe punishment for any kind of crime or offense. That's not right, in my opinion.
– You say that such phenomena need to be eliminated. But how?
– I hope that when the elected parliament of the Luhansk People's Republic convenes, they will approve laws that will put an end to all this. So that we finally have a Criminal Code and specific laws on court proceedings, so that all constitutional norms can start working. All declarations should be supported by concrete laws.
Konstantin Reutsky, Head of the Human Rights Center Postup in Luhansk oblast, thinks otherwise:
– It's plain savagery, a return to the Middle Ages. This is contrary to all human rights standards that were worked out in the twentieth century. On the one hand, I understand these people who have been in a very difficult situation for the past few months, living in constant fear, without access to basic things of civilization, cowering under the threat of reprisals from the terrorists. But, it shows one thing again – no matter how civilized a society is, such an extreme situation could quickly throw this society back several centuries. This is being discussed by everyone, and every person probably has a different opinion. We hear mostly outrage about this in the liberated territories; in the occupied territories it's dangerous to express outrage. You know, even when we talk to people in the occupied territories, we can't speak normally and frankly on the phone. We hear the fear in people's voices; they're afraid to say something wrong. They're all afraid that the phones are tapped, that a person may be arrested or persecuted for any expression of dissent. – Konstantin Reutsky told Radio Liberty.
Earlier, the death penalty was introduced in the self-proclaimed "LNR" and "DNR", but it was forbidden to execute by shooting women, minors and men over 60 years of age. Ukraine has abolished the death penalty.
Tags: Donbas war (2014-present), Featured, LNR ("Luhansk People's Republic")