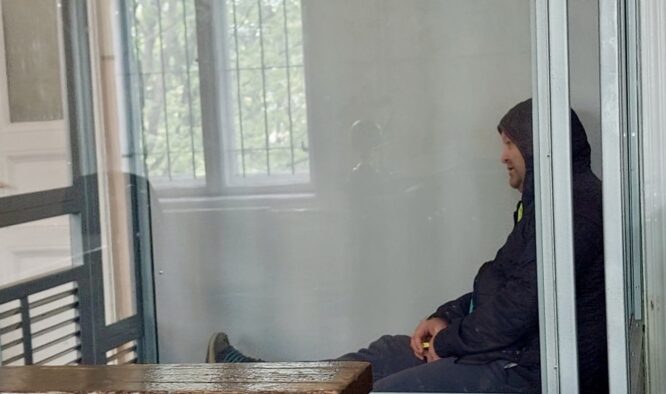 Vladyslav Kozeev during court hearings. Photo by sudreporter.org 
A Ukrainian citizen, who was born in Russian Buryatia, received a life sentence for aiding Russian missile strikes on the Ukrainian city of Lviv. 47-year-old Vladyslav Kozeev photographed military objects in the Lviv region and sent them to the Russians. On 16 May 2023, the board of judges of the Zaliznychnyi district court of Lviv found him guilty of treason and sentenced him to life imprisonment with confiscation of property, Sudreporter writes.

Prosecutor Taras Kovalchuk suggested imposing the harshest punishment given that the accused, in addition to performing the tasks he received, independently looked for information and passed it to the Russians for ideological reasons.
Kozeev did not admit his guilt. During the announcement of the verdict, Kozeev smiled confidently, and afterward, he refused to take a copy of the decision and replied: "Send it to the Supreme Court."
Kozeev has Ukrainian citizenship but was born in Ulan-Ude, the capital of the Republic of Buryatia in the Russian Federation. In 2008-2010, he was given a conditional sentence for fraud and appropriation of UAH 3,600 ($200 at that time).
On 20 May 2022, he was detained in his parents' house, from the windows of which he took photos and sent them to the Russians. The house is near the railway. He was looking for places for missile strikes. During the full-scale invasion in May 2022, Kozeev sent Russians information about the location of military facilities and the movement of Armed Forces servicemen, as well as the coordinates of critical infrastructure facilities in the Lviv region, including five bridges. He also recorded the consequences of missile attacks on Lviv on his phone. In total, the investigation found 25 episodes of information transmission.
In particular, on 19 May 2022, Kozeev wrote Russians that fighter jets would arrive at the Lviv State Aviation Repair Plant for repair and maintenance. The investigators established that the factory was indeed expecting fighter jets then. And it also turned out that Kozeev lived in a building where current and former employees of this plant lived. Perhaps he learned about the fighters from his neighbors.
During the search, a phone was taken from Kozeev, which became one of the critical pieces of evidence. The court heard the case for more than half a year.

Tags: Lviv